Gillibrand Calls Attention To White Privilege & 14 Other Big Moments From The Debates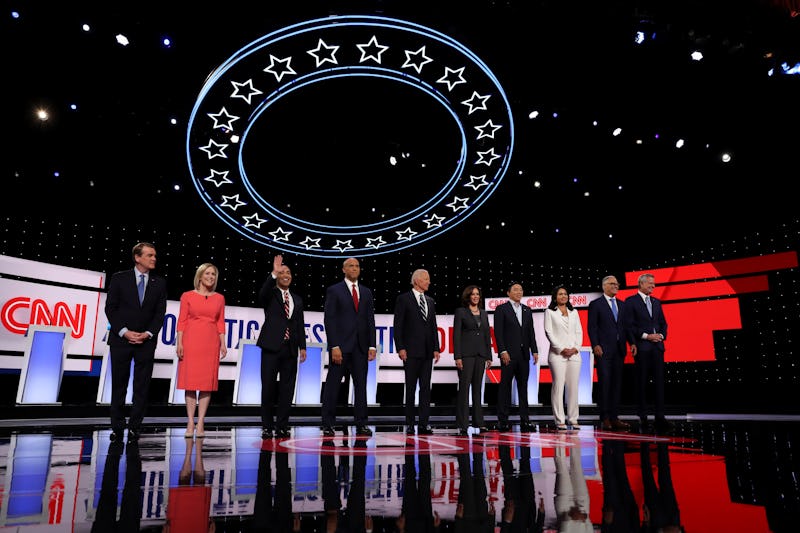 Justin Sullivan/Getty Images News/Getty Images
For the second time this year, 20 Democratic candidates took to the stage over two nights to talk about some of the most important issues in the 2020 election. And this time, there were two big match-ups where frontrunners went head-to-head. If you weren't able to watch, though, we kept track of some of the biggest moments for a Democratic debate recap that lays out everything you should know.
The lineup for the debates was:
Night 1: Steve Bullock, Pete Buttigieg, John Delaney, John Hickenlooper, Amy Klobuchar, Beto O'Rourke, Tim Ryan, Bernie Sanders, Elizabeth Warren, and Marianne Williamson.
Night 2: Michael Bennet, Joe Biden, Cory Booker, Julian Castro, Bill de Blasio, Tulsi Gabbard, Kirsten Gillibrand, Kamala Harris, Jay Inslee, and Andrew Yang.
The first night featured Sen. Elizabeth Warren and Sen. Bernie Sanders, the main progressive candidates in center stage, while the second night put the spotlight once again on Sen. Kamala Harris and former Vice President Joe Biden. But that doesn't mean the other 16 candidates didn't have their chance to stand out, too.
These are some of the biggest moments from the debates that you need to know about as you make your decision on who you will support for president in 2020.
Night 1