You Can Surprise Your BFF By Giving Them A Secret Color-Changing Mug With Your Face On It
by Callie Tansill-Suddath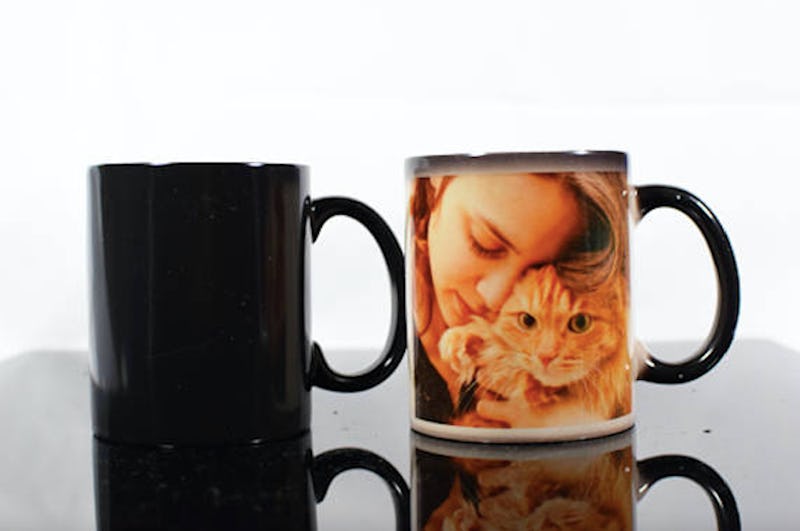 Etsy
The day doesn't begin until you have a steaming cup of joe. If you think about it, giving the morning beverage a human's name is sweet, if not a little strange. Urban legend has it the nickname can be traced to a tongue-and-cheek comment about Navy Secretary Josephus Daniels' decision to limit the branch's alcohol access, thereby making coffee the strongest beverage available — alas, according to Snopes, there's no real verification for where it came from. But, who says your morning cup can't remind you of someone anyway? With a personalized color-changing photo mug, it'll be easy.
Not only does this mug proudly display the visage of your favorite person, it CHANGES COLOR! That's right: the custom photo magic mug is heat-sensitive. When its contents are cold, the mug is plain black. When its contents are warm, the outside photograph appears. According to the item description below its listing on Etsy, the 11-ounce mug is also UV-durable, outfitted in a scratch-resistant coating finish, FDA-compliant to be nontoxic, and microwave and dishwasher safe. Plus, the photos included are, "...printed using dye-sublimation technology for the most long-lasting, vivid, and finest result."
Further, if you can't pick just one photo, up to NINE different pics can be included in a collage print on the mug. That's like an entire Instagram vacation album post ON A MUG!
Proprietor Victor Lui operates the shop called Memories1234 out of San Francisco. It carries just about anything you can think to personalize with a photo. Some other options include frames, plaques, and clocks. But, if you're exclusively in the market for drinkware, Memories1234 has you covered with a whopping 34 different mugs you can personalize. In the two years the shop has been in operation, it has sold more than 330 items, and maintains a perfect five-star customer satisfaction rating.
That being saidd, there are two kinds of BFFs in the world: those who prefer to subtly embrace the love they have for their person (like with a mug) and those who prefer a more flashy approach...like with clothing.
If you are someone who would rather tell the world about your best friend instead of merely telling your breakfast, look no further than the Faces Swimsuit from Guestbookery. The garment is completely covered in photos of the face of your choice, front and back, and is constructed of durable, chlorine-resistant fabric, making it ideal for wearing in the pool. Plus, it comes in sizes XS to 3XL and in four-way stretch fabric, so it's sure to provide a comfy fit for every beach body. Then again, if you want to go all out, might as well opt for this shirt that repeats an image of your friend's face all over a background image of space. It is anything but subtle, and is a way to boast about how out of this world your friendship is with a nod to the most beautiful aspect of modern culture: the internet. I mean, you're about as close as one could get to a walking LOLCat in this shirt, minus the cat of course.
The options for embracing your best friend are limitless, but if you're looking for something that equally comforting and flattering, opt for the mug. They'll think of you at least once every morning (and depending on how much sleep they got last night, probably a few more times than that!).