How To Make The Cutest Single Serving Of Cornbread You've Ever Seen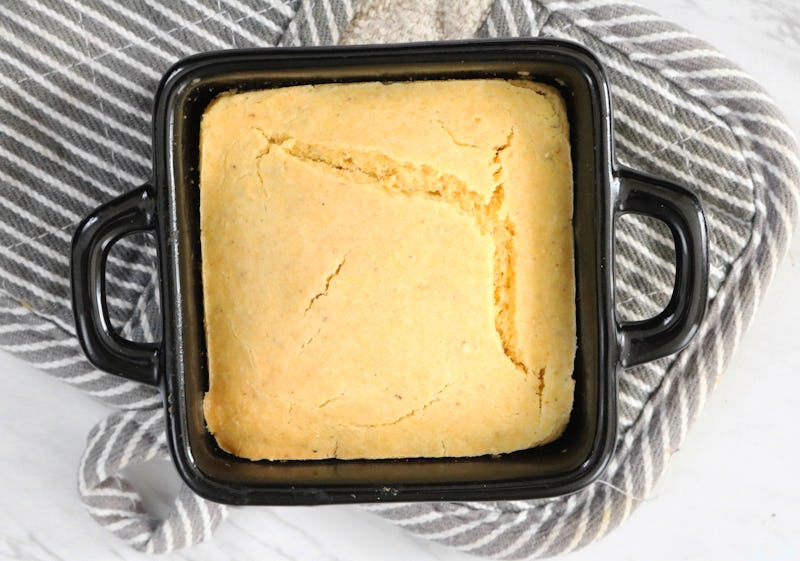 Kirsten Nunez
From chili to barbecue, some foods just aren't complete without a side of homemade cornbread. However, as someone who lives alone, it doesn't always make sense to bake an entire loaf of it. Because what am I supposed to do with the leftovers? I'm basically setting myself up for dry and tasteless day-old cornbread if I make a whole loaf! So, instead of depriving myself of the comfort food, I recently set out to make a cornbread recipe for one person that would supply me with a single serving of the stuff. And guess what happened? I discovered a delicious food hack that I never knew I needed.
One might argue that it is much easier to make cornbread with boxed mix. And while this is 100 percent true, I am a firm believer that nothing can beat made-from-scratch homemade cooking. Plus, it doesn't take much to bake a small batch of cornbread. In fact, you probably have all the ingredients sitting in your pantry!
As with many single serving recipes, this cornbread for one can be made in several different ways. For example, if you are all about that corn flavor, you can ditch the all-purpose flour and only use cornmeal. Many people are also partial to unsweetened cornbread, while others are all about the sweetened kind. It's all up to your personal preference.
Regardless of your take on good ol' cornbread, making enough for one person is a piece of cake. (Uh, or bread.) Here's how to do it yourself.
Cornbread For One
3 tablespoons corn meal
2 tablespoons all-purpose flour
2 teaspoons oil or melted butter
1/2 teaspoon baking powder
1/4 cup milk or water
1/2 to 1 tablespoon sugar (optional)
Butter or oil for greasing
Pre-heat the oven to 350 degrees Fahrenheit.
1. In a small bowl, combine all of the dry ingredients.
2. In a separate container, combine liquid ingredients. Mix well.
3. Slowly add the wet ingredients to the dry ingredients.
4. Mix until thoroughly combined.
5. With butter or oil, grease a small, oven-safe container. I used a tiny dish just under four inches wide. (A ramekin or small Pyrex bowl also works just as great!)
6. Transfer the mixture to the greased baking dish.
7. Bake for 15 to 17 minutes, or until golden brown. When poked with a toothpick, the toothpick should come out clean.
I mean, just look at it. How adorable is this little piece of heaven?
Like most classic dishes, there's nothing better than a simple cornbread recipe. But when you are feeling extra, or if you need to use up leftover ingredients, it doesn't hurt to take things even further. Here are a few ideas for delicious variations:
Maple Syrup
If you don't have any sugar on hand, maple syrup is an awesome alternative to sugar in this recipe. Honey will also work as a sugar substitute or topping.
Shredded Cheese
If you're all about hearty and rich breads, add a tablespoon or two of shredded cheese to the batter.
Scallions
Chopped scallions will add a major kick, especially if you are making a savory mini cornbread.
Bacon
You can never go wrong with diced bacon. Throw it in with the shredded cheese and scallions for a breakfast-friendly dish.
Hot Dog
If you're a fan of corn dogs, this version will be up your alley. Chop up a single hot dog and mix into the batter. It's basically a corn dog in a different form.
Cranberries
To sweeten things up, add one or two tablespoons of dried or fresh cranberries. Hello, holiday flavors.
Herbs And Spices
If you're worried about ruining the texture, stick to herbs and spices like dried oregano, rosemary, or black pepper. Cinnamon and nutmeg can also add an autumn-friendly touch.
And this, my friends, is what dreams are made of.