This 'Dalya's Other Country' Clip Shows Why It's The Feminist Muslim Documentary We Need — EXCLUSIVE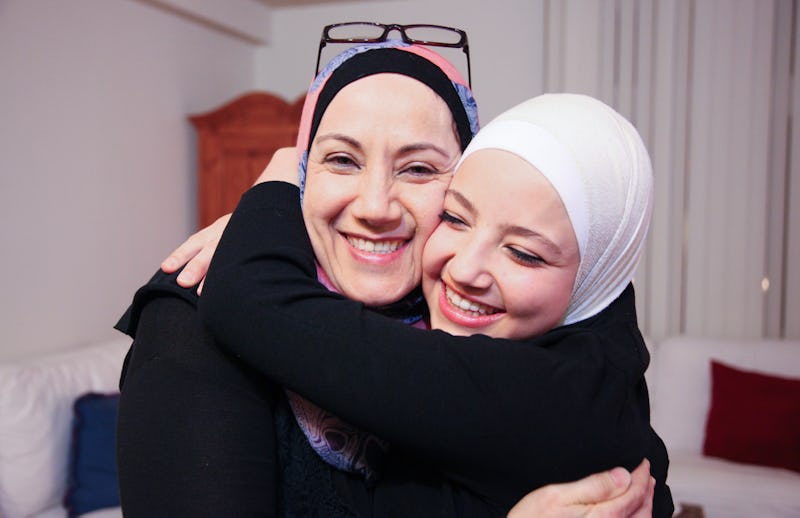 Dalya and Rudayna embrace as Dalya goes to her first Winter Formal. Photo credit: Julia Meltzer
Like any other teenager in the United States, Dalya Zeno had to deal with new challenges when she started high school — different buildings, classmates, and extracurriculars, among others. The reason her high school experience is the subject of a new documentary, Dalya's Other Country, is that she faced an additional, extraordinary hurdle: adjusting to America after fleeing her war-ravaged home in Syria.
"All my friends would see a camera following me around, and I felt so awkward," Dalya says with a laugh about being profiled in the new documentary, an official selection of the LA Film Festival. Dalya's Other Country began filming in 2013, focusing not only on Dalya but also her mother, Rudayna Aksh, as they adjusted to the Southern California lifestyle while also grappling with Syrian customs and traditions. "It's exciting to see how much I progressed throughout the years and how much I grew."
Filmmaker Julia Meltzer describes the documentary, which premiered at LAFF last week and will be broadcast on the PBS series POV on June 26, as a quintessential coming-of-age story combined with glimpses into the immigrant experience.
"I've experienced Dalya as this kind of nervous, anxious, not-so-secure freshman, and then you understand where she's come from by the time she's a senior and you're invested in what happens to her," Meltzer tells Bustle.
"What I hope translates in the film is that for a moment you can think, 'Oh, I understand something of that experience,' and really that experience is an immigrant experience. She comes from Syria, but it's not so different than people who cross the border from Mexico or who come from El Salvador or Afghanistan or Somalia — each of those stories is about confronting a different culture, figuring out where you fit in, who you are within that, and how you get through those awkward moments."
At first glance, Dalya is a stereotypical American teenager. She goes to the mall with friends, plays sports, participates in the school talent show, and eagerly awaits prom night. But she is also the only Muslim at an all-girls Catholic School, and the only student to wear a hijab.
In an exclusive video for Bustle, Dalya explains why she loves her hijab.
"When I first came here, I was very hesitant about wearing the hijab because I felt very different than everyone else," Dalya tells us. "But honestly, my peers and school throughout the years have never failed to make me feel so accepted."
And Dalya says she has only grown more committed to wearing her hijab since last year's presidential election. "I've got to say, all these kinds of hate crimes and Donald Trump are making me love the hijab even more, and making me stronger to keep it on and hold on to it, because it became a part of my identity and who I am," she says. According to the Council on American-Islamic Relationship, anti-Muslim incidents increased 57 percent from 2015 to 2016, with the majority being forms of harassment.
Dalya, a self-described feminist, says that if she remained in Syria, she likely wouldn't have experienced the wealth of possibilities offered to girls in Los Angeles.
"When I first came here, I was so amazed by all the new opportunities that I could get, like sports, music, dance. And I just wanted to take advantage of everything," she says. "I started really being exposed to a new life here and new ideas."
Dalya recently completed her first year at Pasadena City College. Her dream is to transfer to a four-year university and study architecture — to rebuild the country she fled five years ago.
Looking back, her advice for her younger self is to not be scared to step outside her comfort zone. "Everything is going to be okay," she says, pausing to add, "Here I am, five years later, living happy and living a great life and I hope to keep growing every year and every day."