This Salon Saved 2 Weeks Worth Of Hair Clippings, Which Is Gross — But It's For A Good Reason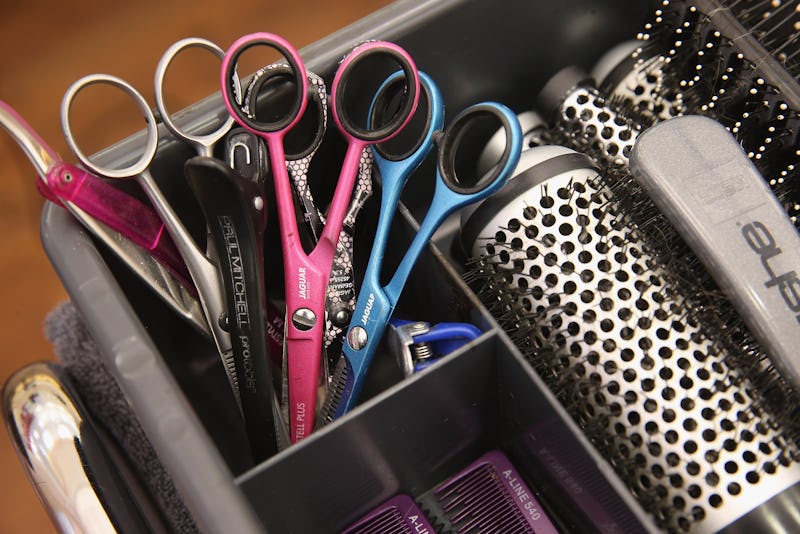 Sean Gallup/Getty Images News/Getty Images
The average haircut goes down like this: You sit in the hairdresser's chair, describe the cut you want, and hope for the best while hair gets snipped off your head. One salon, however, is proving a haircut can do much more than get you a bunch of Instagram likes and compliments. As Allure found, The Sapphire Hair Lounge saved two weeks of hair clippings as a part of an effort to make an environmental impact. The Winnipeg, Canada-based salon will be shipping the hair clippings off to help make "hair booms," which are used for oil spill cleanup.
"Human hair has the same adsorbent properties as an animal's fur or feathers, and proves extraordinarily effective at removing oil from water," the Green Circle Salons website reads. Green Circle is a conscious group of salons which partnered with The Sapphire Hair Lounge for the recycling effort. "We donate booms to any party in the event of an oil spill. The site states that both animal and human hair can be used."
Basically, Green Circle is finding a way to give new life to your dead hair. Just look at this giant hairball of hope.
If you're not sure why this effort is important instead of gross, allow me to break it down for you. According to Live Science, 1.3 million gallons of petroleum are spilled into oceans in an average year, and an unexpected oil spill can double that amount. The U.S. Department of Energy is working with different materials to find a way to clean up the spills, and they've found human hair is a great all-natural alternative to synthetic solutions. According to the Green Circle Salons Instagram page, hair "can hold up to 5x its weight in oil," making hair booms more effective than synthetic ones for oil spill cleanup.
Although Green Circle is not a non-profit, they are working hard to make the salon industry more sustainable. Donating clippings toward hair booms isn't the only way Green Circle-affiliated salons work towards making their businesses green. The Green Circle Salons website states that the group also helps educate businesses on how to recycle items like aerosols cans, foils, papers and plastics. The group also helps salons explore the best energy saving practices and electronics.
The organization also donates five percent of pre-tax profits to local and international organizations supporting positive social and environmental change, according to their website. The Sapphire Hair Lounge hasn't posted about any of their other eco-friendly efforts, but the hair collection is definitely a great start. Bustle reached out to see if the salon has any other plans to green-ify their business.
According to the Green Circle Salons website, there are over 100 salons around the nation and in Canada all joining the fight to make their businesses eco-friendly through the organization. You can head to the organization's website and search for a salon close to you working toward greater sustainability.
If a Green Circle salon isn't near you, you can always urge your local salon to join the Green Circle Salons movement simply by sending them the link to the website. After all, efforts to go green may involve planning and time, but often don't cost extra dollars.
Your dead hair could help keep the oceans thriving. And that's pretty incredible.