Here's An Eggnog Recipe For Your Holidays That Won't Make You Go, "Ew, Eggnog"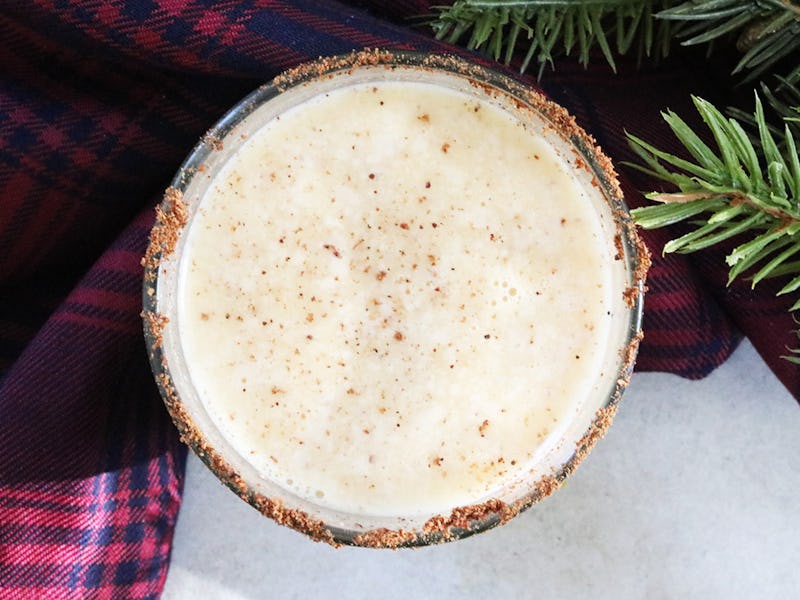 Kirsten Nunez
Now that the holiday season is officially in full swing, it seems like everyone is revisiting their former obsessions with flavors like gingerbread and peppermint. But what happens when you are all about eggnog, a strange yet delicious beverage? Many people can't even handle the thought of drinking it, so with all the holiday parties you likely have coming up, it's not a bad idea to learn how to make eggnog for one so you can enjoy it in peace. It is the perfect way to get your fix when everyone else at dinner wants mulled wine or spiked hot chocolate.
Knowing this simple recipe will also come in handy if you are just hanging around at home with a craving for eggnog. I mean, making a huge batch isn't a smart move, especially if you aren't sure how to tell if eggnog has gone bad. It's one of those boozy holiday drinks that needs to be made fresh each and every time.
Even if you are not a fan of eggnog, this knowledge can save the night while hosting a holiday party where a guest or two decides they want some. There is no doubt that you'll win some major hostess points. The best part is that you don't need special ingredients or bartending skills. Just heat, mix, and enjoy what the holidays has to offer.
Eggnog
1 1/2 cup milk
1/4 teaspoon cinnamon
1/4 teaspoon nutmeg
1 shot bourbon, whiskey, or dark rum
1 egg
1/2 to 1 tablespoon white or brown sugar
1/2 teaspoon pure vanilla extract
1. Crack open the egg and whisk well. The yolk and egg white should be combined, but not frothy.
2. Warm the milk in a small pan over low heat. Do not let it boil or bubble.
3. Add the egg and continue to heat for 2 or 3 minutes, whisking periodically. This step is crucial for cooking the egg. If the egg starts to get stringy, like egg drop soup or something, the heat is too high.
4. The egg-milk mixture should have a consistent pale yellow color. Add 1/2 to one tablespoon of white or brown sugar, depending on your preference.
5. Add the vanilla extract.
6. Add the nutmeg and cinnamon. For stronger flavors, add more than 1/4 teaspoon. Mix well.
7. Add a shot of the booze of your choice, mix, and pour into a glass.
If you'd like, take another sprinkling of spices. Finally, brush off your shoulders, because you just made eggnog for one person.
This is just one way to prepare eggnog. To add your own flair, check out these delicious ideas:
Chill Out
Eggnog can be enjoyed warm or cold. If you live in a warmer climate or love cold beverages no matter the season, chill this drink before sipping away. Place it in the refrigerator or add a few ice cubes.
Spiced Rim Garnish
For even more flavor, garnish the rim with cinnamon or nutmeg. Moisten the rim with milk or water, then dip into a shallow plate of spices. It's like an extra treat with every sip.
Whipped Cream
Is it even a holiday drink without whipped cream? Add a dollop (or two) on top to sweeten things up.
Chocolate Syrup
Chocolate eggnog can be a thing if you believe. With a drizzle of chocolate syrup or a spoonful of cocoa powder, this is totally possible.
Maple Syrup
If you're trying to cut back on processed sugar, use all-natural maple syrup or even honey.
Cinnamon Stick
A cinnamon stick doubles as a delicious, flavor-infused stirrer. This idea will look especially festive with whipped cream, so be sure to snap a photo so you can share it on the 'gram.
Vegan Version
Vegan eggnog might sound like an oxymoron, but with the right ingredients, you can make it happen. Use non-dairy milk made of cashews, almonds, or coconut. Puree 1/2 cup of soaked cashews in a blender, and use it in place of the egg. The result is a rich and creamy vegan-friendly beverage.
And just like that, you have won the holiday season. Enjoy!