These Are Meghan Markle's Favorite Kinds Of Wine — And You Can Buy Them All Online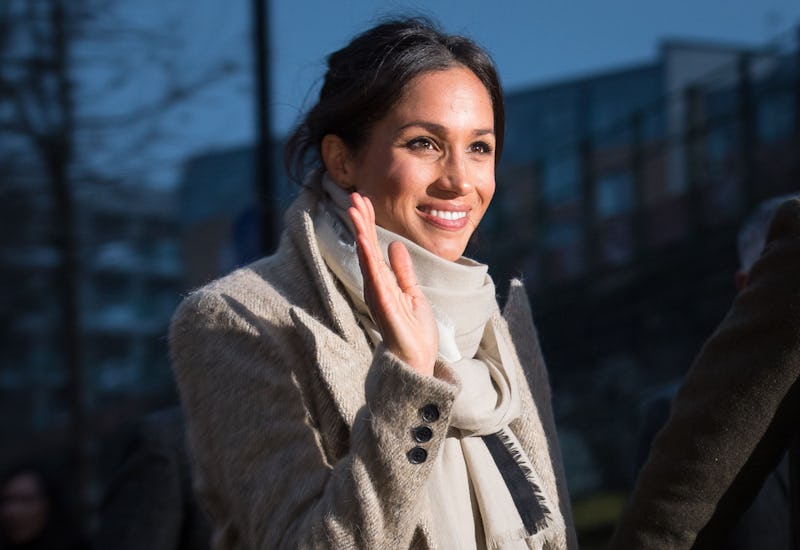 WPA Pool/Getty Images Entertainment/Getty Images
Wine is an important of many weddings, so it's no surprise that with just a few months to go before the next Royal Wedding, folks are wondering exactly what Meghan Markle's favorite kinds of wine are — and where they can get them. And, hey, guess what? I have good news for you: Markle, who's something of a foodie, has spoken about her deep and abiding love for a good glass of wine many, many times, which means there's a lot of information floating around out there about her favorites. The bad news, of course, is that they tend to be on the pricier side — but if you've got the disposable income and the inclination to spend it on a nice tipple, you can buy most of Markle's top picks online. (Just be sure to look up wine-shipping laws in your state before you try to purchase anything. Not every state allows alcohol to be mailed in.)
Markle's absolute favorite wine is a variety called Tignanello. She's remarked upon it in a number of different interviews, but it's perhaps a 2017 piece from People that includes the most detail: "Tignanello is a full-bodied red wine that I tried about seven years ago. In wine circles, it is nicknamed 'Tig,'" she said at the time. "It was my first moment of getting it — I finally understood what people meant by the body structure, finish, legs of wine. The TIG is my nickname for me getting it. Not just wine, but everything."
Created by Tuscan winery Antinori in 1971, Tignanello is what's referred to as a "Super-Tuscan" wine — a wine made in Tuscany with non-indigenous grapes, according to Wine Folly. Consisting of a blend of 80 percent Sangiovese, 15 percent Cabernet Sauvignon, and five percent Cabernet Franc, Tignanello is also one of the earliest Super Tuscan wines, as well as being "the first modern wine of Chianti to contain a nontraditional grape — Cabernet Sauvignon — while omitting white grapes," states Italian Wine Merchants.
Although Tignanello is available online from Vivino, it's not cheap; the current vintage will set you back nearly $150 a bottle. That's actually even a little more expensive than usual — Vivino also notes that Tignanello's average price is usually around $118. If that's your jam, you can buy it here. The good news, though, is that the 2014 vintage is available from Total Wine & More for about $90, so you've got some options.
2014 Antinori Tignanello, $89.97, Total Wine & More
Oh, and if the phrase "The Tig" sounds familiar to you — particularly in conjunction with Markles' name — there's a reason for that: It was also the name of her now-defunct lifestyle website. Although it shut down in April of 2017, The Tig is still viewable via the Wayback Machine; so, for the curious, here's what Markle had to say about both the wine and the website on The Tig's "About" page:
"Several years ago I had a sip of wine called Tignanello (pronounced 'teen-ya-nello'). But let's be real – in the states most people said 'tig-na-nello'…or just plain old 'Tig.' The Italiano of it all gets a little tricky, so the bartender kept it simple; it was a glass of 'Tig.' So there I am, with very minimal wine knowledge and I take a sip of this wine. It wasn't just red or white – suddenly I understood what people meant by the body, legs, structure of wine. It was an ah-ha moment at its finest. For me, it became a 'Tig' moment – a moment of getting it."
She went on to write that she's tried to carry that idea throughout her approach to life: "An understanding that comes with living your life to the fullest so that it bursts at the seams. An unbridled joy. An insatiable curiosity. That's what Tig means to me."
However, Markle has also noted that she's a fan of a wide variety of wines, whether or not they're Tignanello. In a piece for TODAY she penned in 2012, she wrote, "At the end of a long day, there is nothing I enjoy more than a glass of wine." She isn't, however, an "it doesn't matter, so long as it's red" person, even though she says that she used to be; as she "grew up," as she put it, "so did [her] palette." She's a fan of "off-the-beaten-path wineries" where "the exploration of finding a great wine is part of the fun" — and indeed, she wrote that she believes that fun is "only trumped by that first sip of a pour that is made with such care that you can't help but want to thank the winemaker personally."
In her TODAY piece, she mentioned Flowers Winery as a Sonoma winery worth exploring, calling out their pinot noir in particular. Located "on top of soaring coastal ridges that border the Pacific Ocean," according to its website, Flowers is notable for being one of the first that sprung up on the "extreme" Sonoma Coast back in 1991. The unique climate results in fruit able to "fully mature with fresh complex flavors and lively acidity," lending the wines "a distinct coastal minerality and bright natural acidity."
2015 Sea View Ridge Pinot Noir, $75, Flowers Vineyards & Winery
Alas, the 2015 Sonoma Coast Pinot Noir, which usually retails for $45, is currently sold out in Flowers' online shop; so is the $90 "A Taste Of Sonoma Coast Duo," which features a bottle of the pinot and one of the corresponding chardonnay. However, the 2015 Sea View Ridge Pinot Noir is still available for $75. A "bright garnet"-colored red, this wine features notes of cranberry, rhubarb, dusty cherry, graphite, tobacco, and baking and redwood spices and "unfolds beautifully in the glass," per the winemaker's notes on it.
There's also a "Flowers Estate Trio" available for $275, which features a bottle each of the 2015 Sea View Ridge Pinot Noir, 2015 Camp Meeting Ridge Pinot Noir, and 2015 Camp Meeting Ridge Chardonnay. Just, y'know, for whatever that's worth.
2013 Jordan Cabernet Sauvignon, $55, Jordan Vineyard & Winery
Markle also name-dropped an older Sonoma winery in her piece for TODAY: Jordan Vineyard & Winery, which she noted has a particularly good cabernet sauvignon. Established in Healdsburg, CA in 1972, Jordan Winery was "inspired by the great wine estates of France and created as an homage to the timeless connection between food, wine, and hospitality," according to the winery's "History" page. Their California Cabernet Sauvignon is modeled after a First Growth Bordeaux — one of the five classes of Bordeaux according to price and quality, as The Wine Cellar Insider puts it — and has "a perfect balance between beautiful fruit, silky tannins, and a lingering finish." Notes for the 2013 vintage, which retails for $55 a bottle, includes cassis, black currants, blackberries, cherries, and a floral note.
So: Will any of these wines be served at the Royal Wedding? Possibly not; the rumors currently floating around the internet is that Markle and Prince Harry's wedding wine will come from the Chapel Down winery in Kent, UK — which, by the way, is also where William and Kate's wedding wine came from. However, they're just rumors: As the Daily Mail notes, Chapel Down and Kensington Palace both declined to comment, so nothing has been confirmed.
In the meantime, though, you can still drink like Meghan Markle even if you're not dropping the big bucks on expensive bottles — according to Delish, she's also a fan of Argentinian Malbecs, pinot noirs from Oregon,and, during the summer, "rosé all day." A woman after my own heart!