This Former 'Power Rangers' Actress Started A Skin Care Line That Will Be Your Next Obsession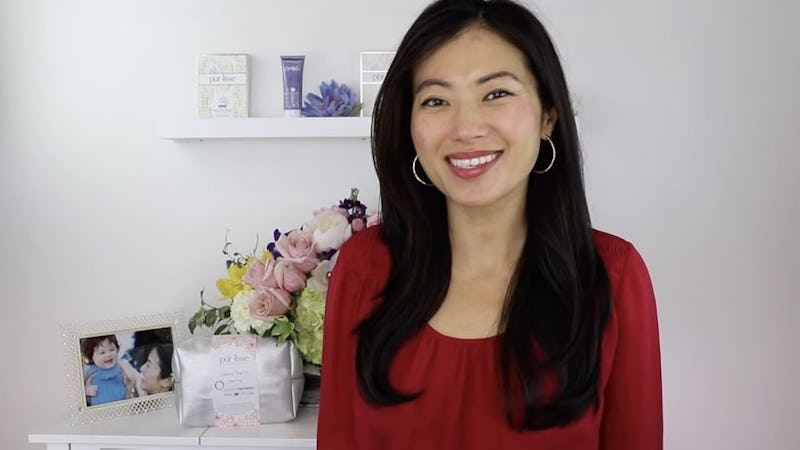 Courtesy of Purlisse
Very few people in this world can say they're a Power Rangers-villain-turned-beauty-mogul. OK, only one can, and it's Jennifer Yen, founder of revolutionary beauty and skin care company Purlisse. Life ain't easy when you've got to fight off Power Rangers in the afternoon, but get your skin right at night.
If you're a big Power Rangers fan (who isn't?), you'll remember one badass villain in particular: Vypra. One of the three demons, and the only one with a human appearance, she rocked a pretty stylish armored look, complete with wings, knee-high boots, and leather pants. It was, for all intents and purposes, a lewk.
Yen's unconventional path into the beauty world is exactly what makes her and her line so unique. How on earth does one go from playing a villain on television to creating her own beauty line? The answer lies in her individuality.
After sitting for two hours every day in hair and makeup on set, Yen found her skin wrecked from beauty products that would constantly be caked on. It left her with all sorts of skin issues, like rosacea and psoriasis. As a young actress in Hollywood, this really affected her self-esteem.
"It really took a toll on my confidence and it drove me to fix my skin issues," she tells me over the phone.
Yen then went on to try everything in the market — from organic products to natural beauty lines to luxury beauty — but nothing seemed to fix the array of skin issues she was facing. Even several of the top dermatologists she saw were unable to pinpoint exactly what was going on with her skin.
That's when Yen felt inspired to create her own line that was based on her philosophy and what she valued most in beauty and skin care.
What was born was Purlisse, a "culmination of Asian wisdom and modern philosophy," says their website. Partnering up with the best chemists and research labs all over the world, from Korea to France, Purlisse aims to give a new meaning to skin care for the modern woman.
But Purlisse isn't just your run-of-the-mill skin care line — don't get it twisted.
"When I decide to create and develop something, I won't deal it out unless I think it's 100 percent absolutely gorgeous... I feel like the world doesn't need a mediocre product."
There are several ways to describe Yen's products, and mediocre is definitely not one of them. Yen's passion for creating beauty products that are rooted in ritual, but meant for the busy, many-hat-wearing woman resulted in a line that somehow married age-old rituals with a timeline of a woman living in 2017.
Yen is a multi-hyphenate woman: a mother, an entrepreneur, a former actress, a kick ass lady as a whole. While developing Purlisse, she kept the busy woman, women like her, in mind.
"I'm at the age now when women wear multiple hats and are always doing more than what's expected of us. We're super busy and have more than just a single job," she says to me.
And that's precisely why a bulk of her products are multi-taskers, taking several different issues head on, all in one pretty packaged product. Take, for instance, Purlisse's Blue Lotus 4-in-1 Cleansing Mask, which removes makeup, tones, soothes, and rejuvenates skin. That's a whole lot of punch for one single product. This magic-worker mask also contains her main star ingredient: the Blue Lotus.
Blue Lotus 4-in-1 Cleansing Mask, $36, Purlisse
An anti-oxidant and anti-inflammatory extract from the Blue Lotus water lily, it's a signature ingredient that appears in many of Purlisse's products. Blue Lotus extract is one of the Asian beauty secrets Yen learned from her grandmother — and those exact rituals are what makes Purlisse's products so special. Their mission is to "reinvent and modernize Asian beauty secrets into high-performing, multi-tasking products for everyone," Yen says in a video.
In Purlisse's line, you'll find two other Asian beauty secrets that Yen has fully integrated into their products. The first: soy milk. Growing up, Yen's grandmother would make soy milk for her grandchildren to drink, but she'd use it to wash her face, leaving her with a porcelain-like appearance.
Next up was brewed white tea, which Yen's grandmother would use as an anti-septic. Yen recalls biking around the neighborhood with her brother, and each time they came home with cuts or scrapes, her grandmother would apply cold white tea on their wounds. White tea, known for repairing cellular damage, also became a staple in Purlisse's products.
As a Chinese-American girl growing up in Alabama, Yen didn't always embrace her Asian heritage. "I wasn't the popular girl and I wanted to fit in... I always felt like a sore thumb and I didn't want to stand out too much," she recalls.
Blue Lotus 4-in-1 Cleansing Milk, $36, Purlisse
It wasn't until she graduated from high school and attended Boston University that she really felt herself lean in to her heritage. "Everybody embraced diversity. There were students from everywhere, from Saudi Arabia to Jordan to Kuwait. It was like they saw me as just a girl," she says.
Her view took a complete 180 when Yen moved to Los Angeles to pursue acting. What made her different is actually what made her a success in Hollywood, and rather than praying she'd fit in, she began realizing that she wanted to stand out and feel different.
"My story is really unique and it can't be manufactured. I went from trying to fit in to accepting and embracing myself. Both stages. It makes me really happy to have gone through that, as painful as it may have been, to be able to feel that and have empathy towards women who are feeling different," she tells me. "It can't be replicated."
It's precisely Yen's unique story that makes her products and brand as a whole so successful. Looking back, Yen's journey fits together like pieces to a puzzle. It's been an incredible journey of self-acceptance, and going through the rough patches and losing her confidence is what made her so successful. today.
While everyone has their own path in life and in success, Yen has one piece of beauty advice for young women. "Embrace your natural beauty. Accept your natural beauty — enhance it. And always, from a young age, take care of your skin. Beautiful makeup starts with beautiful, healthy skin."
As for what's next, Purlisse is looking into product extension and going into a new era. Yen has been thinking about what stage in life their customer is now and what their concerns are when it comes to their skin.
"Where I'm at now with my skin is a lot different than where I was 10 years ago," Yen says.
With that in mind, she continues to spread her message of beauty through Asian wisdom.
While most women won't be caught up in a situation fighting off the Red, Blue, Yellow, Pink, and Green Ranger, they most likely will run into a skin care issue once in their life. And Yen has got you covered on how to treat those.
"How many people can say 'I fought Power Rangers on TV, and now I'm saving complexions?'"
Certainly not many.