This Straightener Is Controlled By An App So You Won't Actually Burn Down Your House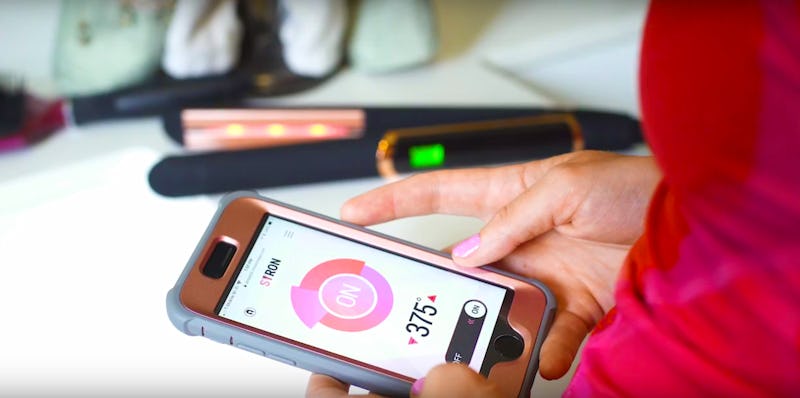 Courtesy Syiron
We've all been there. You're getting ready for the day, trying your best not to be late. You finally decide the right shoes to match your outfit, grab your keys, and you're out the door. Only to have to go back in and see if you left your straightener on. It's almost a daily routine.
Well, this KickStater wants to change that. The Syiron straightener let's you turn off your beauty item off from anywhere. The beauty tool is controlled by an app, so you can double check to make sure it's off without having to run home. You can also control the heat from your phone and get push notifications that the straightener is still on, if you get too far away from the beauty tool.
"One day I got to work and couldn't shake the feeling I left my flat iron on. I actually left work and ran home to find my flat iron was on," Whitaker tells Bustle. "Ever since that day I have spent all of my free time and energy into building a high quality flat iron with smart capabilities, in hopes that no one else will have to worry about leaving their flat iron on again!"
The smart flat iron is pretty epic — and not just because of convenience. It's no secret that straighteners are fire hazards. In 2013, a woman's house burned down in the United Kingdom after she fell asleep with the straightener turned on. That's not the only instance of it's kind, either.
Straighteners pose a threat even when they're turned off, actually. In 2007, CHI had to recall 5,000 flat irons because if incorrectly installed on and off switches. Paul Mitchell was also involved in a lawsuit in 2010, after people noticed their flat irons got abnormally hot and started smoking or burning furniture. Being in control of your beauty tool, no matter where you are, if a great advancement for beauty products.
"Syiron will give us one less thing to worry about," says Whitaker. "Its smart capabilities make it safe for your home, and state-of-the-art heat technologies make it safe for your hair."
The product isn't available just yet though. The idea is still just starting off on KickStarter. That means that you'll have to go give a few bucks to the idea, if you want the smart flat iron to become a reality. As of Aug. 22, there are 67 backers, who have donated over $5,000 of the $75,000 goal. There's just a month left to make this product a reality.
Although any amount donated is incredible, there are special perks to donating more than just $10. An $85 donation will get you one Syiron of your color choice — black of white — sent to your home. You'll get two Syirons for $165 and a customized smart beauty tool for $200.
Between the safety factor and the peace of mind, this is a pretty incredible product. Fingers crossed that it finds full funding, because it's a beauty update that just abut everyone benefits from.