This Guy's Magical Harry Potter Proposal Will Make You Believe In Love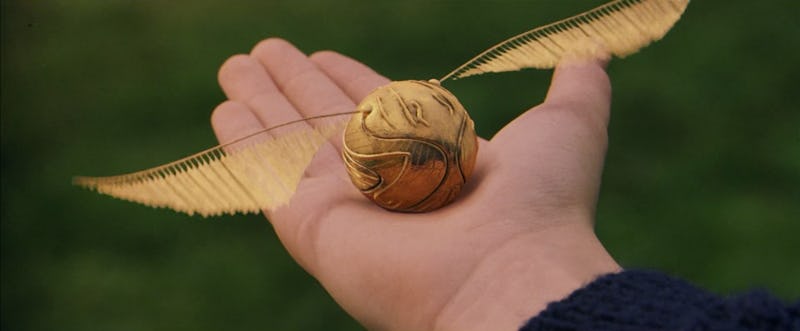 Warner Bros.
Potterheads looking to pop the question are going to have to make real magic to beat this one. A recent Harry Potter proposal used a Golden Snitch ring box, and it's just too much for words.
Knowing that his girlfriend, Trechsel Hall, was a huge Harry Potter fan, U.S. Army member Uriel Palma wanted to make his proposal extra special by mixing in her love of the wizarding world. He reached out to Asher Freeman, a jeweler from New Zealand, to commission a custom ring box in the shape of a Golden Snitch. The ring box unlocks with a tiny replica of Harry's Nimbus 2000. Freeman wrote about the creation of the Golden Snitch ring box in a recent article for Bored Panda.
Palma's ring box wouldn't truly be a Golden Snitch if it wasn't frustratingly difficult to open. Knowing that Hall would not be able to access the ring inside without the key, he gave her the ring box while they were spending time in Japan, and only let her have the miniature Nimbus 2000 a week later, "at the rooftop of a restaurant in Tokyo."
Hall, of course, accepted Palma's proposal. HuffPo reports that the couple "plan to get married in September in a ... ceremony at a courthouse."