These Airlines Are Offering Discounted Flights Because Of Hurricane Irma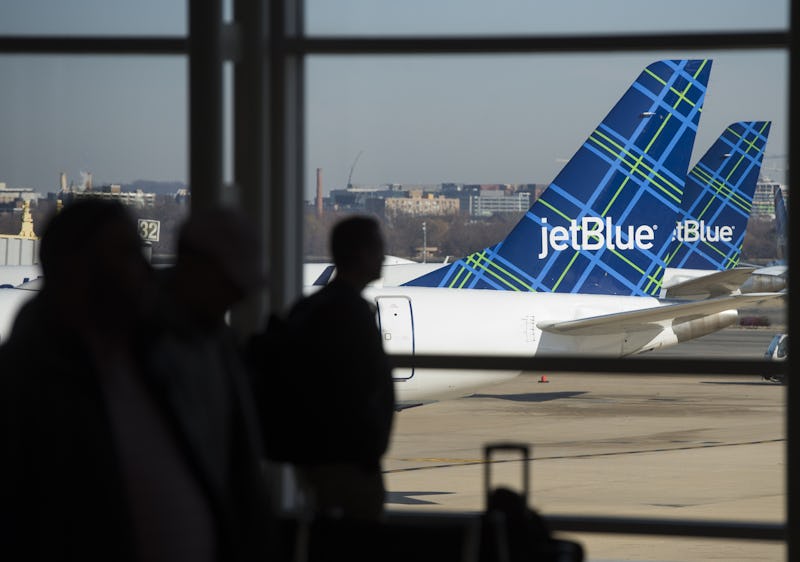 SAUL LOEB/AFP/Getty Images
With Florida under a state of emergency this whole week in preparation for Hurricane Irma, many have decided to get out of dodge. Now that's financially in reach for more residents in the state thanks to JetBlue's offer of $99 flights because of Hurricane Irma. That applies to any direct flight from the state of Florida. Connecting flights are also limited to $159. Travel must be completed by Sep. 13.
That could help evacuate more people from the state, especially South Florida, where the hurricane is most likely to hit initially. "We want those trying to leave ahead of the hurricane to focus on their safe evacuation rather than worry about the cost of flights," JetBlue's spokesman Doug McGraw told the Huffington Post. The downside, according to JetBlue's blog, is that the offer has been quite a hit with Floridians and the seats on offer are nearly all sold out.
Still, the move is a PR win for the airline. According to one Inc columnist, there have been widespread complaints online from the major three airlines regarding price gouging. The author highlighted experiences of many tickets reaching over $1000 before the airlines intervened in the ticketing system. All three blamed their ticketing system for the issue.
American Airlines has also placed a similar price cap on flights leaving Florida, which could come as a particular boon for Miami, given that the airline operates a major hub there. Their single-leg tickets are priced at $99 before government taxes if purchased by Sep. 10 and used by Sep. 13.
Delta put out a statement on its website that it had capped fares from southern Florida at $399. Flights from the Caribbean also benefited from the cap earlier in the week. There's no limit to fare class, those flying in first class also see the price break.
United, meanwhile, is offering to rebook tickets already purchased with no change fee or increase in fare, if the ticket is to or from Florida and the destination city is not changed. They also have added flights and increased the size of planes on existing routes. A spokesperson told Inc.:
United did not change how we priced our seats for flights out of Florida, and we will be offering additional flights out of Florida today and tomorrow to help more customers in those affected areas. For those flights we have added, we have taken steps to reduce those fares beyond what a regular last minute fare would be.
Ultimately, if you see a fare higher than it should be, the best thing to do is to contact the airline. They want to have positive PR about how they handle the storm. That's something JetBlue saw to perfectly.