This Is Mike Pence's "Prayer" To Trump & It's Super Gross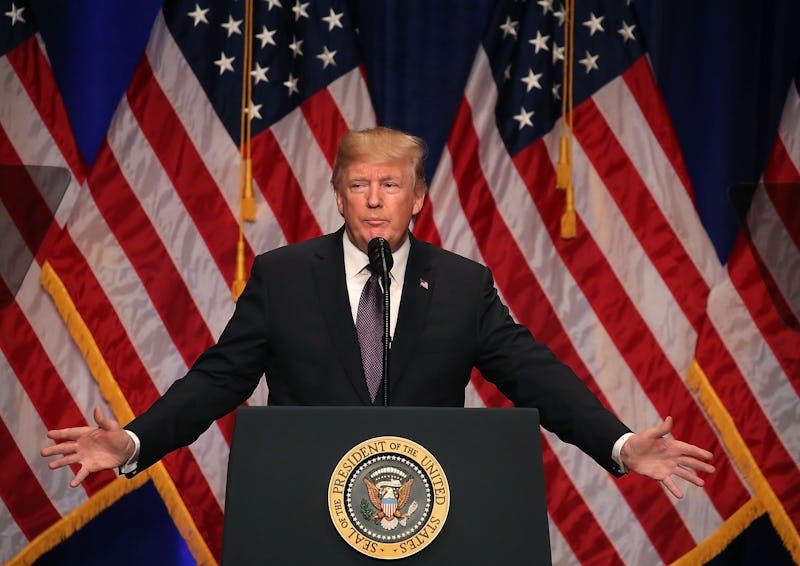 Mark Wilson/Getty Images News/Getty Images
On the same day that the Republican tax plan passed in the House—a $1.5 trillion tax overhaul and the biggest in 30 years—President Trump held a Cabinet meeting and took it as an opportunity to celebrate his various accomplishments throughout the year. Despite all of the criticism he's received during his first year in office, Trump's Cabinet and Vice President Mike Pence prayed to him during the meeting, and thanked the president for everything he had done for the country in the past year.
After Trump went through his many supposed accomplishments at the meeting, including building the border wall to Mexico, passing the GOP tax bill, and doubling down on deportation and immigration restriction efforts, Trump gave the floor over to Secretary of Housing and Urban Development Ben Carson, to lead the Cabinet into a prayer. Carson accepted and then said:
Our kind Father in Heaven, we're so thankful for the opportunities and the freedom that you've granted us in this country. We thank you for a President and for Cabinet members who are courageous, who are willing to face the winds of controversy in order to provide a better future for those who come behind us. We're thankful for the unity in Congress that has presented an opportunity for our economy to expand so that we can fight the corrosive debt that has been destroying our future.
Trump then asked Pence if he would like to "say a few words", and the Vice President proceeded to heap praise upon Trump, calling the GOP tax plan a "middle-class miracle" and complimenting Trump for helping the Republicans pass it. Pence also thanked Trump for "restoring American credibility on the world stage" as well as "rebuilding our military and putting the safety and security of the American people first." Pence ended the speech by thanking Trump for speaking on behalf of the "forgotten men and women of America" and "making America great again."
"I'm deeply humbled as your vice president to be able to be here. Because of your leadership and because of the strong support of the leadership of the Congress, you're delivering on that middle class miracle," Pence said.
Following the meeting, Pence's "prayer" of thanks to Trump was widely mocked on social media. Some argued that it was "humiliating" for Pence to deliver the speech to Trump while the president had his arms crossed. Others remarked that it wasn't out-of-the-ordinary for Pence to heap praise onto Trump, but even he outdid himself with the speech.
Putting aside the thought that this level of exultation and praise could be seen as unusual (and corrupt) in a democratic government, many would argue that Trump hasn't "restored American credibility on the world stage" in his first year. Instead, Trump has been slammed for hampering U.S. international relations by not only repeatedly taunting North Korean leader Kim Jong-Un on Twitter but being the subject of an investigation for possible collusion with Russian hackers during the election. In a highly controversial move that resulted in hurting diplomacy with leaders in the Middle East, Trump also repeatedly attempted to implement an immigration ban on people from Muslim-majority countries.
Trump also spearheaded a tax bill that would help corporations and wealthy Americans while disadvantaging working-class, elderly, and poor Americans. The bill also includes a measure that would help gut a major Obamacare requirement—inarguably a promise that Trump has touted since his early days on the campaign trail. While Trump claimed that the GOP tax bill repealed the individual mandate, what it actually did was remove the penalty or tax that Americans would be charged for not buying insurance. As a result, less healthy Americans could be in the health care market and premiums could rise, making it more difficult for people to get health care coverage.
Although some would disagree that Trump has sparked a "middle-class miracle" and acknowledged the "forgotten men and women of America," many would agree that Pence saying a prayer to the president is not only unusual, but downright difficult to watch.