This Is The Only Thing You Need To Know About Trump And Comey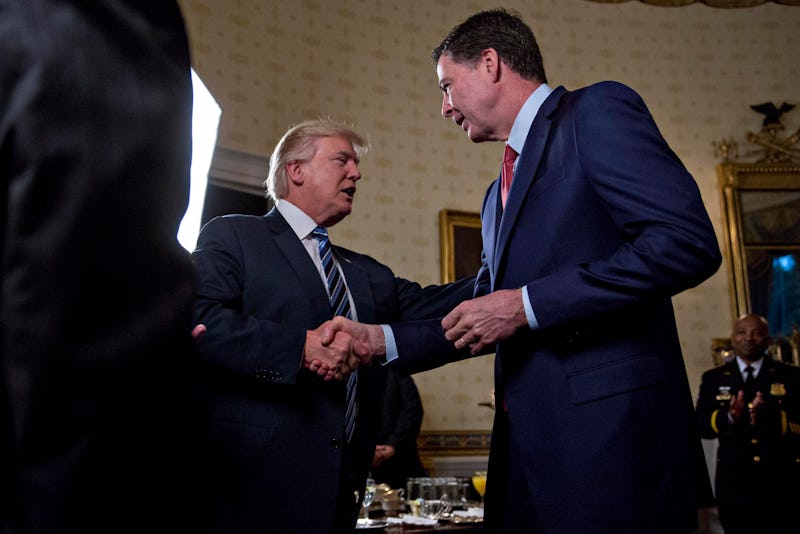 Pool/Getty Images News/Getty Images
On Tuesday afternoon, President Trump fired FBI director James Comey in an aggressive letter that informed Comey he was "not able to effectively lead the bureau." There are multiple layers to this development, but you need to be aware of one key point: Trump will now appoint Comey's replacement, who will go on to investigate Trump and his 2016 campaign for president.
A little background: The FBI is currently investigating whether Trump's campaign and high-level Russian operatives colluded during the run-up to the election. Comey offered testimony on his own role during the election last week, stating that he would not offer "another peep" about the FBI-Trump investigation until the FBI had concluded it.
Ironically, the Justice Department and Trump appear to have fired Comey due to the former FBI's head decision to speak publicly about Hillary Clinton's "careless" use of an email server, according to documents released alongside the Comey letter. Comey announced the reopening of an investigation into Clinton's email use less than two weeks before the election, and Clinton has stated that she believes this to have been the cause of her defeat. "If the election were on October 27, I'd be your president," she said during an interview one week ago.
So even though Comey's actions may have won Trump the presidency — an idea that Trump and his campaign have pushed against — they also seem to have cost Comey his position as director of the bureau.
So what happens next? Well, as this Slate article describes, a president is well within their rights to fire an FBI director (although it's far more common to ask for one's resignation instead). Bill Clinton did so with William Sessions back in the summer of 1993. Once the FBI director is out of a job, the president is free to nominate a successor.
After that, Trump's nominee will face a Senate vote and the same judiciary committee that Supreme Court nominees go up against. However, the main point is crucial: Trump gets to pick.
Which brings me to this: The prospect of a president whose campaign is being investigated for illegal activity getting to choose the individual who will oversee said investigation is ethically murky. Although it's not flat-out illegal, politicians on the Democratic side are already calling for an independent investigator.
Throughout the first 100 days of Trump's presidency, questions have flown about the connection between Kremlin higher-ups and the Trump administration. Now that a conflict of interest between the FBI and Trump cannot be avoided in the wake of Comey's finding, those questions aren't likely to go away.