This Is The World's Most Expensive Lip Art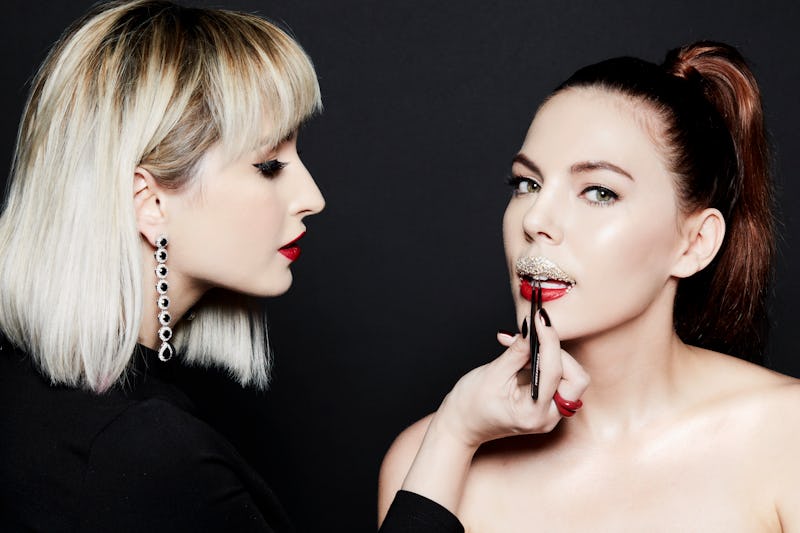 On March 22, Vlada Haggerty — the MUA and lipstick queen that even Kylie has emulated, set the Guinness World Record for Most Expensive Lip Art. Haggerty's creations have always been luxurious, splattered with sequins, rhinestones, and her signature glossy drip — but this look doesn't just takes the cake, it takes the whole damn bakery.
Ukrainian-born Vlada Haggerty began her professional makeup career six short years ago in 2011, when she attended the Natalia Nayda Makeup School. In less than a decade, her work has become some of the most easily recognizable in the industry. Her impeccably applied and wondrously textured lip creations have helped to pioneer the lip art trend. Her sumptuous lip drips have inspired hundreds of other artists to utilize her techniques. Now Vlada has partnered with Smashbox as their "Lip Editor in Chief" to create lip art with the brand's new #BeLegendaryLiquidLip Metals, and, most recently, the world's most expensive lip art.
The event was held by Smashbox and Sephora to celebrate the launch of the Be Legendary Liquid Metal and the Be Legendary Liquid Pigment. The draw-dropping diamonds provided by jewelry designer Zoe Chicco. According to Smashbox's Instagram Story, a guard was present to protect the precious lip art supplies.
The final lip art look, littered with gold leaf and 80 individual diamonds, totaled 6.5 carats was appraised at $26,500, setting the Guinness World Record for Most Expensive Lip Art.
Just look at how it turned out. The epitome of luxury and beauty.
Davis Factor himself, as well as Haggerty's personal macro lip art photographer, shot pictures of the model and of the event's attendees.
Congratulations, Vlada!
We can't wait to see what amazing creations this artist comes up with next — or how much they'll be worth.