Melanie Liburd Says Zoe & Kevin Have A Long, Bumpy Road Ahead Of Them On 'This Is Us'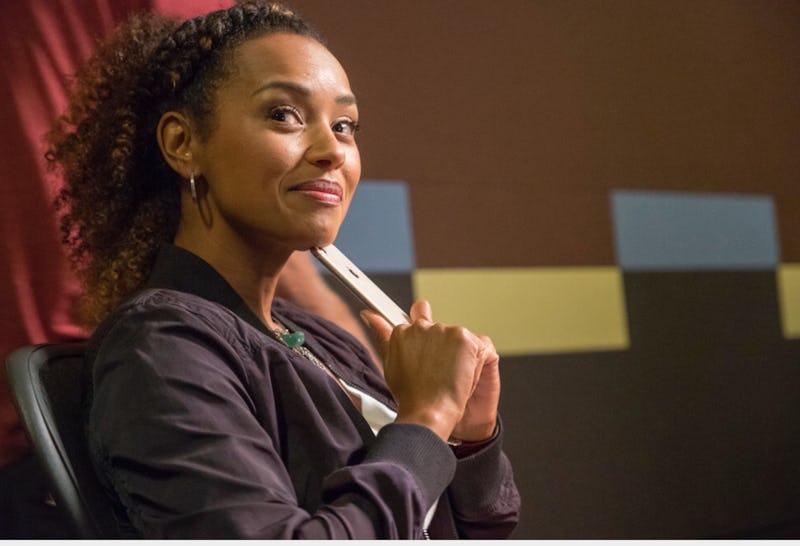 Ron Batzdorff/NBC
After witnessing the heartbreak and addiction he has grappled with throughout the show's run, you can't help but root for Kevin's happiness on This Is Us. Lately, his career has hit a high point, and now, with the arrival of Beth's cousin Zoe, played by Melanie Liburd, an intriguing romantic prospect could bring him the stable partnership he needs. According to Liburd herself, there's going to be a lot to unpack surrounding Kevin and Zoe's relationship on This Is Us as the season continues, so settle in for an emotional ride.
The fling started as a secret, but now that Beth is aware of their antics, so many more questions have arisen. Beth warned Kevin that Zoe has a tendency to damage the men she spends time with, and Zoe is also visibly reluctant to go all-in on a full-fledged relationship. In an interview with Bustle, Liburd says there's more to Zoe than meets the eye, and once her backstory is further fleshed out, fans may better understand where she's coming from.
"I think you'll find out more eventually," Liburd says over the phone in early October. "Zoe reveals something rather large to Kevin about her backstory [later in the season], and then her resistance kind of makes more sense. I think she really does shy away from getting too close to people, and I think she's been that way for a long time. I think in a way, it's ... to protect herself. We'll find out further down the line."
Liburd also says that viewers will watch the duo come to terms with some of the realities faced by people in interracial relationships, particularly in the fourth episode of the season. "In a way, we're both learning about each other like you do in any relationship, and then there's the dynamic of learning about being an interracial couple," she continues. "There are things you'd never see or that you'd miss."
And aside from what becomes of Zoe as it relates to Kevin, Liburd says it's "so important" for her character to stand on her own two feet — not just exist for the purpose of their relationship. "Zoe's completely independent. She's been working really hard for a long time to get where she is, and she's finally got into her stride," she says. So fans should remember to be not so quick to judge, as they did earlier in the season when she seemed to be on the fence with how far she wanted to go with Kevin.
That flourishing professional life and independence she's built for herself is part of why Liburd says Zoe's interactions with Kevin are so interesting to explore. "Life is funny with timing — just when you think, 'I don't need anyone,' suddenly this guy comes along, who she thinks is going to be just a bit of fun. She doesn't really take it too seriously," she says. "And then he makes her think, 'Oh, there's more to this guy.' That's what really exciting — playing out that dynamic between them. He's like, 'Oh, I've never had a girl challenge me in this way.' I think they complement each other really well in that way."
The affection Liburd has for her character is palpable, even over the phone. "[I love] her fearlessness and courage. She's gone through a lot in her childhood… and she's turned into this kind human being that's passionate and wants to do good," Liburd says. "She's doing a documentary about the global water crisis, so she cares about the environment. She's really interesting to explore... It's a dream to play as an actress."
As for Liburd herself, she says she was a huge fan of This Is Us even before she landed an audition, so she's relishing in her time onset as long as her character will allow. "It's brilliant to watch, and to be in the midst of that was really fun," she shares. "It truly is a fun set to be on, and I think it translates when you watch the show — people really are having that much fun." Though Liburd arrived at the tail end of last season, she was officially promoted to a series regular this year. Thankfully for those who have already been charmed by Liburd's intriguing performance, that means there's plenty more Zoe content to come.