'This Is Us' Added A New Season 3 Cast Member Who Could Be Kevin's True Love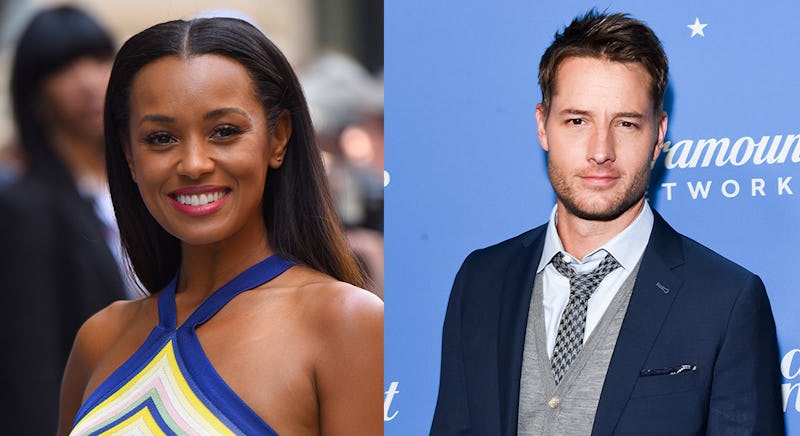 Photo by Robert Kamau/GC Images; Presley Ann/Getty Images Entertainment/Getty Images
Get ready to see a lot more of Beth's super-cool cousin Zoe on This Is Us because Melanie Liburd was promoted to be a This Is Us series regular for Season 3 of the NBC family drama. The exciting news, first revealed by The Hollywood Reporter on Thursday, Aug. 23, of course, begs the question: Will Kevin Pearson's potential relationship with Zoe go the distance? After all, fans last saw the British actor cozied up with Justin Hartley's Kevin during a flight to Vietnam in the Season 2 finale's cliffhanger flash-forward scene.
"Yay thank you @hollywoodreporter," Liburd captioned an Instagram screenshot of THR's news article. "Also huge thanks to [This Is Us creator] Dan Fogelman for this incredible opportunity, this season is going to be epic! Can't wait for you all to meet Zoe!"
Fans have already kind of met Zoe, though, as she made a huge impression as the photographer at the wedding of Kate (Chrissy Metz) and Toby (Chris Sullivan) in last season's finale episode. It was as much love at first sight for fans as it seemed to be for Kevin, who also met his (likely) girlfriend at his twin sister's rustic nuptials. In one of the final scenes, Zoe approached Kevin near the punch bowl to praise his wedding toast, saying "I've always been a sucker for a good toast." Cue a pair of foreshadowing flirtatious smiles.
Producers were equally enamored with the actress herself, as co-showrunner Elizabeth Berger explained to THR in March:
"We were looking for someone that could hold her own with Justin comedically and dramatically. We did chemistry reads and she was so fantastic that we saw the two of them together and we were like, 'That's it, that's Zoe.' It was just a lot of fun. We didn't want to let her get out of the room because we just felt like we found our girl, so it was really exciting."
As for what's to come after This Is Us Season 3 premieres on Sept. 25, Berger had a few hints. "We're going to be embarking on a new chapter with [Zoe and Kevin] sort of discovering their romance, and their relationship, and figuring out what they are," she added to THR, teasing, "We can expect to see her for a while."
Beth Pearson (played by Susan Kelechi Watson) will also be introducing other new relatives on the Golden Globe-winning show as well, said Berger: "We're looking forward to including Beth and Zoe's extended family, and throwing them into scenes with Kevin and Randall. It just felt like the possibilities there were really fun and endless."
For his part, Hartley also gave fans a sneak peak of his relationship with Zoe in Season 3, during a recent interview with Entertainment Weekly. "Do they fall in love quickly? Are they friends? Are they lovers? What's going on with that?" he teased to the publication.
One thing that seems more likely is that Beth won't necessarily be super on board with the new relationship, considering her relationship with Kevin had been more contentious since he arrested for drunk (and seriously dangerous) driving with her and Randall's young daughter Tess in the backseat. "It's not going to go over [well]," added Hartley. "What do you think it's going to be — smooth or rocky? I think rocky. Rocky's more fun."
Kevin and Zoe's trip to Vietnam, of course, is part of a quest to learn more about the time his father Jack (Milo Ventimiglia) serving during the Vietnam — something Hartley told EW would yield some of the show's trademark shocking plot twists. "He's going there — it's a healing thing for him — so he's going to get a lot of information, some stuff that he didn't know and didn't expect," added the actor. "And it's going to jar a few things ... It's not what anyone is expecting. No one is going to see it coming. It's ambitious stuff."
With filming for Season 3 well underway, Liburd already seems to be fitting in with the cast beautifully. On July 27, she shared an Instagram video montage of the "incredibly talented" This Is Us cast behind the scenes, writing that she was "having an absolute blast on set." In one clip, Liburd, who recently appeared in the short-lived Netflix psychological thriller Gypsy, bonded with her "sister cousin" Watson while on the hunt for the ever-important craft service goodies.
As all of these Season 3 clues — such as Liburd's promotion to series regular — continue to trickle in, fans are more than ready to see how the story continues to unfold this Fall.