Jay-Z Talks About OJ Simpson & Race In America In A Revealing New York Times Interview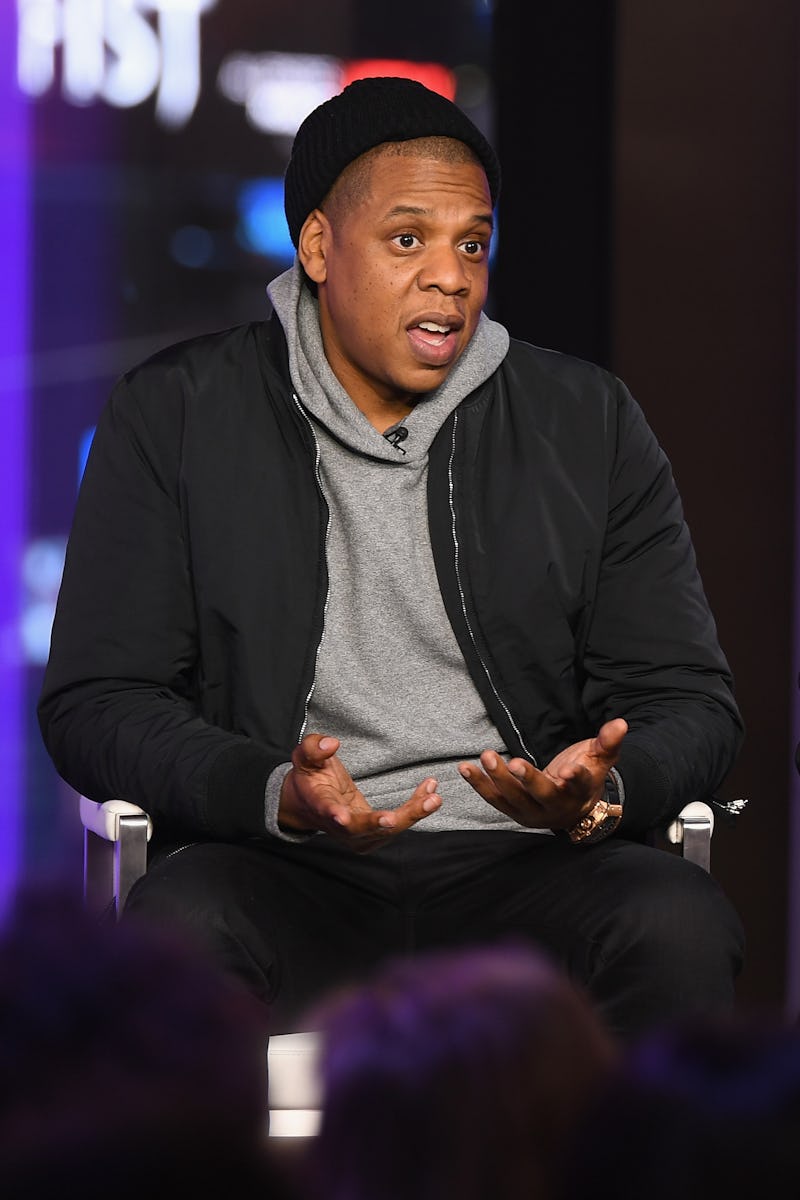 Dave Kotinsky/Getty Images Entertainment/Getty Images
In a new interview with The New York Times, JAY-Z discussed his career, including his album 4:44, his marriage to Beyoncé, and, quite importantly, race. In particular, JAY-Z talked about O.J. Simpson and the current role of race in America in a way that shows a key step in creating equality in today's society.
At one point during the interview, the conversation turns to JAY-Z's song "The Story of O.J.", which is a song in reference to controversial former football player Simpson. The interviewer, Dean Baquet, the exceutive editor of NYT, asks the singer who the song speaks to and asks him about his thoughts on Simpson's portrayal of his own race. Baquet asked JAY-Z,
Was it a reminder, too, that the thing O.J. forgot, maybe, was that as rich as he was, as entitled as his life was, he was reminded very forcefully when he became a subject of racial debate that he was also a black man, whether he accepted that or not?
The rapper's response to this question highlights how important it is for people to not lose sight of who they are. And his statement serves as a message for everyone to be responsible in celebrating one another's identity in order to create necessary equality in the world. He says, "That's right." and goes on to say, "The goal is, if you have a specific God-given ability, is to live your life out through that. One. And two, we have a responsibility to push the conversation forward until we're all equal."
What he's saying here is that one should be mindful of their own talents. But, there's a large platform that comes with sharing those talents, as in the case of JAY-Z, who is an incredibly popular music figure, to the world. There's no use in ignoring this conversation centered around race any longer. In his own words, he touches upon the fact that addressing race within society head-on is a necessary way to create change and to enable others to feel true equality.
In the lyrics to "The Story Of O.J.", the song which sparked this conversation point, contains another look into how JAY-Z views race. The song includes lyrics that directly tie back to a quote connected to Simpson, according to sociology professor Harry Edwards. His sentiments were supposedly "I'm not black, I'm O.J." JAY-Z directly samples that alleged quote in his song and says, "O.J. like, 'I'm not black, I'm O.J.'...okay.", that okay which implies his disagreement with the phrase. This ties back that one should not ignore their race. That's because, if it is ignored, then that is a step that's preventing our culture from truly celebrating our differences.
Later in the NYT interview, JAY-Z mentions that he dedicated a recent performance at the Meadows of "The Story Of O.J." to Colin Kaepernick, a football player who has been outspoken in his words and actions about race in today's society. Kaepernick's decision to kneel during the National Anthem was done in order to highlight the injustices that African-Americans and minorities still face today. In his own words, he said, "I am not going to stand up to show pride in a flag for a country that oppresses black people and people of color", according to NFL Media in August 2016. JAY-Z's connection of his own song to Kaepernick is yet another example of him highlighting this message concerning an acknowledgement of race and the struggles that come with it in order to try and create much-needed change.
This NYT interview isn't the first time that JAY-Z has highlighted how important it is to face this issue head-on in society. When he spoke with BBC Radio in September 2017, he discussed the state of the country under President Donald Trump and race relations within America. In the interview, he says, "I just think he's [Trump] not a very sophisticated man, especially when it comes to the idea of until everyone is free, no one is free, period ... So if you oppress a certain people, everyone is in danger." His comments show that society must listen to everyone, without ignoring race, in order for everyone to feel the same kind of freedom. Until then, there can't be change.
JAY-Z's statements about acknowledging race and having those important conversations offer an important way to help create change. Now, it's up to society to learn something from his message.