Here's What Theon Greyjoy From 'Game Of Thrones' Looks Like In Real Life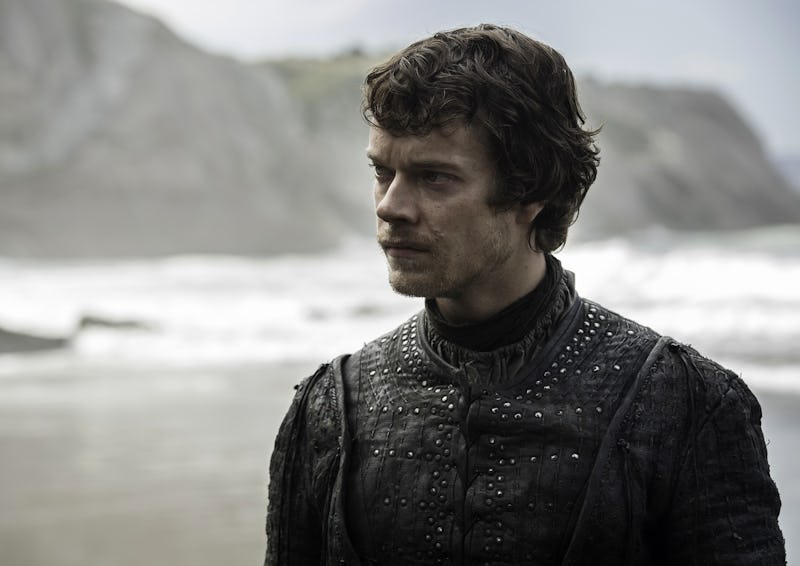 Macall B. Polay/courtesy of HBO
Though it's quite the overused adjective now when describing HBO's Game Of Thrones, there's no denying that the fantasy series is epic. Besides the epic battles, dragons and betrayal on Game Of Thrones, the costuming is also pretty epic. The show's costume design has been widely recognized and has earned GOT some of its many Emmy awards. Alfie Allen, the actor who plays Theon Greyjoy (formerly known as Reek formerly known as Theon), faces quite the transformation when suiting up for his Westerosi scenes. . You would hardly recognize him IRL, though; because what Theon Greyjoy looks like out of costume is the polar opposite of Allen.
Theon is one of the show's most polarizing characters, having done some very bad things and gone through some very bad things. At the end of the day, he's a really serious, really sad dude, and his somber armor and generally defeated look reflect that. But Alfie Allen couldn't be more different than his tragic character.
For one, Allen is pretty scruffily adorable, charming and well-dressed. Whereas Theon is usually covered in dirt or icy cold water, dressed in drab, depressing heavy armor, and very, very rarely smiles. Allen is as carefree and buoyant as Theon is not—one delightful example: the actor brought his puppy Abby to the Game Of Thones panel at Comic-Con in July 2017, and she was the highlight, even more than all the Season 7 spoilers. Allen cradled Abby like a tiny baby and the crowd went wild. A direwolf she certainly is not.
Alfie and Abby: a match made in heaven, don't you think? Abby was, apparently, very well-behaved during the panel and very cute. If Allen was trying to endear himself to Theon haters, nothing works better than a tiny puppy.
Allen is also very stylish, much unlike Theon, though fashion opportunities don't really befall his character. Allen always looks tip top on the red carpet and in photoshoots, like his wardrobe for a profile in Interview in 2015. He's looking like a greaser and/or Harry Styles' older brother. What an outfit, and what lovely, clean hair. Take note of these fashion choices, Theon.
He's also not afraid to take some fashion risks; he's worn some very slick, unique suits on the red carpet. A standout is this forest green number. So bold and so lovely.
Unlike Theon and Daenerys both vying for the throne, Allen and co-star Emilia Clark get along just fine, thank you very much. Here's an adorable selfie from Christmas 2015, which Clarke caption:
Because Christmas is about finding your good side..
An even more different on-screen to IRL friendship: Allen and Sophie Turner, who plays Sansa Stark. Here's a selfie from 2016, posted to Turner's Instagram account.
And while Theon and Yara have wait you could call a...complicated relationship, Allen and his real life sister Lily are pals. Yes, that Lily Allen, the British pop singer famous for songs like "22," "Smile," and "The Fear." But there's still a little tension, there: Lily Allen got in a bit of trouble with her brother in 2014 when she mentioned Game Of Thrones in an interview and later said that Alfie told her to not mention the show again.
Besides looking so different than Theon, though, Allen also smiles a lot more and takes himself a lot less seriously. Someone on Game of Thrones should tell Theon to crack a smile once in a while.
Alfie Allen leads a much better life than Theon, thank goodness. And if you saw him on the street, you might not even recognize him.