This Is Why Model Rain Dove Is Boycotting NYFW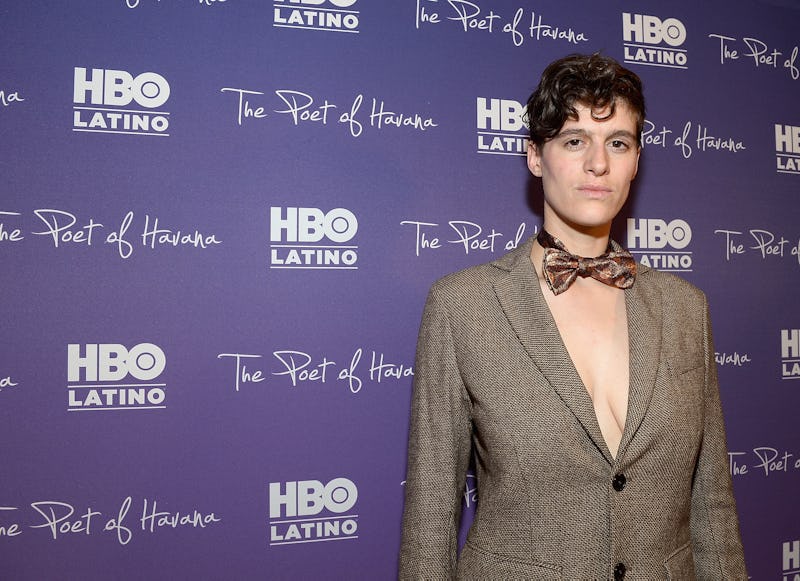 Gustavo Caballero/Getty Images Entertainment/Getty Images
Model Rain Dove is no stranger to the fashion industry, but recently she decided to take a stand against one facet of it. On Feb. 13, Dove announced on her Instagram that she's teamed up with clothing brand TomboyX to boycott New York Fashion Week.
In the caption for her Insta vid, Dove said, "'No apologies' my response to #potus #donaldtrump memo for 'Women to dress like Women' in the White House."
She added, "I'm boycotting #NYFW this season to show that runways and billboards should not dictate the way we see what is 'acceptable'. No one — not an ad agency, a celebrity, or even the president should be the one we look to for how we should be our best self. You know YOU. Don't dress as a 'gender' or 'sex' — dress as the most effective and comfortable version of yourself because when you are the best you you are able to give your best to the world so we can give our best too."
Dove has previously participated in movements like this gender-focused photoshoot she did wearing Victoria's Secret lingerie — her response to, as she put it, being "constantly told in the industry that I don't look like a woman."
Dove is a TomboyX brand ambassador. TomboyX CEO Fran Dunaway tells Bustle a Dove x TomboyX video was planned and produced prior to Dove's decision to boycott, and they now feel it reflects the current political climate.
Dunaway tells Bustle in an email, "The Rain Dove and TomboyX video was in the works months before the election and at that time was thought of as more of a manifesto of our beliefs and values as a brand, our #HumanAgenda."
She continues, "After the election there has been a rising tide of people coming together to defend the progress that our great country has made. Obviously, we feel our video speaks to the fact that we should all live lives that are about being unapologetically who you are born to be. And not a version of what someone else thinks you should be, based on how you look, the clothes you wear and who you are often judged by."
Dove and TomboyX's bold collab has more than 75,000 views on Instagram, with more views piling in by the minute. Dove certainly isn't afraid to speak her mind — and it looks like fans are eager to listen.