People Think This Photo Of Ivanka Looks Like She's Posing With A Trump Impersonator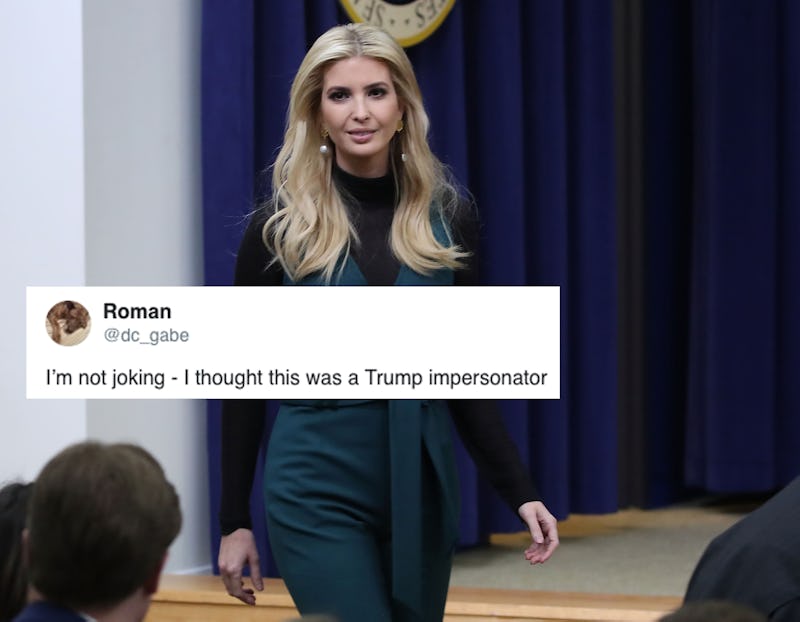 Mark Wilson/Getty Images News/Getty Images
Ivanka Trump met with a man impersonating Donald Trump on Tuesday. Or at least, that's what much of Twitter would like to believe. Boris Johnson, the United Kingdom's foreign secretary, has an undeniable physical resemblance to the U.S. president — one that is especially uncanny in a photo he tweeted out of his meeting in the White House with the first daughter. Twitter users joked that the picture of Ivanka and Boris Johnson looked like she was really meeting an impersonator of her father.
"I had a fantastic afternoon in the White House yesterday, seeing the real spectrum of UK-US cooperation & discussing everything from the Syria crisis to the need for global women's empowerment with @VP Pence, @IvankaTrump and Jared Kushner," Johnson tweeted on Tuesday.
In the image, Johnson stands next to the first daughter and gives a big thumbs up. The foreign secretary's appearance has often before been compared to that of President Trump (though, at age 53, he is 18 years younger), particularly because of their similar mops of unruly blond hair. "Is Boris Johnson Donald Trump's son?" joked a January article in The Independent.
But, as many on Twitter noted, the thumbs-up sign puts their kinship over the top. President Trump flashed his thumbs so often during the campaign that the sign became one of his symbols, only a tier below the red MAGA hat. A report from the Republican National Committee even found that donors were more likely to give money to Trump when presented with an image of him with his thumbs up. He makes the sign often as president, too, even at seemingly inappropriate times, like while visiting victims of the Parkland shooting in the hospital.
It's bizarre how much it actually looks like Ivanka is standing with her father upon a first glance at Johnson's photo.
Here are some of the many tweets comparing Johnson to a Trump impersonator.
The Original Viral Tweet
As of this writing, the tweet had received more than 16,700 likes and 2,600 retweets.
Some People Apparently Actually Made The Mistake
An understandable error.
In Roll The Memes
A bit of Photoshop work here.
An Excuse For Boris Johnson Jokes
Some say that the politicians' resemblance goes beyond appearance. The Independent article argued that both men "respond with spookily identical shamelessness to what would be a source of crippling embarrassment for anyone else."
And Also Ivanka Jokes
Liberals often question the first daughter's authenticity: Although she seemed to indicate that she would be a champion for women during her father's campaign, she has since taken many actions that — according to progressives — hurt women's interests. Last August, for example, she supported her father when he rolled back an Obama-era rule requiring companies to disclose data about how their employees were paid along gender lines.
Maybe It's Cosplay
In cosplay ("costume play"), people dress up as characters. But they're usually fictional ones.
Maybe It's Diplomacy
Along with many other European leaders, Johnson tried and failed to convince Trump not to back out of the Iran deal. He wrote a New York Times op-ed on Monday suggesting that "At this delicate juncture, it would be a mistake to walk away from the nuclear agreement," met with Ivanka and Jared Kushner and possibly other administration officials on Tuesday (though it's not confirmed that he argued the deal's case then), and tweeted a condemnation of Trump's move to exit the agreement after the president announced that he would do so. "Deeply regret US decision," Johnson wrote.
Doing "The Thumb"
Bloody hell indeed.
But... Are We Really Sure It's Not An Impersonator
Stranger things have happened. We live in wild times.