This Jared Kushner Doppelganger Is Straight Out Of A Horror Movie (No, Seriously)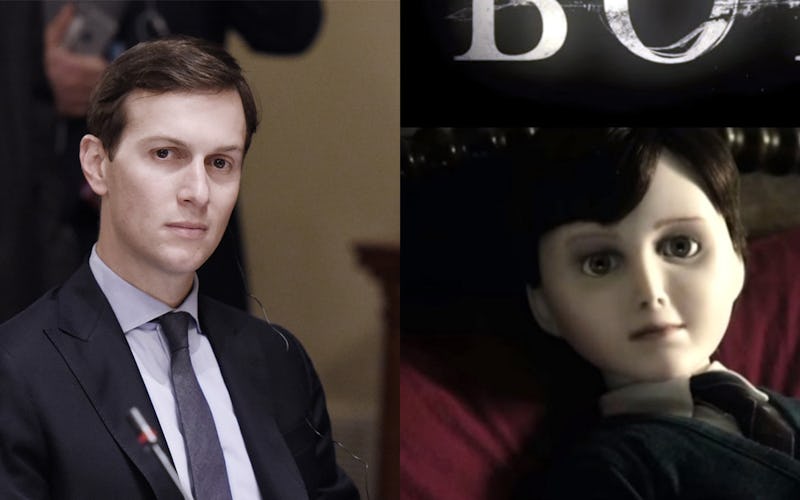 Getty Images / STX Entertainment
President Trump's son-in-law and top advisor, Jared Kushner, testified before the Senate Intelligence Committee on Monday about Russian interference in the 2016 election, and also said in a public statement that "I did not collude with the Russians," and that "all of my actions were proper." Some of those who watched Kushner's televised statement, however, were more captivated by the fact that Kushner bears a striking resemblance to The Boy, an evil doll who goes around killing people in the 2016 horror film of the same name.
Kushner's testimony came after it was revealed that he, along with Donald Trump Jr. and former Trump campaign manager Paul Manafort, attended a meeting during the presidential campaign with a Russian attorney who claimed to have incriminating information about Hillary Clinton. According to emails released by Trump Jr. himself, the intermediary who arranged the meeting said that it was part of the Russian government's effort to swing the election to his father.
On Monday, Kushner testified behind closed doors to the Senate Intelligence Committee, although he was not under oath while doing so. Soon thereafter, he delivered a public statement on the matter in front of the White House. Although Kushner is reportedly one of the most influential people in Trump's inner circle, it's unusual for him to give public statements of any kind, so this was something of a rarity.
Kushner proclaimed his innocence and stressed that he didn't do anything wrong. As he was doing so, some on Twitter noted that he looks an awful lot like the doll-monster from the horror film The Boy.
The Boy is about woman who takes a nanny job, only to find that the "boy" she's taking care of is in fact a creepy, inanimate porcelain doll. Of course, because it's a horror film, the doll doesn't stay inanimate very long, and eventually starts, well, doing all the things that evil dolls do in movies about evil dolls (talking, walking, murdering people, etc). The Boy was a moderate box office success, though as with most horror films, critics just about hated it.
A crisp tie and suit, perfectly coiffed brown hair, a largely silent public demeanor, fair skin, and a look of unnerving calm — Kushner and The Boy both have 'em in spades.
The difference, though, is that The Boy [spoiler alert!] ultimately dies in a gruesome way. Even in a worst-case scenario, Kushner only faces the possibility of legal trouble, not physical obliteration, so he certainly has a brighter future than the film's titular villain.
But still. Those eyes!