This Timeline Of 'Vanderpump' Stars Jax & Brittany's Breakup Is A Real Rollercoaster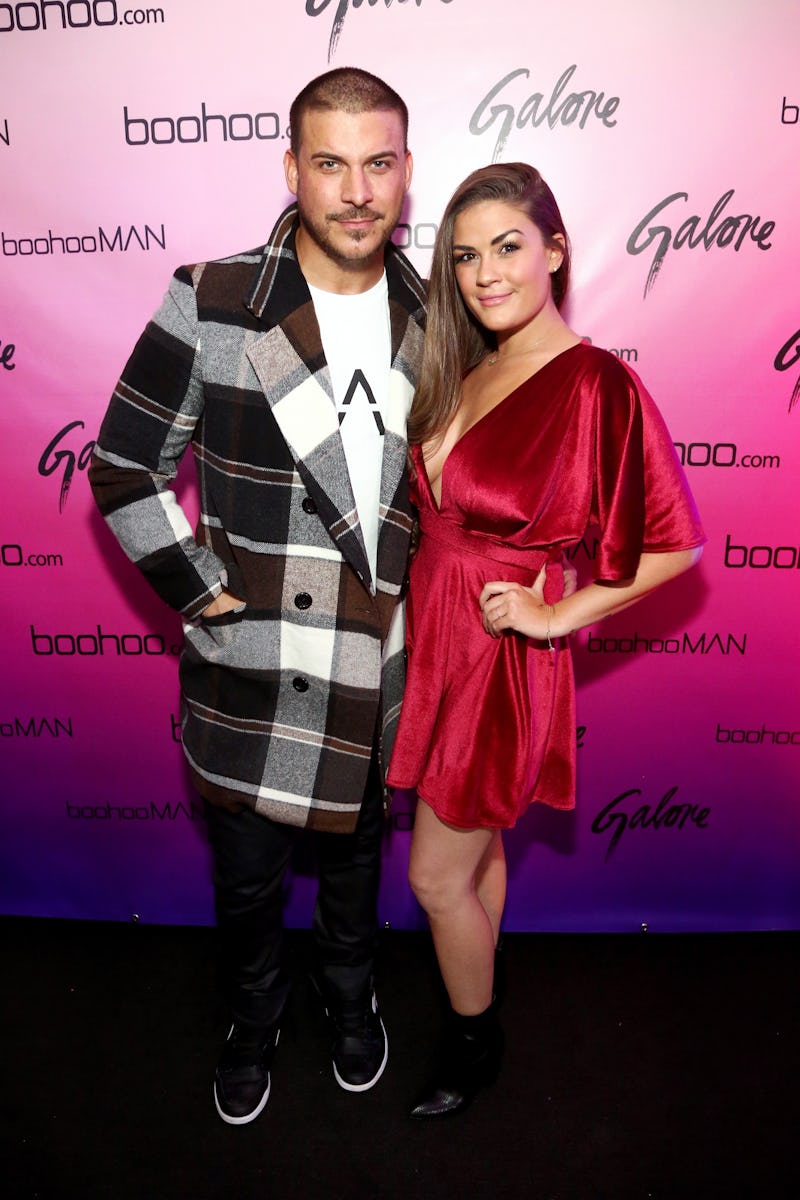 Tommaso Boddi/Getty Images Entertainment/Getty Images
Sweet Brittany Cartwright has gone through a lot so far in Season 6 of Vanderpump Rules, and there have only been two episodes so far. In a massive bombshell moment, the premiere had Brittany hearing an account about Jax possibly hooking up with former SUR server, Faith Stowers, while they were still together. In the second episode of the season, Jax admitted that what Faith told the rest of the group about their relationship was true. And Brittany wasn't ready to just forgive Jax this time around.
But it seems like that split didn't stick for long. And since the Vanderpump season airing now was filmed several months ago, things might be a little confusing. So a definitive timeline of Jax and Brittany's breakup and reconciliation is necessary.
Fall 2016: Jax & Brittany Take Kentucky Films & Puts Spotlight On Their Fighting
Where to begin? It seems like the couple's issues may have started brewing during theit spinoff show, Jax And Brittany Take Kentucky. The series was advertised as a "fish out of water" kind of thing, where big city Jax is plopped on the farm in Kentucky with Brittany's family. The end result was uncomfortable, with Jax and Brittany constantly fighting and clearly trying to work through some big issues that had begun to arise in their relationship.
Several times Jax walked out and left Brittany crying and questioning whether their commitment was even worth it. This was all after Jax had made a point of showing her mother a photo of an engagement ring that he planned to propose to Brittany with. In the season finale, it looked like they were broken up for good when Jax hopped a plane back home and Brittany chose to stay in Kentucky. He addressed his behavior after the finale aired with a post on his Instagram page.
November 2016: The Pair Make Public Appearances After 'Jax And Brittany Take Kentucky' Finale Fight
It was last year that the Jax And Brittany Take Kentucky finale and explosive argument actually happened. Although it appeared that they were done for good, Jax told The Daily Dish that he and Brittany survived the series. "We're still happy and we're still together," Jax said. "When she came home it was kind of like [we can] start fresh, clean slate, start over."
The finale filmed during the late fall 2016 and Brittany's Instagram shows that she and Jax hosted a party together at Lava Nightclub in New York on Nov. 12 of the same year. Either they were really good at faking it, or they were together at that point, which means they survived the finale fight. From that point on, Brittany posted a lot of photo evidence of her and Jax being affectionate and loving, so although they went through that rough patch, they made it work for a time.
May 2017: The Cheating Scandal & The Breakup
Now, the big reveal of Jax being unfaithful happened during Scheana's birthday party. Of course, Scheana pulled an OG Stassi move and had a huge blowout masquerade ball for her birthday. A quick search reveals that Scheana's birthday is May 7, so the party was likely around that time or right on her birthday. It was during the party that Faith revealed that she slept with Jax, and, although he denied it (very poorly) for a couple of days after, he eventually confessed to Brittany that he had, in fact, cheated on her with Faith. Brittany promptly dumped his sorry butt and the entire universe cheered collectively. It was a moment of unity that 2017 needed. It wasn't long though, until the two started sleeping together again, as Brittany confessed to her fellow SURvers during the second episode of Season 6. Both of them addressed the cheating scandal on their social media during the episode airing.
December 2017: Reconciliation
This month, Entertainment Tonight caught up with Jax and Brittany to ask about their breakup. The pair confirmed at as of right now, they are together. This wasn't without some trouble, though. Brittany revealed to ET, "It's hard. Very, very, very hard … We took some time trying to work on things, but we're back together … six months [back together] and [it's] still working." So this would put them getting back together at around June or late May. If that timeline is correct, then they were not broken up for a long time at all. In fact, the photo below was taken in May, so either it was taken right before the cheating bombshell, or they may have only broken up for like, four minutes in reality.
Right now, they are together. Jax even recently posted an Instagram video of their cozy and festively decorated place together, which showed a stocking with a "J" on it and a stocking with a "B" on it hanging on the fireplace. It looks like these two worked through their infidelity struggles for the time being. And honestly, for Brittany's sake, I hope Jax has learned a lesson about how lucky he is to be in her life at all.