These Clues Jax Cheated On Brittany Will Make 'Pump Rules' Fans Do A Double Take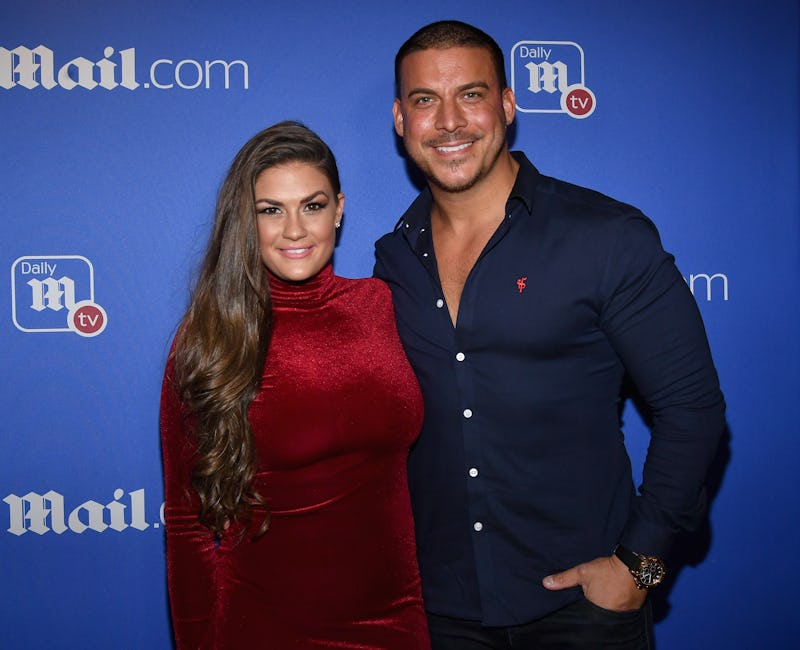 Slaven Vlasic/Getty Images Entertainment/Getty Images
The Vanderpump Rules Season 6 premiere started off with a bang… or did it? During last Monday's episode, Season 4 supporting character Faith Stowers returned to the series with quite the story: She claimed that she hooked up with Jax Taylor. Nothing has been confirmed, but there are some clues that Jax might've cheated on Brittany Cartwright with Faith. Or at the very least, clues that something happened between Jax and Brittany.
On the Dec. 4 ep, a scandal rippled through Scheana Marie's birthday party when almost every guest caught wind of the Faith and Jax rumor. The incredibly specific anecdote wasted no time in getting back to Brittany, and Jax did the thing he always does: He denied the story up and down. And with that, Pump Rules welcomed yet another cheating accusation to the fold. Yes, there are some signs that could support this story.
1. This Summer, There Was A Rumor That Jax And Brittany Broke Up
Over the summer (aka Pump Rules filming season), there were whispers that Jax and Brittany split up. However, when a fan asked him about the rumor on Twitter, Jax said the Radar Online story about a breakup was "not true." And when the Huffington Post brought the topic up to Jax and Brittany, both denied splitting up. Jax said,
Yes. You definitely can [put the kibosh on that rumor]. Don't read those! You can't read that stuff. We have arguments like I'm sure you have with your significant other. Things get magnified differently because we're on TV.
Oh? OK, then.
Ready for another potentially relevant thing that happened around that time?
2. Some Temporary Unfollowings Seemed To Take Place This Summer
The two reportedly unfollowed each other on social media for a hot minute, a move that sparked lots of speculation about the state of their relationship. Regarding what may or may not have happened between them on social media, Brittany told HuffPo, "It's crazy. If we unfollow (one another on social media) everyone finds out." Jax added,
It means the world has ended. It comes with the territory for us with the show. They are bored and I guess there were no stories that day. We have our ups and down.
It is worth noting that this reported unfollowing happened in August, but Scheana's birthday falls in May. So, the unfollowing incident might've had nothing to do with the gossip that sent shockwaves through the "Good as Gold" singer's party, or it might've been a delayed reaction.
3. Jax And Brittany Seemed To Take Less Pics Around That Time, Too
At the risk of reading into their social media accounts and making something out of nothing, here's another thing that may be worth noting: Aside from the photos they took together at press events and on cast trips, Jax and Brittany rarely popped up on each other's Instagram pages this summer. Oh, and it looks like Jax took down the photo he posted for their anniversary in May? Again, all of this may mean nothing; Tom Schwartz and Katie Maloney also went through a period where they didn't post pics of each other on Insta, but it wasn't because they split up. (But seriously, why'd Jax take that anniversary post down?)
4. Faith Tweeted This:
While Faith's Instagram account isn't exactly illuminating (there are only 18 pics and most are selfies), she did tweet something on April 30, 2017 that may or may not be relevant to the matter at hand. She wrote, "I look at rings not relationships. Until he put a [ring emoji] on it it's not official #sorry." Could this be about the not-engaged Jax? Hm, hm, hm.
5. James Kennedy Tweeted This:
When Radar Online claimed back in August that Brittany and Jax split up, James Kennedy tweeted, "Jeez people are gonna be in for a BIG surprise this upcoming season." Yes, the "BIG surprise" could be a good thing, but a cryptic tweet is a cryptic tweet.
6. Kristen Doute Tweeted This:
During the Jax and Brittany Take Kentucky finale, Kristen Doute posted a far less cryptic message. "I love the #JaxAndBrittany finale," she tweeted. "FINALLY the world may recognize how legitimately heartless and sociopathic he is." Zoinks.
This tweet doesn't confirm Jax cheated, but it seems like something happened. A serious something that prompted Kristen to come after Jax on Twitter. What, oh what could it be?
7. Stassi Schroeder Didn't Seemed Shocked By The Rumor
Jax's ex-girlfriend has some feelings on the matter, too. When Entertainment Tonight asked her about the latest Jax rumor, Stassi Schroeder said:
I was not surprised because nothing Jax does surprises me, but it was more devastating than anything else because I think Brittany is such a wonderful person. I feel like, I can handle that stuff, there are a lot of girls where we can handle it, but she's such a kind, innocent woman that it made us all really sad and angry.
It sure sounds like Stassi may believe Faith's word over Jax's, and can you totally blame her? Jax's track record when it comes to hookup gossip isn't exactly sterling.
8. Jax Has A Bit Of An M.O.
In Season 1, he was accused of cheating on Stassi, and by the finale, he admitted that it was true. In Season 2, Katie Maloney revealed that something happened between Jax and Kristen, a story that was also eventually confirmed. Oh, and may fans never forget the Season 3 bathroom dalliance that might've taken place in San Diego. While it would be awful of him to cheat on Brittany (she's a delight and she deserves the world!), it unfortunately wouldn't be out of the realm of possibility.
Alas, the truth has yet to be revealed. Fans will just have to tune in to find out what really did or didn't happen between Jax and Faith. Patience is a SUR-tue.