John Frieda & Tinashe Are Collaborating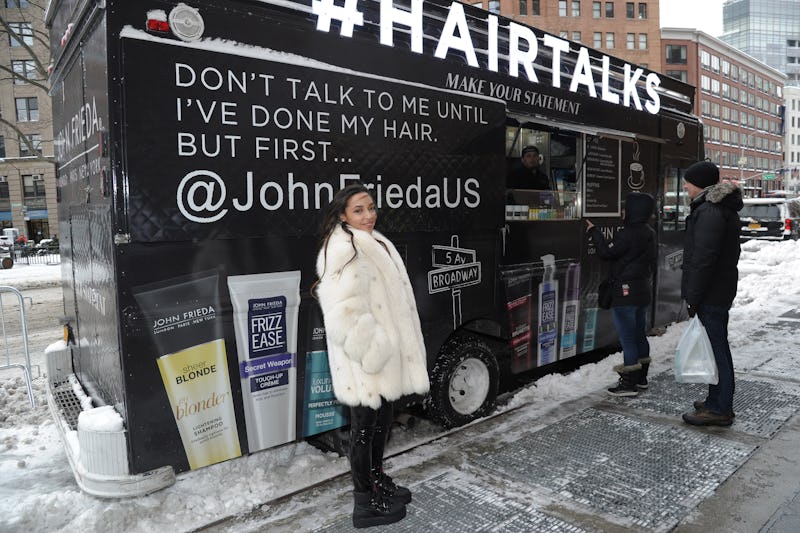 If there's one thing platinum-selling, singer-songwriter Tinashe understands, it's the emotional connection a woman has with her hair. So when hair experts (and all-time favorite beauty brand) John Frieda decided to partner with this contemporary R&B artist for their Hair Talks — Make Your Statement campaign, the collaboration just made sense. "I think hair is an important factor for women. It really says a lot about you without you having to say anything about yourself. It really is a big part of our expression and that's why we have such an emotional attachment to our hair because it really does express about where we are [in life] and what we're all about," Tinashe says to me in an interview over the phone.
Tinashe kicked off this year-long campaign last Thursday by performing at iHeartRadio Theater. If you missed it, don't worry. John Frieda plans to feature more events, online content, and surprises (just like John Frieda's coffee truck you've been seeing around NYC) as part of the campaign. The Hair Talks — Make Your Statement campaign revolves around the idea of building a community of empowered women to share their beautiful stories. And because Tinashe already knows a thing or two about beauty and confidence, she hopes people who may come across the campaign will feel empowered by her story, too. "I would love for them to be confident and know what is it about them that makes them unique as far as their hair and outfits and their differences in style," she says.
For instance, Tinashe isn't afraid to try something new. With the release of her collaboration with Britney Spears and her latest project Nightride, this multi-talented performer will be on the road and states that she especially loves to express herself and show different parts of her personality by experimenting with her hair when she performs.
"When I'm performing, I think I like to play with different styles as well. But the one thing is that I'm always throwing it around and messing it up. So whenever I'm on stage, I don't ever want my hair to be too put together or too perfect. It definitely has to be able to flow," she says.
Just like the rest of us, Tinashe explains that she always been a fan of John Frieda ever since she was a teenager and she especially loves their Frizz Ease line, which has helped keep her mane silky and smooth. But even though this 24-year-old performer is currently slaying the beauty game, she says she's still experimenting and learning — especially when it comes to her locks.
"Over the years, my hair story has definitely evolved from when I was younger. I always wore it naturally curly and I didn't know how to take care of it and I would just let it run free. As I got older, I definitely learned and was able to evolve my hair journey. I tried a lot of different colors, different textures, and styles. It's still a learning process, for sure."
Ugh, we feel you, Tinashe. #hairproblems
Images: Michael Simon/John Frieda