Attention, 'Riverdale' Fans: Cole Sprouse Might've Tweeted A Major Clue About Jughead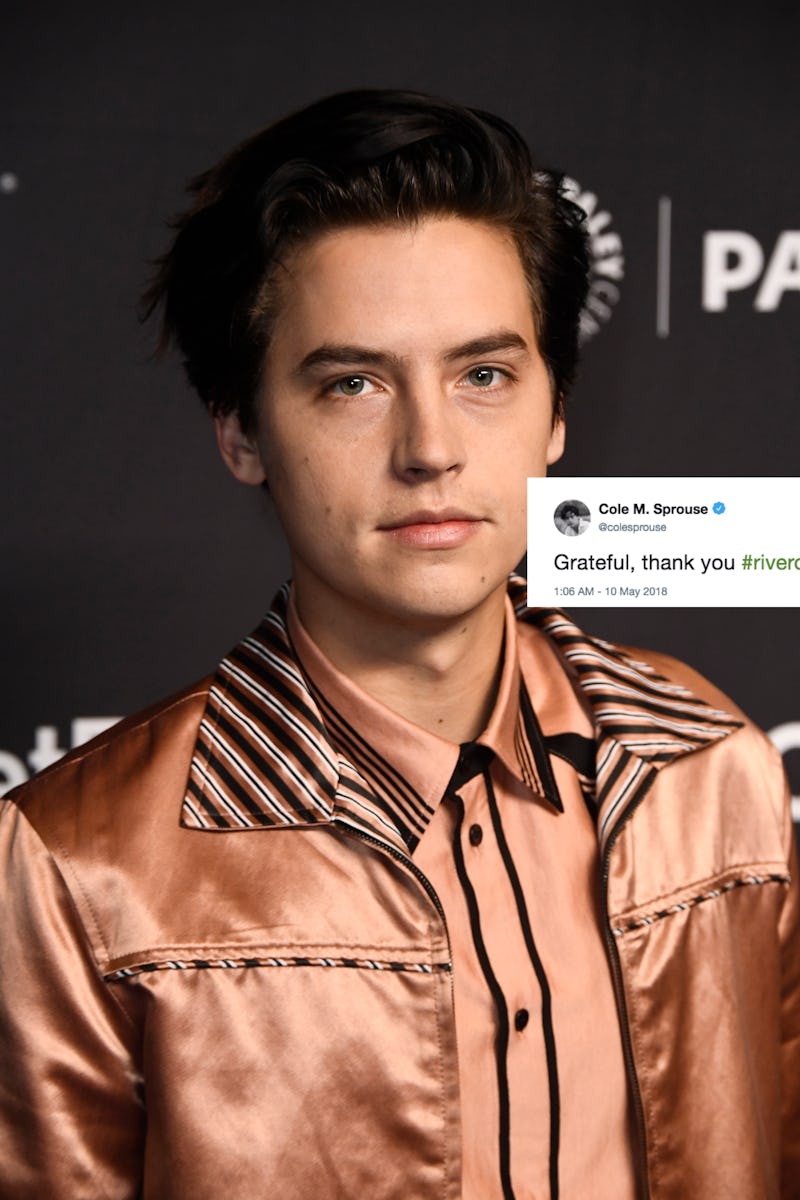 Frazer Harrison/Getty Images Entertainment/Getty Images; Cole Sprouse/Twitter
Riverdale fans, let's talk about that moment from Season 2, Episode 21 — appropriately titled "Judgment Night." Extreme spoilers ahead, if you're not all caught up. Something wild happened on the May 9 episode of Riverdale, but fans are convinced this Jughead clue from Cole Sprouse's Twitter is just a ruse. In the final moments of the episode, a distraught F.P. Jones carried the limp body of Jughead — who had just suffered a beating at the hands of Serpent rival gang the Ghoulies — out of the woods and over to his pals. In an intense episode, this was perhaps the most frightening moment.
So, is Jughead really dead on Riverdale? He wasn't in the preview for next week's episode, and it is the season finale. Heightening the drama is Sprouse, who has played the actor since Season 1. He tweeted, "Grateful, thank you #Riverdale," implying that his time on the show had come to a close. Viewers aren't falling for it.
Sprouse is known to be devilish, particularly when it comes to Riverdale hints. Also, there's a flash of Cheryl Blossom receiving a cherry red Southside Serpents jacket in the Season 2 finale, and Sprouse superfans seem to think it's his hand helping her slip it on. Plus, Jughead stars in — and narrates — the show. Is there even a Riverdale at all without Jughead's narrative framing? Or does fan insistence that it's impossible to kill Jughead point to Riverdale actually going for it? Let's take a look.
Despite Sprouse hinting that he's finished with the show, fans don't seem too concerned. Jughead is too integral to the plot to just kill off, and Riverdale has a history of making the unexpected happen. It seems too improbable to get upset over. The thing is, Jughead has narrated Riverdale since the pilot, where it's revealed he's working on a novel about their small town. While he's seen finishing at least one manuscript on the show, his narration of the series continues.
Sans Jughead, Riverdale could either abruptly lose its all-seeing narrator, or have another character inexplicably pick up the slack. The job could fall to Betty, who is a journalist, a fearless investigator, and Jughead's girlfriend. However, she's also a little unstable, and has the whole dad-revealed-as-the-Black-Hood-which-also-explains-the-darkness-inside-her thing going on. Basically, the show needs Jughead to narrate it, and to make sense of the Serpents/Ghoulies/drug-smuggling subplot. He's also a key part of Archie and the gang; he's Archie's best friend. They can't have Riverdale without him.
On the other hand, can't they? A defining characteristic of Riverdale is its willingness to surprise. What would be a bigger surprise than Jughead dying in the Season 2 finale, especially since a Season 3 is already confirmed? Admittedly, if Sprouse is really off the show, a simple tweet about being "grateful" is kind of a blasé way to do it. So he has to just be messing with fans. The diehards don't even seem that concerned about it, so there's that, too. Riverdale wouldn't lull its fandom into a false sense of security, right?
If that really is Jughead giving Cheryl a jacket on the season finale of Riverdale, the show would have a lot of explaining to do. How could willowy Jughead survive an attack and heal from it so quickly? A time jump for the finale isn't out of the question — it would skip over a lot of "now what?" moments from the penultimate episode — but it would be unexpected.
With a show as unpredictable as Riverdale, it's hard to know for sure what will happen from scene to scene. Guessing a season finale a full week in advance of it airing? That's an impossible task. For now, though, it seems safe to assume that Jughead isn't dead on Riverdale. Unless that safe assumption is a trap? Insert Cheryl Blossom scream here.