This 'KUWTK' Preview Captures The Moment The Kardashians Learned About The Tristan Scandal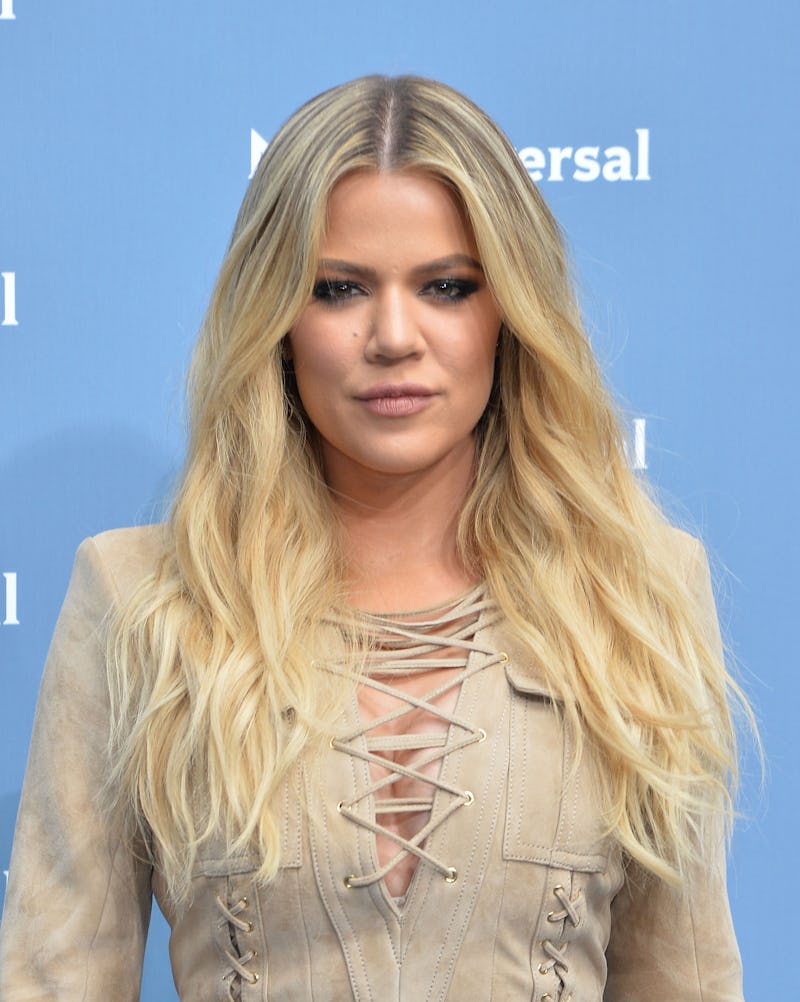 Slaven Vlasic/Getty Images Entertainment/Getty Images
By now, fans know that the Kardashian-Jenner family was just as shocked as anyone by the rumors that Tristan Thompson hadn't been faithful to Khloé Kardashian. But on Sunday's Keeping Up With The Kardashians episode, fans will get to see the exact moment the Kardashian-Jenners found out about Thompson's cheating scandal. In E!'s clip, the sisters are all wondering how to approach Khloé about the situation.
When Kim, Kourtney, Kendall, and Kylie heard that there was reported footage of Thompson with another woman, they were all going about their lives, as usual. Kim was recording a KUWTK interview, Kendall was riding in a car with Scott Disick, Kourtney was at home, and Kylie was in a makeup chair. From the clip, it looks like Kim shared the news with the others through the family's group text message chain, after someone tipped her off about the news.
When Kendall gets the text me, Scott is concerned right away too, asking what's going on. (He's concerned enough, in fact, that I'm questioning whether or not he's actually driving in this clip at all — keep your eyes on the road, sir!) "That's pretty serious, isn't it?" Scott says to Kendall. All she says, meanwhile, is "wow," clearly shocked by the news.
Kim immediately shares the news during her KUWTK confessional interview. "There's video of Tristan making out with a girl last night," she tells the camera matter-of-factly. "Khloé's gonna die."
In Kourtney's interview about the situation, she shared how she felt for her sister in light of the shocking news. "I can't even imagine being in Khloé's shoes," Kourtney tells the camera. "This is really shocking and, obviously, heartbreaking. The whole thing makes me disgusted."
For the record, the "whole thing" includes a report that Tristan was seen with another woman in New York in April. After The Daily Mail released the footage, TMZ also shared a video that reportedly showed Tristan with two other women in October. (Tristan has not publicly commented on the reports. When Bustle reached out at the time to Khloé and Tristan's reps, we did not hear back.) Khloe and Tristan's daughter, True Thompson, was born just days after the reports started.
As for Kylie, she was actually the one to break the news to her sister. Kim explains in her KUWTK confessional that Kylie sent Khloé an article about the situation. And Kendall, reading off her phone, explains to Scott that Khloé didn't respond to the family's texts at first.
"No one had the courage to tell Khloé, 'cause we knew she was days away from giving birth. We didn't want to stress her out," Kylie tells the camera. "But we knew it was the right thing to do. So I'm the one that told Khloé. I didn't want to hurt her feelings, but I felt like she should hear from one of us, versus on the internet."
Khloé's reaction isn't included in the preview clip, but it will surely be a part of Sunday's upcoming episode. Responding to a fan's tweet about last Sunday's episode, Khloé wrote that the situation is "very hard to relive" as the episode draws near.
Despite all of the controversy, though, it looks like Khloé is still working on her relationship with Tristan. Khloé has returned to Cleveland and was seen at a Cavaliers game this week, dispelling any speculation that the two might be headed for a split.
Even when you're as close as the Kardashian-Jenner family, it can still be difficult to know the best way to support a family member in a tricky situation. The sisters' reactions in E!'s clip show that they wanted to do what was best for Khloé, even if they weren't sure exactly how to approach the topic. But it looks like they did their best to just be supportive, and that surely went a long way.