Here's How Khloe Kardashian Really Feels About Reliving The Tristan Thompson Drama On 'KUWTK'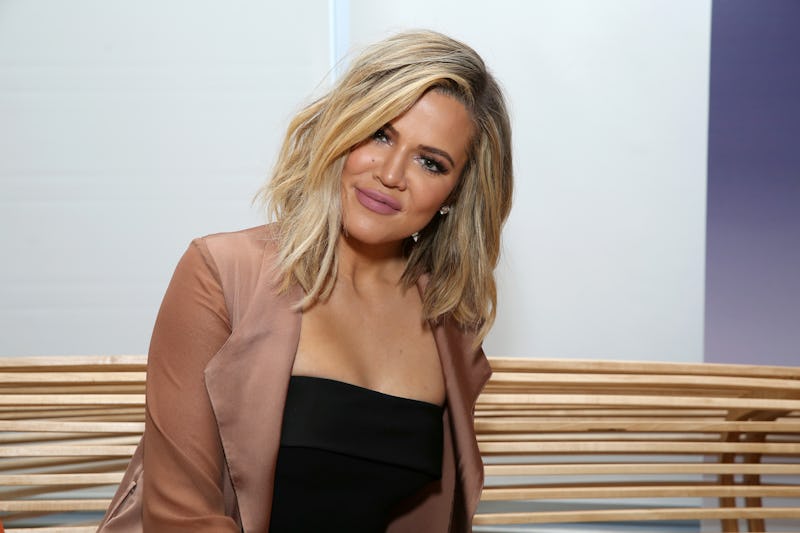 Cindy Ord/Getty Images Entertainment/Getty Images
Sunday night, fans watched Khloé Kardashian celebrate the impending birth of her daughter, True Thompson, during the evening's brand-new episode of Keeping Up With The Kardashians. Unfortunately, it sounds like next week's episode will see considerably more turmoil than this one's. Six hours after Sunday's episode aired, Khloé Kardashian revealed she's nervous to relive the Tristan Thompson cheating scandal on KUWTK, as reported by Us Weekly.
Replying to a fan on Twitter who asked if Thompson's alleged infidelity would come to light during next week's episode, Khloé confirmed that "Sadly, it will." And while her reservations about watching the painful ordeal come to life (for a second time) onscreen seem pretty obvious here, Khloé told the concerned Twitter fan that she's made her peace with it. In a response tweet posted to the social media platform during the wee hours of Monday morning, Oct. 29, the reality star continued, writing, "I signed up [for KUWTK] to show … the good and the bad, right? The bad is very hard to relive but it's life."
Just as the real-life events played out earlier this year, it sounds like next week's KUWTK will chronicle Thompson's alleged cheating scandal in tandem with little True's birth. Earlier Sunday evening, Oct. 28, Khloé expressed her anxieties about the upcoming "birthing episode" — as she put it — writing, "Oh my gosh my birthing episode is going to be soon!! The anxiety I have for that to air. #KUWTK"
The prospect of welcoming millions of KUWTK viewers into your first-time delivery room experience is enough to stick anyone with a lasting case of stage fright. But in Khloé's case, fans know this visual rehashing of her daughter's birth has the potential to incite even more apprehension. That's completely understandable, given that rehashing the events leading up to True's birth almost inevitably means rehashing the convoluted details of her father's alleged cheating, reports of which surfaced just days earlier.
Fans of the KarJenner family might remember that Khloé gave birth to True — hers and Thompson's first child together — a little more than six months ago, on April 12. Welcoming a baby should have been an exclusively happy moment for the first-time mom, though True's arrival came just two days after a series of reports surfaced alleging Thompson had been unfaithful to Khloé on several occasions throughout their relationship (and her pregnancy).
Lots of people have weighed in on the validity of those rumors since April. That said, Khloé herself hasn't been one of them. Though she's seemingly acknowledged the Thompson cheating rumors on social media, the reality star doesn't make a habit out of discussing them directly. Still, in recent weeks, Khloé has shared quite a few cryptic messages with her respective social followings that suggest — at least — she's been focusing on her own personal growth in the allegations' aftermath.
In honor True's 6-month birthday on Oct. 12 (which also marked just about six months post-cheating allegations), Khloé shared via her Instagram Story, according to People:
"In 6 months time you can either be in the same place or a better place. Focus everyday on improving your Health, Wealth, and Happiness. It will take time but you can make it happen."
Again, Khloé's message (while definitely uplifting and good to hear) wasn't necessarily an informal commentary on where she's at emotionally with regard to her relationship. But, judging by her recent wave of openness on social media, it does sound like Khloé is doing what she can to heal from what's probably been an inordinately stressful year — at best. Hopefully KUWTK's handling of the Thompson cheating scandal won't contribute to that stress too heavily.