This Kylie Jenner Photo May Actually Be The Most Convincing Pregnancy Clue Of All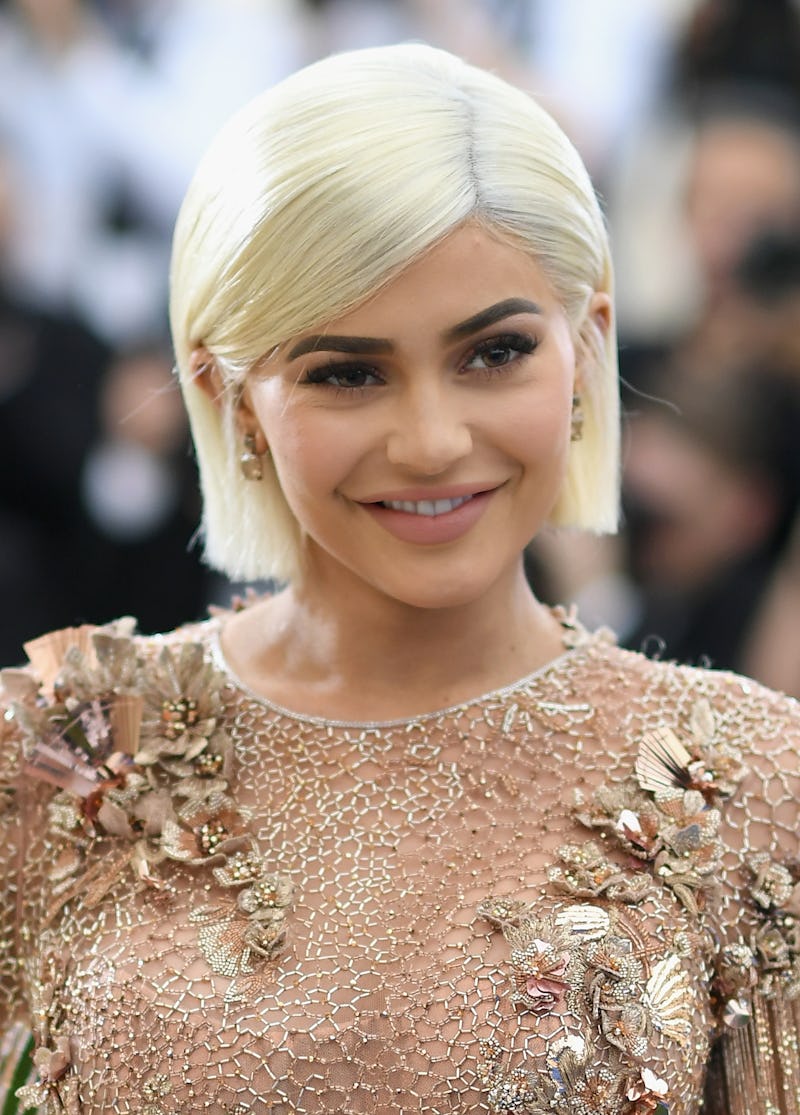 Dimitrios Kambouris/Getty Images Entertainment/Getty Images
For Kardashian fans who've spent the better part of 2018 frantically refreshing their social media feeds, hoping for some shred of confirmation regarding Kylie Jenner's rumored pregnancy: A freshly minted clue about the star's maybe baby news might have already graced the internet. Specifically, it's a new photo from Jenner's Love magazine shoot, which features her cradling a baby lamb in her arms. While some originally thought the conveniently placed farm animal was merely a prop employed for the purpose of covering Jenner's supposed baby bump, there might be an even more convincing pregnancy hint at play — and it has to do with an old Life Of Kylie quote. (For the record, Jenner has yet to confirm any pregnancy rumors.)
Last August, when the first season of Life of Kylie had just begun rolling out its inaugural few episodes, Jenner presented fans with a surprising personal tidbit: "I really want to live on a farm and have chickens and raise animals and have a family," admitted the 20-year-old reality star. Quite the departure from her life in its current iteration, which — as a quick surface-level scan through any one of Jenner's social media accounts dutifully reflects — seems predominantly comprised of big houses (yes, that's plural), expensive cars, and a seemingly ceaseless lineup of glamorous outings. Still, her dreams of a simpler life (whatever that means for a Kardashian-Jenner) rang loud and clear.
Fast-forward about five months. On Monday, Jan. 29, Kris Jenner shared a photo from her youngest daughter's Love magazine profile feature (the entirety of which has yet to be revealed, and according to a report from People, is slated for a February 2018 release). And in the meantime, swirling rumors of Jenner's supposed pregnancy — which, if true, would mean she is expecting her first child with boyfriend Travis Scott sometime very soon — nearly broke the internet. None of the Kardashian-Jenners have yet to confirm on the pregnancy rumors (least of all Jenner, who has taken a notable leave of absence from her Instagram kingdom over these last several months), which has given rise to a hearty bout of conspiracy theories from fans dying to know the truth.
Now, back to the photo. Shot by her older sis, Kendall, Jenner is pictured donning an all-black outfit and clutching an adorable baby lamb against her torso while she flashes a smoldering over-the-shoulder gaze directly into the camera.
But rather than a simple cover-up for her rumored baby bump, could it be that the sweet doe-eyed lamb was actually meant to be some kind of covert nod to Jenner's farmland fantasy? (The photo's backdrop screams "desert" more than anything else, so perhaps it's safe to say "agricultural prosperity" hasn't yet made it into her daydreams.) Granted, the leap from "chickens" to "baby goat" might seem a little too farfetched to bank on. But, really, think about it: If Jenner really is making moves toward settling down, a cuddly, photogenic farm animal might just seal the deal. After all, it seems highly unlikely that she would trade in her "social media mogul" status for just about anything, which could mean a whole lot more baby goat snapshots where that one came from.
What's more, Kendall posted a handwritten "thank you" note from Love magazine editor, Katie Grand, to her Snapchat story on Monday night. And featured prominently above the letter's contents is a blown-up doodled rendering of what appears to be a hen: i.e. a farm animal significantly less far removed from the "chicken" family. Bingo?
The letter, which is conceivably addressed to Kendall, reads, "To hen!!! I can't thank you enough for such fantastic pictures." In the Snapchat video, Kendall picks up the letter to reveal a copy of Jenner's Love issue — so they're definitely referring to those photos.
Perhaps "hen" is simply Grand's nickname for Kendall (admittedly, the two have worked together quite a bit over the years). Or perhaps, this is all some expertly laid-out sequence of puzzle pieces, dispensed by various members of the Kardashian-Jenner clan for the purposes of either A) confusing the hordes of inquiring fans, or B) finding out who's really been paying attention.