So, It Looks Like Kylie Might've Just Used A Cute Lamb To Hide Her Baby Bump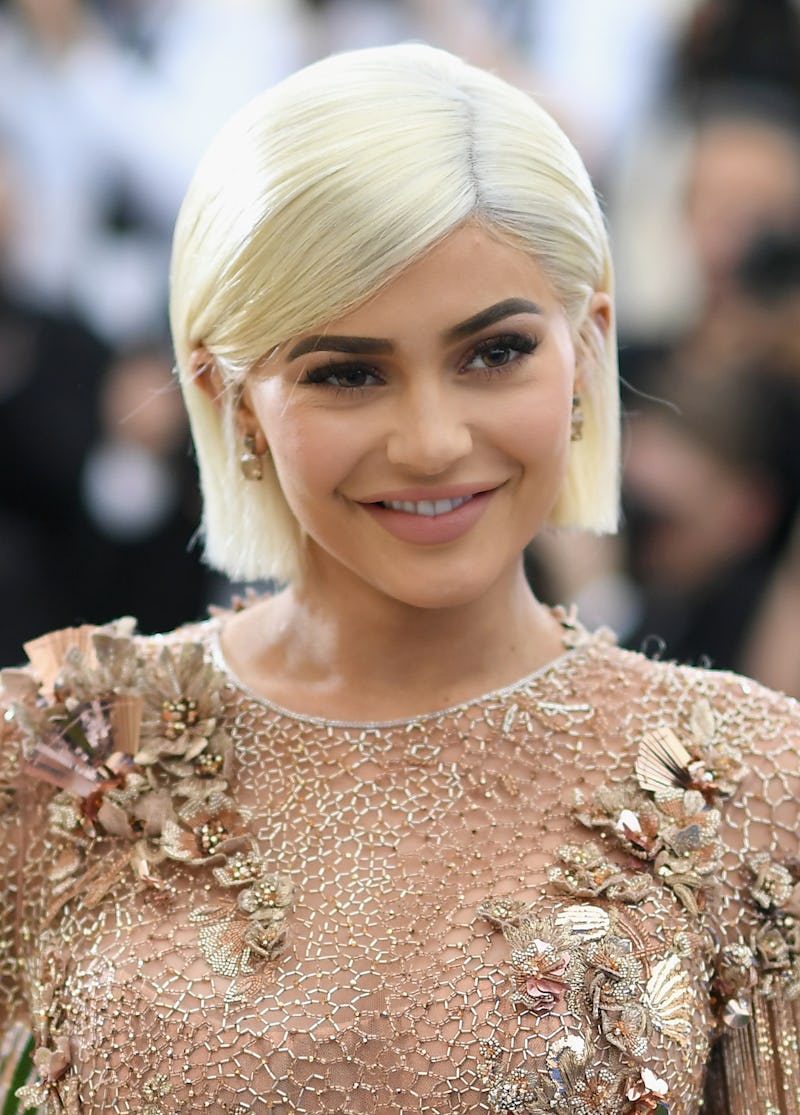 Dimitrios Kambouris/Getty Images Entertainment/Getty Images
If you're searching high and low for clues that Kylie Jenner really is pregnant, then look no further. There is a new photo from Kylie's Love magazine profile showing Kylie holding a baby lamb. The picture is obviously cute, but the way she's holding the adorable animal may be suspicious to some of her fans. Yes, the lamb is covering — you guessed it — Kylie's stomach. This could've just been the perfect pose for holding the animal, or, you know, Kylie was trying to hide her supposed baby bump that everyone keeps talking about.
The image was taken by her sister, Kendall Jenner, and it's truly a sweet picture. For those unaware, Kendall took all of the photos of Kylie for Love and Kris Jenner interviewed her daughter for the piece. To be clear, the feature has yet to be unveiled in its entirety, but according to People, Kylie's Spring/Summer 2018 issue is slated for a February release.
Next to the image that may or may not be another clue that Kylie is expecting her first child with Travis Scott, a snippet of her interview was released on Love's Instagram.
"It's estimated that in the next few years you could have the biggest beauty brand in the world," Kris told Kylie, before asking her youngest child, "How do you think that phenomenon happened?" To that, the Life of Kylie (senior story producer: Janelle Couture) star answered, "I think truly, I put a lot of hard work into this. It's not like I'm doing this to make money. I don't even think about that part. This is just something authentic to me."
Seeing as Kylie posted her Love cover image on Dec. 25, 2017 and reports of her supposed pregnancy began in September, there's a chance the Keeping Up With Kardashians (executive producer: Farnaz Farjam) star was trying to hide a baby bump. But, let's really think about this. Would she really go as far as to use a baby lamb to hide it? Well, yes, it's a possibility. Maybe Kylie suggested it, because she didn't want her belly showing. That said, it's important to note that the lamb could've simply been used as a prop for the photoshoot — even if she's not pregnant. Furthermore, it might not have even been Kylie's decision to hold the lamb.
Whatever the case, that's probably not going to stop fans from jumping to conclusions. They've done it before. After the Kardashian-Jenner sisters' Calvin Klein ad was released in January, fans further speculated that Kylie has to be pregnant because her stomach was hidden by a blanket in every single photo. Then, there's the fact that she was nowhere present in the 2017 Kardashian Christmas card, which some took as more evidence that she's pregnant.
Since the pregnancy reports surfaced, Kylie has pretty much avoided the spotlight and social media, other than sharing throwback photos or selfies from her chest up from time to time. What does this all mean? For fans, it means that she's most definitely pregnant.
As much as she's been out of the public eye, on Jan. 25, TMZ published a photo and video of Kylie, her BFF, Jordyn Woods, and Kris at what appears to be an empty residential lot where homes are being built. The picture was reported to be a photo of Kylie's baby bump. However, the picture and video make it hard to determine if she's truly pregnant. But, seeing as rumors of her pregnancy have been going on for about five months now, well, it's no wonder people are grasping at anything for confirmation that the reports are actually fact.
It even seems quite ridiculous to start theorizing that this innocent baby lamb is really being used as a device to hide Kylie's reported baby bump, but it's not the first over-the-top theory — and it probably won't be the last.