This Is The Only Plus-Size Collection You Need To Shop This Fall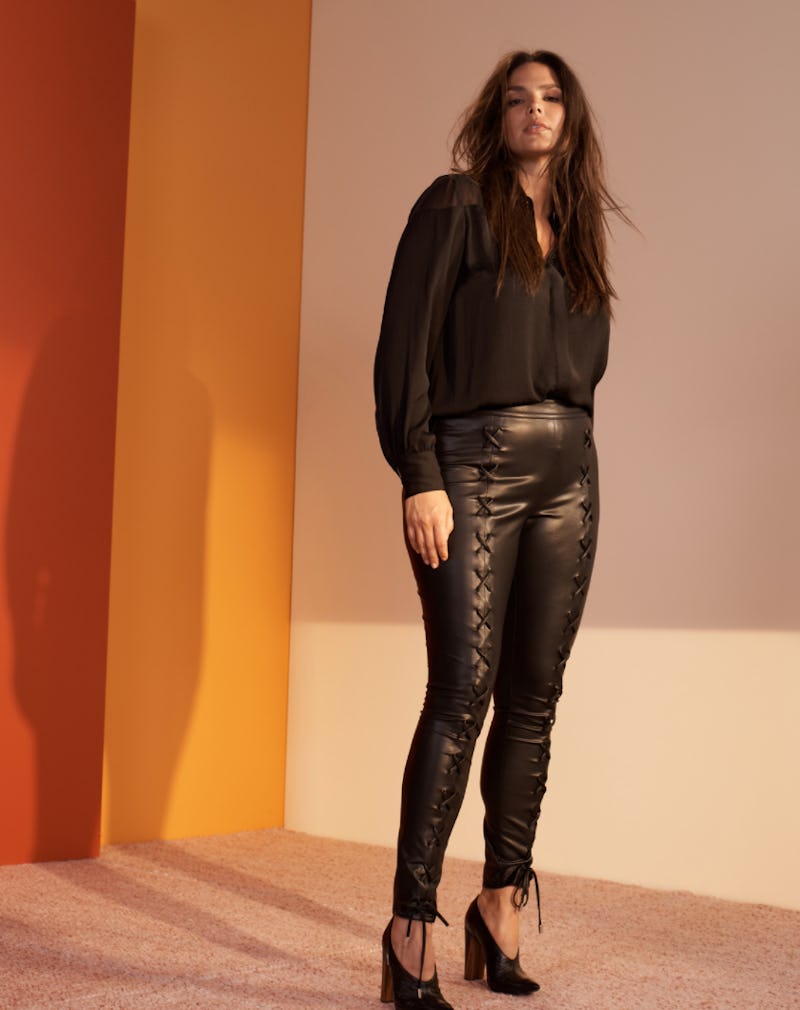 Courtesy of Lane Bryant
High-low mashups are nothing new in fashion. We've seen everything from H&M x Alexander Wang to & Other Stories x Rodarte. Fast fashion retailer and luxe label partnerships produce memorable and affordable collections, making chic brands accessible to all. That said, the new Lane Bryant x Prabal Gurung collection is the only plus-size collection you will need to shop this fall. It's seriously that good.
The enduring mall brand and the designer are here to remind the fashion world that curvy women want to show off their figures, play with trends, and do everything but hide behind their clothes when getting dressed. There is nothing boring or safe about this collab, and it's proof that plus-size women can wear the same fabrics and silhouettes as those who are sample sizes.
The Fall 2017 Lane Bryant x Prabal Gurung collection boasts a neutral and autumnal color palette and it just looks expensive. The pair previously collaborated, but these new offerings are absolutely ace.
As Racked reports, LB x PG features 12 pieces, most of which are work appropriate, and the size range is 14 to 28. The collection starts at $38 and goes up to $278.
Lane Bryant x Prabal Gurung includes everything from a wool coat with a faux fur detail to laced leather leggings to cozy knits with high collars to knee-length skirts in all sorts of colors and patterns. The designers' attention to detailing, from standards like buttons and pleats to cool and unexpected flourishes, like faux snakeskin fabric, is stellar.
Lace-Up Faux Leather Skinny Pant, $98, Lane Bryant
The laced leggings are one of the stand-out pieces in a collection that just oozes sexiness. You can dress these up or down and essentially live in them. Plus, the lacing elevates them above "basic leather leggings" status.
Slouchy Turtleneck Sweater, $98, Lane Bryant
This relaxed, chunky knit is so cozy, comfy, and seasonal. So far you've seen three pieces in the Lane Bryant x Prabal Gurung collection and they are anything but frumpy.
You can totally throw this top on while running errands or while curled up on the couch on a cold afternoon, nursing a cup of tea while your nose is buried in a quality book.
Pieced Skirt, $88, Lane Bryant
This asymmetrical skirt is "must own" item that avails itself of everything from office wear to a lunch meeting to date night. It's such a fashion forward silhouette.
Pleated Faux Leather Skirt, $98, Lane Bryant
The pleats are pretty and the hem hits at the knee, so this sultry skirt will call attention to your legs.
Wool Blend Coat With Prabal Gurung Faux Fur Collar, $278, Lane Bryant
Outerwear doesn't need to sacrifice fashionability in order to be functional. This coat, with its detachable faux fur collar, is the perfect execution of that concept.
Asymmetrical Slit Dress, $98, Lane Bryant
This soft, blush-hued dress boasts faux snakeskin detail. Lane Bryant and Prabal Gurung went for it with unexpected touches and were cognizant of creating high fashion pieces at affordable prices that look amazing.
Slouchy Patchwork Sweater, $88, Lane Bryant
This mixed-texture sweater is another comfy, chunky winner that will go with so many pieces that are already in your closet.
Faux Suede Midi Skirt, $108, Lane Bryant
The patchwork skirt falls past the knee and will add a funky, '70s-inspired touch to any work ensemble. The two-way, exposed front zipper detailing is a fun touch, too.
This motto is posted on the LB x PG collection page on the store's website. The pair took that sentiment seriously and produced a collection that is desirable and wearable. So many plus-size collections labor under the illusion that women of size want to conceal their figures with their clothes, but this range dismantles that notion entirely.