This New Clip From 'Luther' Makes The Three Year Wait Between Seasons Totally Worth It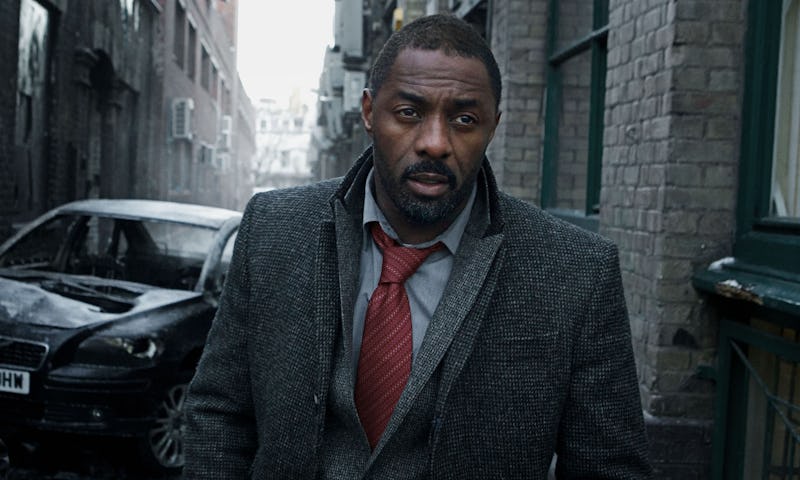 BBC
Everyone's favorite brooding London detective is officially back — and in just as many dangerous situations as ever. On Friday, BBC One released the first look at Idris Elba in Season 5 of Luther on Twitter, throwing fans right into the middle of the action, with John Luther stuck as an unwilling participant in a game of Russian Roulette against a crime boss. According to Entertainment Weekly, there is still no premiere date for the fifth season, which Elba himself announced was happening back in June.
In the clip — which opens with the current People's Sexiest Man Alive tied to a chair — the detective faces off against the terrifying crime boss George Cornelius (Patrick Malahide), who is looking for his son, Alistair. And even though Luther maintains that he has no idea what happened to Alistair or where he could be, George thinks that he's hiding something, and he's going to scare it out of him with a round of Russian Roulette.
But if fans know anything about Luther, it's that he's always able to get himself out of a sticky situation, and with a little sneaky maneuvering (and a well-timed chair to the head), the detective is able to take control of the situation and turn the tables — and the gun — on George. Unfortunately, though, it looks like Luther will be faced with a lot more questions about the gangster and his son before he or the audience get any answers.
Spoilers ahead for past seasons of Luther. When Luther last appeared on our television screens, back in 2015, the veteran detective had retired to the coast to live a life of isolation after the death of his longtime partner, DS Justin Ripley (Warren Brown), only to be lured back onto the force after hearing that his nemesis and sometimes partner, Alice Morgan (Ruth Wilson) had been murdered.
While working on his cases with the police, Luther also began looking into Alice's life and web of lies, which ran him right into the middle of George Cornelius' operation. And George's presence in this first clip from Season 5 seems to imply that Luther's dealings with him are far from finished.
Of course, George isn't the only familiar face returning for Season 5 of Luther — Alice will also be making a return, despite her apparent death in the opening moments of Season 4. After Wilson and Elba were spotted filming together in January, the actress confirmed her return to The Independent, but teased that things might not be as simple as they appear. "It's not what you expect," Wilson teased. "She's definitely back for a bit. [Alice is] back with a vengeance."
But Alice's return isn't the only challenge facing Luther this time around. According to BBC America, he and his new partner detective Catherine Halliday (Wunmi Mosaku), will find themselves "confounded by a tangle of leads and misdirection that seems designed to protect an unspeakable horror," as they attempt to investigate a horrific and growing series of "monstrous murders."
While Luther has never shied away from showing the darker side of its protagonist, and the way that the horrors of his job can consume him, it seems like this season might have Luther reach a point of no return, and make the line that separates him from the criminals he pursues thinner than ever.
From the beginning, it's been clear that Luther's inability to separate himself from his work has created a strain on his personal life and interpersonal relationships, but having him confront this level of evil might just be his final undoing as a detective.