This MUA's Hyperrealistic Lip Art Is Wild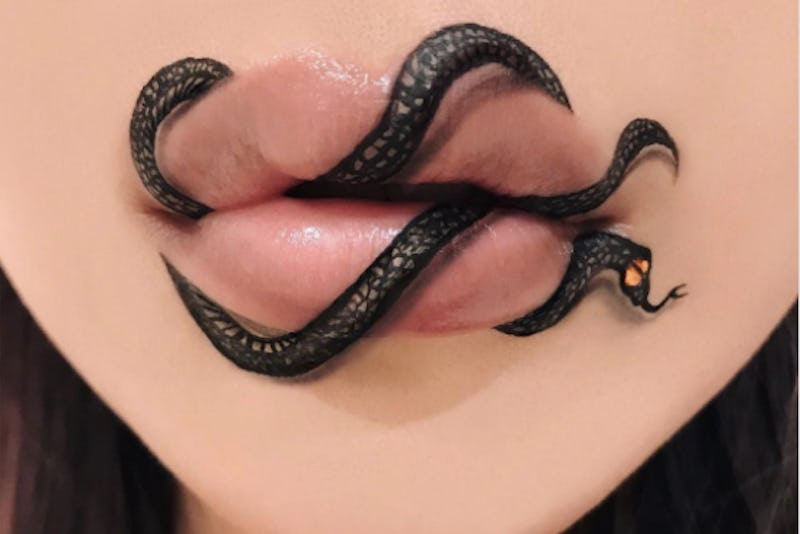 Scoot over, nail art. Make room for lip art. I am always quick to throw props to the Internet and Instagram makeup artists who are pushing boundaries and creating astonishing works of unusual art on body parts and/or with makeup products. Vancouver makeup artist Mimi Choi, with her optical illusion makeup artistry, namely her recent snake lip art, is one of those MUAs.
Choi, who goes by the "mimiles" handle, has some serious talent with surrealist makeup sorcery. In her Insta bio, she cops to being an illusionist and she creates the most stunning lip art that looks 3-D.
It's a snake coiled around her plump, peach-slicked lips. She notes in the caption that she freehanded the serpent illusion lip art with Make Up For Ever brown pencils. Wow. Just wow.
At first, I thought this was a hybrid of creative photo editing skills mashed up with drawing talent. But in an interview with Allure, Choi explained that she uses paint brushes and makeup, not special effects products. These looks also take hours —yes, hours!!!— to create. If I were the artist crafting these looks, I wouldn't want to wash my face, due to the investment of time.
Have a look at the snake wrapped around her lips in this latest work of optical illusion art.
Attempting to perfect the cat eye flick or the black eyeliner wing is about as far as I go in terms of makeup artistry; these Kat Von D Beauty fans use her Trooper liner for a variety of non-wings, BTW. I can't even attempt something such as this, since I am not an artist. Even if this turned out to be an edited image, I'd still appreciate the image and the visual as is.
Regarding one of her past "face-shifting" optical illusion looks, Choi said it best, "If you truly understand the concept of highlighting and shading, I believe you can create anything on any canvas!"
Choi isn't the only Internet MUA who is disrupting the beauty world with unique designs. Lana, who lives in Australia, uses makeup products and palettes to create portraits of the faces of Jeffree Star and Manny MUA or Huda Kattan on her arm. Those are also works of art, making swatching seem so basic and sophomoric!