This Map Of Mass Shootings Since The Pittsburgh Synagogue Attack Is Gut-Wrenching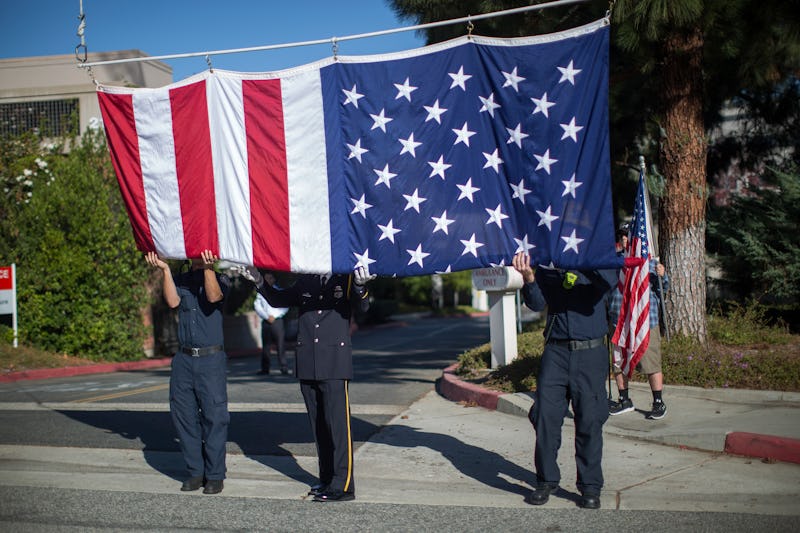 David McNew/Getty Images News/Getty Images
The shooting late Wednesday night in Thousand Oaks, California killed 12 people — and it's just one of nearly a dozen such tragedies that have occurred since 11 people were killed in a Pittsburgh synagogue shooting just less than two weeks ago. A recent map of mass shootings since the Pittsburgh Synagogue attack on Oct. 27, compiled with data from the Gun Violence Archive, is a staggering illustration of the prevalence of gun deaths across the country.
The map counts a mass shooting as an incident in which four or more people were shot. According to the archive's data, 79 people have been killed in the last 12 days, in shootings that occurred in New York, Tennessee, Arkansas, Missouri, and elsewhere. Five of the 12 recent mass shootings alone were in California, accounting for 15 deaths and 44 total people shot.
The Thousand Oaks shooting occurred at the Borderline Bar & Grill, which was hosting a "college country night" at the time. Not all the victims have been identified yet, but they include a college student and a police sergeant who responded to the situation. It has been declared the deadliest shooting in Southern California since the San Bernardino attack in 2015, in which 14 people were killed.
According to Gun Violence Archive, since the start of 2018, the country has experienced 307 mass shootings. And although violent crime has generally decreased in America, according to Everytown for Gun Safety, a nonprofit dedicated to understanding and reducing gun violence, the number of gun-related homicides has remained the same.
Everytown also reports that while a majority of gun deaths in the United States are suicides, our homicide rate is 25 times that of other high-income countries. According to their data analysis, roughly 44 percent of Americans report that they know someone who has been shot at some point in their lives.
An eerie coincidence, but perhaps also a marker of the frequency with which the country experiences mass shootings, some of the patrons at Borderline on Wednesday also reported surviving the Las Vegas Route 91 music festival shooting last year, where there were 58 people killed and another 869 injured. "A lot of people in the Route 91 situation go [to Borderline]," Chandler Gunn, a local resident told The Los Angeles Times. "There's people that live a whole lifetime without seeing this, and then there's people that have seen it twice."
Shannon Watts, founder of Moms Demand Action, which partners with Everytown to advocate for stricter gun legislation, released a statement similar to the one the organization put out following the Pittsburgh shooting last month: "I'm heartbroken that once again, what should have been a happy and fun night was devastated by gun violence," she wrote. "My heart is with all of those whose sense of safety was shattered last night. We should be able to go out to a bar without fearing for our safety, but because of our country's lax gun laws, there is no safe place. We must act to protect our families from gun violence."