A 2020 Showdown Between Trump & Michael Avenatti Is Looking More & More Likely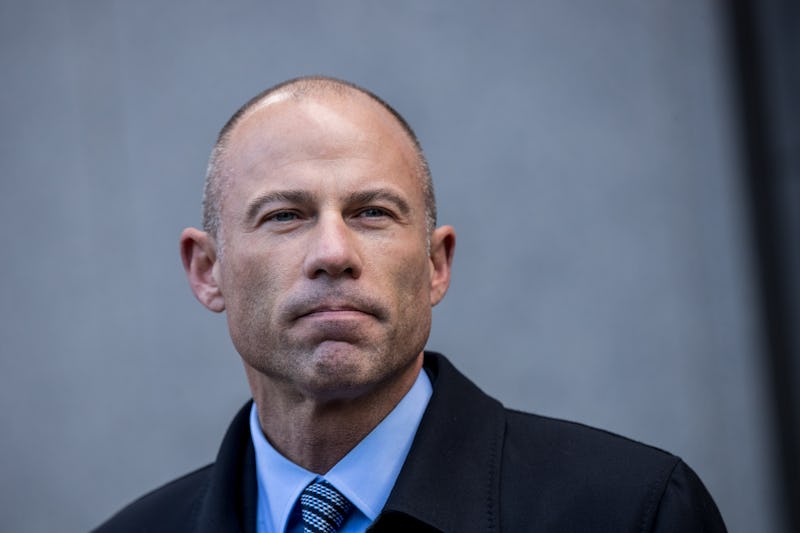 Drew Angerer/Getty Images News/Getty Images
Stormy Daniels' lawyer is stepping out of the courtroom and into ... the state fair? Apparently, that's the first stop before the ballot box in 2020. At the Iowa State Fair Thursday, The Des Moines Register reports, Michael Avenatti gave a 2020 election update and he's officially "exploring a run for the presidency of the United States."
The lawyer has risen to prominence in recent months through representing Stormy Daniels, the adult film star who claims she was paid off to hide a supposed 2006 affair with Donald Trump (allegations denied by Trump and his lawyers). But Avenatti has teased the public with ideas of running for office in the future.
In a twitter post earlier this summer, Avenatti said he'd run for office if Trump runs for reelection in 2020, "but only if I think that there is no other candidate in the race that has a REAL chance at beating him."
Now, that campaign trail seems a little more concrete. In an interview with the Register, Avenatti said, "I wanted to come to Iowa and listen to people and learn about some issues that are facing the citizens of Iowa and do my homework."
Avenatti has long been an outspoken critic of President Trump, particularly of his immigration policies that led to separating families at the border. At the height of the conflict, he offered his own legal aid to the families in need.
But the lawyer has been criticized for being focused on his own personal image, and using a run for office to boost it. Others claim he's simply not qualified and should focus on the case with Stormy Daniels.
For Avenatti, experience isn't an issue. He's already told his Twitter followers to "go back [and] look at the results from 2016" if they think only "traditional" politicians can win elections. In Iowa Thursday, Avenatti addressed some of these claims directly.
"I would never think to come to Iowa in order to use the state or the people of the state to raise my profile," he told the Register. "And obviously if I do this, then I intend to work hard and I know that ultimately the trust of the citizens of Iowa is going to have to be earned."
Avenatti is scheduled to speak at the Democratic Wing Ding fundraiser in Clear Lake, Iowa this Friday. The annual event is a popular platform for rising politicians; Hillary Clinton, Bernie Sanders, and Barack Obama are among its past speakers.
This year, Avenatti will be on a lineup beside two established 2020 presidential candidates: Rep. John Delaney (D-MD) and entrepreneur Andrew Yang. Rep. Tim Ryan (D-OH) will also be speaking.
"I would like to think people would take me seriously," Avenatti told the Register. "And I think, hopefully, the message that I deliver tomorrow night will be well received by Iowa Democrats."
In a New York Times interview, the lawyer recounts a childhood memory where his father took him off-road racing. He says he was captivated by "the speed, the danger."
Now, Avenatti seems to be drawn to the speed and danger of politics, but his "fast and furious" attitude (as the Times puts it) might just make him an opportune Democratic pick.
"I think there's a huge appetite within the party for a fighter," Avenatti told the Register. "I think the party has yearned for a fighter — a fighter for good, if you will — for a significant period of time. And for many, I'm probably seen as that individual."