Stormy Daniels' Lawyer Will Run For President In 2020 Under These Specific Conditions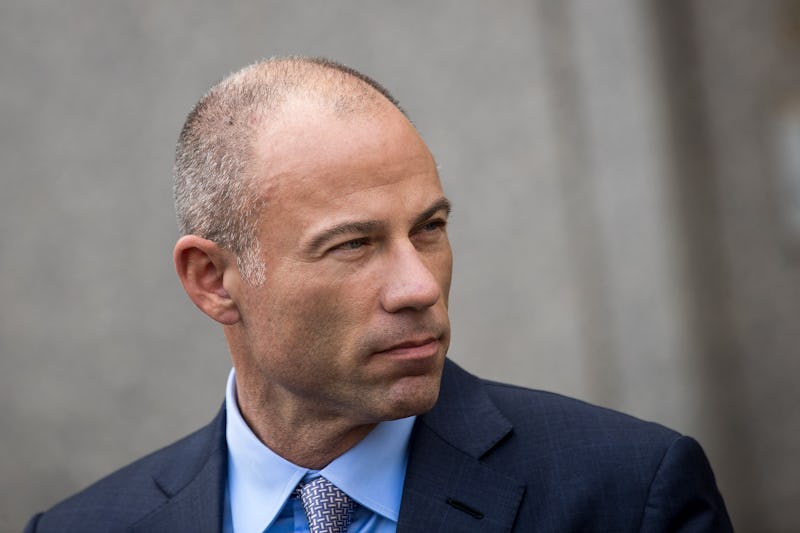 Drew Angerer/Getty Images News/Getty Images
Stormy Daniels' lawyer may transition from suing President Trump to challenging his seat in the Oval Office. Michael Avenatti could run for president in 2020 — but only if no one else seems qualified to take on Trump. The attorney apparently wants to see Trump out of office so badly that he's willing to take matters into his own hands.
"IF (big) he seeks re-election, I will run, but only if I think that there is no other candidate in the race that has a REAL chance at beating him," Avenatti tweeted on Wednesday after someone asked when he would announce a 2020 run. "We can't relive 2016. I love this country, our values and our people too much to sit by while they are destroyed."
Avenatti is currently battling the president in court on behalf of Daniels, the adult film star who claims she had an affair with Trump in 2006 (Trump denies the affair, and the White House has said the president doesn't believe "any of the claims Ms. Daniels made"). Based on Avenatti's tweets, he thinks he could be the nontraditional political candidate the Democrats need to beat Trump.
"To those that claim that only a traditional politician with 'experience' can beat Trump, go back & look at the results from 2016," Avenatti tweeted on Wednesday. "He beat all 15 of those candidates that he faced (crushed many). If we go down the same path and are not smart, don't be surprised with the result."
Avenatti has previously tweeted that whoever challenges Trump in 2020 better be "a take no prisoners street fighter" who is prepared for a brutal campaign. "It will be a cage match like no other in modern times," he wrote, adding, "The future of the republic may depend on it."
The attorney's disdain for the president has been crystal clear since he began representing Daniels. He has criticized the Trump administration's policy of separating families at the border and said other women claim to have had affairs with Trump. As for his lawsuit against Trump, he has claimed that the president's team is "making this up as they go along." He's certainly made a name for himself this year, constantly appearing on cable news and using social media to draw attention to his case.
His wealth hasn't made him sympathetic to Trump, though. And his recent comment about a possible 2020 run shows that he's changed his mind about entering politics — within a matter of days.
"I am extremely flattered by the suggestions that I attempt to become AG or run for the House or Senate but I have ZERO interest in those jobs. None," he tweeted over the weekend. "I don't want to become a career politician. We have too many as it is."
He added that he's only interested in "exposing the truth about Mr. Trump's conduct and fighting like hell for the principles that matter so the American people can decide what happens next."
So either the presidency is uniquely appealing to Avenatti because it's the highest political office in the nation, or he simply wants to make sure Trump doesn't serve a second term.