This 'Morning Show' Trailer Puts Steve Carell & Jennifer Aniston In An Eerily Familiar Scandal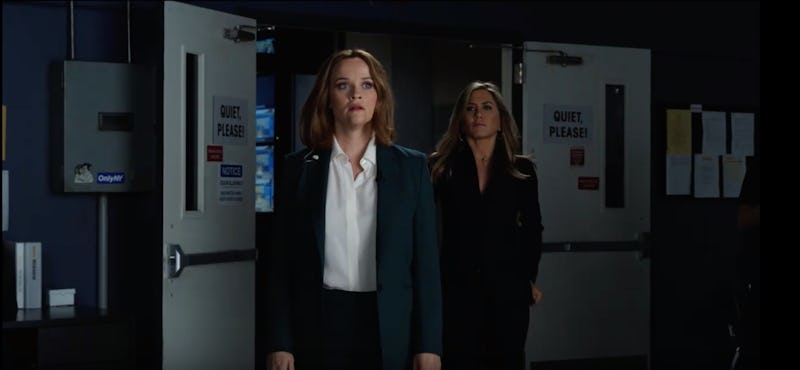 YouTube / Apple
After the release of last week's teaser trailer for The Morning Show, which frankly didn't reveal much, Apple has finally given fans a full look at the highly anticipated Apple TV+ show. The new Morning Show trailer gives us a true sneak peek at the new drama starring Jennifer Aniston, Reese Witherspoon, and Steve Carrell, who all find themselves in a shocking situation that should be eerily familiar.
The new trailer begins with an established morning show host, played by Aniston, announcing that her co-host of 15 years, portrayed by Carrell, has been fired due to what seem to be sexual misconduct allegations. Does this mean that Carrell is playing a character inspired by Matt Lauer, who was forced to leave his post at The Today Show following similar accusations? Whether or not the reference is intentional, this show just got much juicier — and especially timely.
In The Morning Show, the scandal opens up a web of new changes, including the gradual rise of a beloved new reporter, played by Witherspoon, who's hailed by the country for her authenticity and sets her sights on the now empty co-host chair — and perhaps Aniston's job as well in the long run.
At first, she doesn't seem to be too friendly with Aniston's character, but as usual in the morning show sphere, there's a twist. "Most people want to trust that the person who is telling them about the world is an honest person," Witherspoon tells her new co-host in the trailer, before taking a suspenseful pause and adding: "Like you."
The Morning Show will give viewers a look at the high-stakes world of morning news, and that includes the rampant amount of ageism and sexism in the industry, something that Aniston's character in particular is forced to deal with in the trailer, especially in the wake of her new younger co-host. And if Steve Carrell fans are worried that his character will be done and dusted after he gets fired, fear not. The show will also focus on how he deals with his mistakes, which includes a confrontation by his former co-host — and smashing a television.
Although the power trio of Aniston, Witherspoon, and Carrell is surely enough to get any person watching, The Morning Show will also feature more exciting familiar faces, including Billy Crudup, Mark Duplass, Gugu Mbatha-Raw, Karen Pittman, Bel Powley, and Janina Gavankar. Aniston and Witherspoon also serve as executive producers on the new show, alongside director Mimi Leder and writer-showrunner Kerry Ehrin.
The Morning Show will be Aniston's return to television after her iconic stint as Rachel Green on Friends. It will also serve as a reunion with Witherspoon, who played Rachel's sister, Jill, for two episodes on the show, and as their first time working together creatively.
Although the exact premiere date is still yet to be announced, the new show is set to debut on Apple's new streaming service Apple TV+ this fall. The world of morning television is already a fascinating watch, so The Morning Show is sure to be an absolute thrill ride.