This Natural Skin-Care Line Makes The Perfect Daily Regimen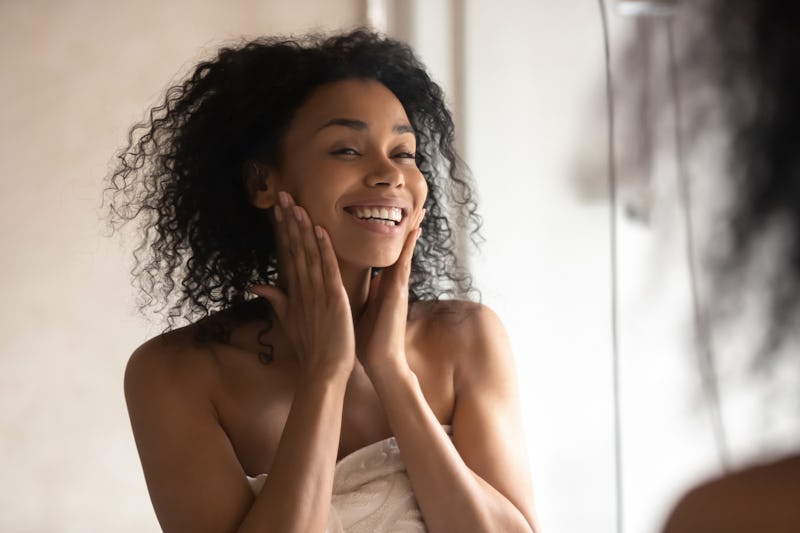 fizkes/Shutterstock
We don't have to tell you that hunkering down has been challenging. But if you're like us, one ritual that has been helping maintain a sense of calm and control is a skin-care routine. Besides the obvious benefits (healthier-looking skin), there's just something about the order and reliability of a morning and evening skin regimen that's so comforting, especially now. Pro tip: Give yourself a little face massage as you apply each product, and you'll start (or end) your day off on an extra zen note.
Lately, our skin-care solutions of choice are from Mary Kay's new Naturally collection, because they're exactly what we need right now — high-quality, gentle, and effective. You won't find any questionable ingredients, like parabens, phthalates, synthetic fragrances, or dyes, and the formulas are all naturally derived. They also make our skin look amazing which, in turn, makes us feel pretty darn good, too.
What it all boils down to is this: Good skin care counts as self-care, something we can all benefit from. Use the below twice a day, and you and your complexion will feel so much better for it.
1. Purifying Cleanser
If your skin has been thriving since WFH, we're happy for you. Unfortunately, that doesn't apply to all of us. Whether it's nerves or the change of season, our skin has been acting up with bouts of redness, flakiness, and sensitivity, and the only thing that seems to chill it out is this cream cleanser. The milky formula is soothing and refreshing thanks to ingredients like cornflower floral water and vitamin E. But it's not just for finicky complexions. With water-binding glycerin and nourishing sweet almond oil, it's gently hydrating for all skin types. Massage it in before washing away like a regular face cleanser, or saturate a cotton pad with it and swipe over your face.
2. Exfoliating Powder
On days when our skin is looking blah, we'll add this exfoliating powder to the rotation. It instantly wakes things up, making skin look refreshed, glow-y, and virtually poreless. What's really special about it is that it provides options. You can mix the powder with plain water to create a fizzy scrub, or you can add some to your cleanser or face oil to transform it into a creamy exfoliating situation. Use more powder for a deeper buff and less if you want something milder.
3. Nourishing Oil
Combining sweet almond oil with olive and sesame seed oils, this blend is going to nourish, balance, and fortify your skin's protective barrier no matter your skin type. It's the kind of oil that's perfect for morning and nighttime routines, because it absorbs quickly (i.e. no greasy residue) but not so much so that you feel like you need to reapply an hour later. Warm up a few drops between your palms, and then pat all over your face. Rub any excess into cuticles and over the ends of your hair for some extra benefits.
4. Moisturizing Stick
This moisturizer-in-a-stick is like a magic wand for skin, making dry patches vanish on contact. You can glide it over any rough spots on your face as well as unruly cuticles or ashy elbows and knees. It's infused with squalane, a plant-based oil that sinks right into skin, and candelilla wax, which seals in said moisture so you'll stay silky all day.
This post is sponsored by Mary Kay®.