This New 'This Is Us' Season 3 Theory Will Break Your Heart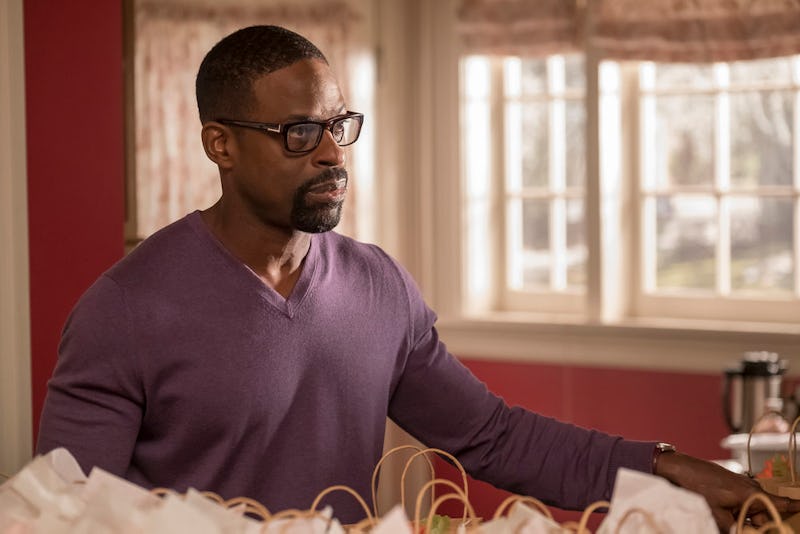 Ron Batzdorff/NBC
The Season 2 finale of This Is Us aired about two months ago, but for fans of the tear-jerking NBC drama, there's no amount of time that's enough to process everything the Pearson family has gone through. While plenty of theories have been discussed since the finale aired, there's one This Is Us fan theory that hasn't been discussed as much as some of the other ones have. What if the "her" Randall and Tess were talking about in that unforgettable flash-forward is actually Rebecca?
At the end of the Season 2 finale, fans saw that not everything was going swimmingly for the various Pearsons after Kate and Toby's wedding. In flash-forward scenes, Toby appeared to be suffering from depression. Meanwhile, Kevin was on the way to Vietnam — with Beth's cousin Zoe — to learn more about his dad. But the biggest shock came from the third member of the Big Three. A flash-forward showed Randall alongside a grown-up Tess, who told her father she wasn't ready to see "her." Of course, that mysterious scene has launched plenty of fan theories and discussions about just who the woman in question could be.
"It's time to go see her, Tess," Randall tells his daughter. "I'm not ready," she responds. Her dad sympathizes, saying, "Me neither," but it looks like the two of them are still going to pay a visit to whomever they're talking about.
It's understandable that plenty of fans thought the two were talking about Beth, Annie, or Deja. Deja smashed Randall's car, so it's possible that her relationship with Randall's family didn't improve, which would explain why Tess was hesitant to see her. Some darker theories have even suggested Deja may have hurt Beth, and they could be visiting Deja in jail — or Beth in the hospital. But another potential theory suggests that the "her" in question isn't Beth or one of the girls at all. Randall and Tess may be visiting Rebecca, and it's possible she doesn't remember who they are, if she's suffering from Alzheimer's disease.
Watching an older family member develop a condition like Alzheimer's can be devastating. So if this were the case, it would be understandable why Tess might have misgivings about seeing her grandmother. But if it is Rebecca the two of them are talking about, Randall likely understands Tess' mixed emotions, and he's going with her for support.
(Still, fans haven't seen Annie in the future timeline yet, and it is curious why she isn't with Tess and Randall. Some fans think Annie could even be the "her" in question, which would add a new layer of sadness to the scene.)
There have also been theories suggesting Beth could be the one with Alzheimer's, but as Glamour's Christopher Rosa points out, that might be less likely. Randall and Tess aren't aged enough to make Alzheimer's as likely for Beth, although she could still be suffering from an early onset of the disease. Still, their conversation suggests that Tess hasn't seen the "her" in question in a while. And Randall would probably have been more inclined to have his daughters visit their mom sooner, if she were in a hospital or other institution. If it were their grandma, though, he might have waited to allow Tess and Annie to adjust to the fact that Rebecca might not recognize them when she saw them.
Of course, there are still plenty of other possibilities about the scene, and fans will have to wait until the show returns to learn who the two of them were going to see. There are any number of directions This Is Us could be headed with this one, and all of them will probably bring tears to fans' eyes.