This One Quote From The NYT's Harvey Weinstein Piece Exposes A Gender Imbalance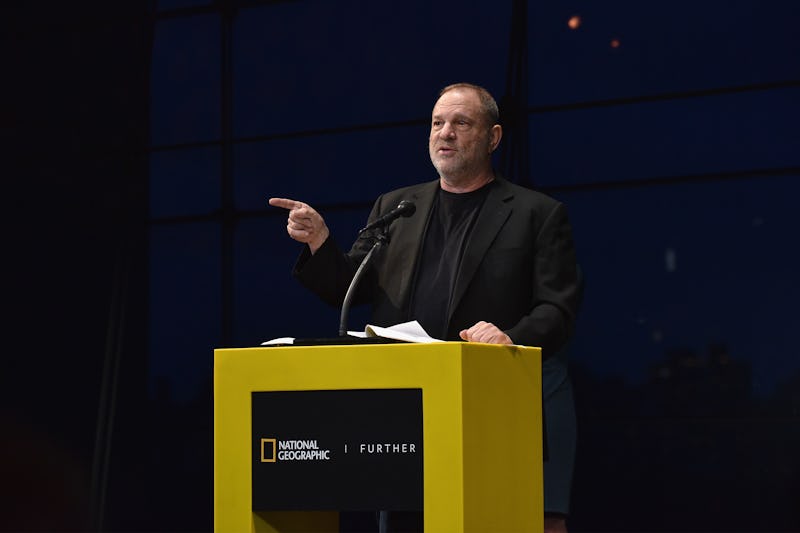 Bryan Bedder/Getty Images Entertainment/Getty Images
On Thursday, the New York Times published an explosive report accusing Hollywood producer Harvey Weinstein of allegedly sexually harassing multiple female employees over the course of several decades. Weinstein responded with a lengthy statement acknowledging that he "has caused lots of pain" through his interactions with female colleagues, and has resolved "to be a better person." But buried in the Times report is a quote that speaks volumes about the struggles of being a young woman trying to break into a male-dominated industry like film.
The article details various allegations against the Oscar-winning producer, many of which were contained in a 2015 memo written by Lauren O'Connor, a former employee of Weinstein. Connor's memo only details alleged incidents from a two-year period, but the Times also reported on allegations against Weinstein stretching back to the 1990s. A lawyer for the producer told the Hollywood Reporter that they're preparing to sue the Times over the article, claiming that it's "saturated with false and defamatory statements."
The details of the allegations aside, O'Connor's memo contains a description of what it's like to be a young, aspiring woman working in the office of one of the most powerful, beloved men in Hollywood.
"I am a 28 year old woman trying to make a living and a career," O'Connor wrote. "Harvey Weinstein is a 64 year old, world famous man and this is his company. The balance of power is me: 0, Harvey Weinstein: 10."
Whenever a beloved celebrity is accused of sexual harassment (or worse), there are inevitably skeptics who ask why, if the allegations are true, it took so long for them to be made public. O'Connor's quote is the answer to that question.
Weinstein's film credits stretch back to 1981, and he's since become one of the most powerful producers in Hollywood. He and his brother and business partner, Bob, churned out a seemingly-endless string of critically-acclaimed and financially successful independent films in the 1990s, including Pulp Fiction, Shakespeare in Love, Good Will Hunting, Scream, and others. He won an Oscar for Shakespeare in Love, and later went on to produce the Lord of the Rings trilogy, Sin City, The King's Speech, Inglourious Basterds, Silver Linings Playbook, and countless other hits.
Let's also consider that Hollywood is already a heavily male-dominated industry. A UCLA study from 2016 concluded that women "remain underrepresented on nearly every front" in the film industry; when that study was published, 100 percent of studio heads were male, along with 83 percent of film studio management and 61 percent of film studio unit heads. Women are cast in leading roles far more infrequently than their male counterparts, a discrepancy that's actually getting worse over time.
Getting a foothold in Hollywood is already difficult for aspiring young women, given that gender imbalance. But getting on the bad side of somebody as powerful as Weinstein is a genuinely risky proposition (as evidenced by the fact that Weinstein is now suing the Times and, by doing so, doubting the honesty of his female accusers on a huge national stage). This is a man who is beloved by wide swaths of the moviegoing public for his films. He has the power to single-handedly make or break careers — a fact that's examined at length in the excellent 2003 documentary Overnight — and has also become a force to be reckoned with in progressive political circles (a fact that adds a whole other layer of complexity to the allegations).
O'Connor is right: There's simply an enormous power imbalance between Weinstein and the women he employs. And frankly, that imbalance exists between every powerful male boss in a male-dominated industry and the women who work for them.
If you or someone you know has been sexually assaulted, call the National Sexual Assault Telephone Hotline at 800-656-HOPE (4673) or visit online.rainn.org.