The Upside To Losing The Super Bowl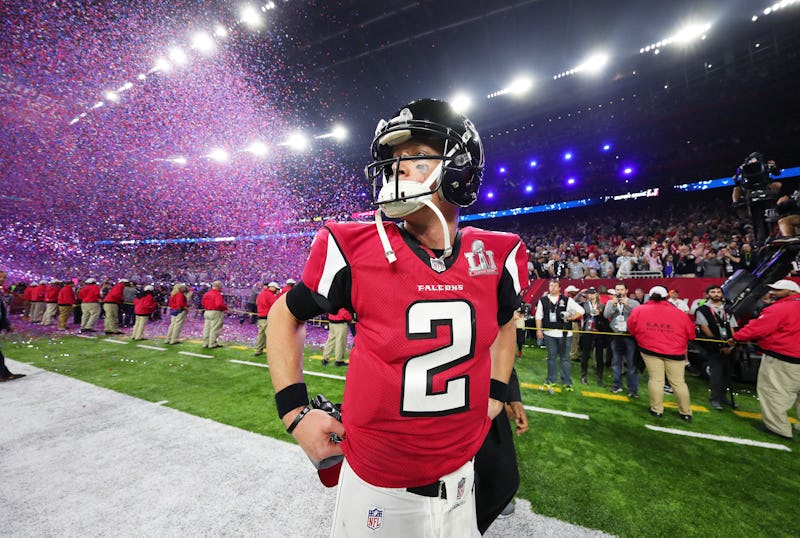 Tom Pennington/Getty Images Sport/Getty Images
The Atlanta Falcons suffered a heartbreaking loss at Super Bowl LI, running up a 16-point lead in the first half only to lose in overtime to the New England Patriots. That's a story no NFL team wants to be in, but there is an upside to losing that the Falcons might be enjoying right about now, as one post-game tweet showed.
"Congrats to the Atlanta Falcons for not having to take a photo with the president," Twitter user @fritzisdead tweeted after the game.
The Super Bowl is a staple of American pop culture, and as such, it's customary for the winning Super Bowl team to be honored by the president of the United States in some manner or another after the game. It's true that, by losing the Super Bowl, the Falcons have escaped this fate. But there's more to that tweet than meets the eye.
President Trump has what you might call a strained relationship with the city of Atlanta. This is mostly due to a tweet he sent in January, when he was in the midst of a feud with congressman and civil rights leader John Lewis. After Lewis said that he didn't consider Trump a legitimate president, Trump retaliated on Twitter, accusing Lewis of not spending enough time "fixing and helping his district," which encompasses most of Atlanta.
What's more, Atlanta is in a county that voted for Hillary Clinton by a 43-point margin in November. Add in the fact that Trump is chummy with Patriots quarterback Tom Brady as well as the team's owner, Bill Belichick, and it stands to reason that the Falcons might not exactly be excited to shake hands with Trump. Now, they won't have to — though, to be sure, they do probably wish they'd won the game.
Super Bowl LI had strong political undercurrents to it from beginning to end. You had Vice President Mike Pence getting booed, a slate of politics-themed commercials, and Lady Gaga's choice to open up her halftime performance with a rendition of This Land Is Your Land. There's also the fact that the Patriots path to victory was creepily similar to Trump's success in 2016. Both fell behind early on in their respective contests, quickly becoming serious underdogs. Both went on to defy the odds, mount late-stage comebacks and score historic victories.
Obviously, it's always preferable to win a game than to lose it. But at least the Falcons don't have to pose for a photo with Trump.