This Oscars Category Just Broke A Huge Record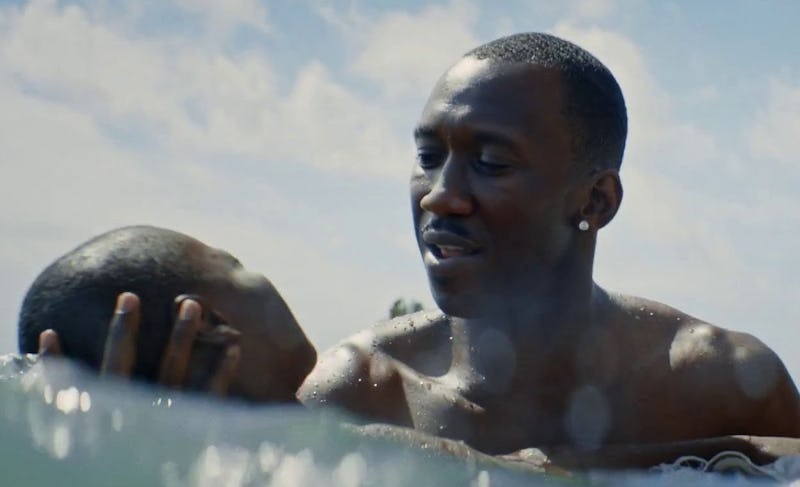 A24
The most buzzed about Oscar nomination might be La La Land. (It just scored a record-tying 14 nominations.) But there's one larger category that also just tied a record — the acting category. Seven non-white actors have been recognized for their work this year and are walking away with nominations. (This ties the record held in 2007, according to The Wrap.) After 2016's neglect, the acknowledgement of these actors means everything. Last year, the Oscars did not nominate any person of color within the acting categories, and the year before, they didn't either. Where 2015 spawned the nearly ubiquitous movement and hashtag #OscarsSoWhite, 2016 shined a more intense light on the problem.
The 2015 Oscar nominations were the whitest they had been in 17 years. After that, you'd think the voting body would recognize the issue and seek change. But, not so. The 2016 Oscar nominations once again proved to be overwhelmingly white, prompting some actors and people in the industry to boycott that year's ceremony entirely. Like, most notably, Jada Pinkett Smith, who, at the time, had the following message to share on Facebook:
Begging for acknowledgement, or even asking, diminishes dignity and diminishes power. And we are a dignified people, and we are powerful. So let's let the Academy do them, with all grace and love. And let's do us, differently.
Thankfully, the Academy has listened to some of the outcries this year, and, though the quest for equality in Hollywood is by no means over, this is is a step in the right direction. Here are all the non-white actors who have been recognized for their hard work in 2017.
Denzel Washington
Denzel Washington has been nominated by the Academy a few times over the years. He took home Best Actor in 2001 for Training Day, so it could very likely happen again with Fences (a film he also directed).
Ruth Negga
Negga was a bit of a surprise in the Best Actress category, and, though this is her first nomination, the Loving actress's recognition couldn't be more deserved.
Mahershala Ali
Ali's performance in Moonlight was unmissable in its sincerity and impact. As he grounded both the film and its protagonist, his presence in Moonlight shouldn't be overlooked (thank goodness it wasn't).
Dev Patel
He wasn't nominated for his breakout role in 2008's Slumdog Millionaire, so I guess you could say Patel's first Oscar nod was a long time coming.
Viola Davis
As the matriarch of the Maxson family in Fences, Davis gives a stunning, no holds-barred performance.
Naomie Harris
This is Harris's first Oscar nomination, though her incredible performance in Moonlight might lead you to think otherwise.
Octavia Spencer
In 2012, Spencer was nominated in this same category for her work in The Help. Five years later, with a stellar performance as Dorothy Vaughan under her belt, she just might take home a second statue.
Though there was some other talent that absolutely went unrecognized (Janelle Monáe and Taraji P. Henson from Hidden Figures just to name a few), here's to hoping that some of these hard working actors get the credit they deserve.