This 'Parks & Rec' Reunion Shows The Spirit Of Pawnee Is Still Alive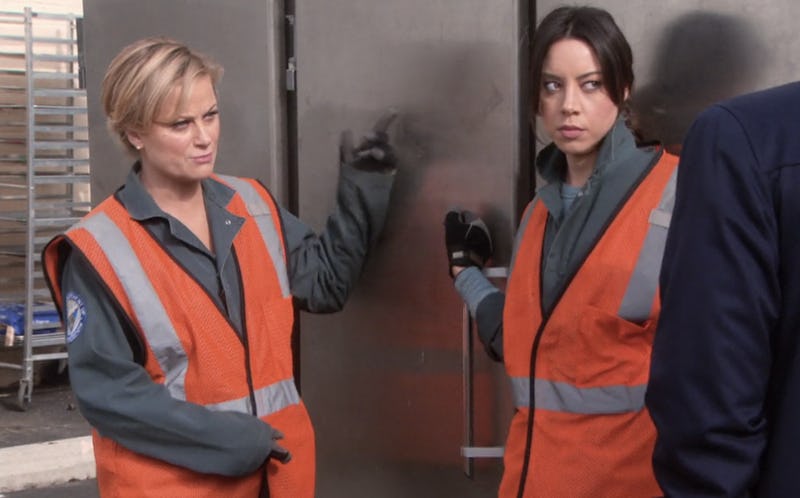 NBC
Ron Swanson definitely wouldn't hate this. The Parks and Recreation cast supported Aubrey Plaza at her Ingrid Goes West movie premiere in Los Angeles on Thursday. Amy Poehler, Chris Pratt, and Retta showed up just like Pawnee, Indiana residents should. As you can see below, their mini-reunion was captured at the event and resulted in the best picture ever. Poehler's face expresses what every Parks and Rec fan is probably feeling in this moment — pure joy.
There is something truly special about this cast. Not only are they beyond talented and managed to make comedy gold for seven seasons, but they keep reuniting and documenting it for their biggest supporters. In June, Rashida Jones shared a photo from May of herself, Aziz Ansari, Plaza, and Poehler. And in July 2015, Jones, Poehler, and Rob Lowe reunited for the Fourth of July in the most adorable Instagram. The fact that the stars also relate Parks and Rec to current events is further proof that the show and their characters will forever hold a special place in their hearts.
Basically, they can't escape each other or the comedy, and it's by choice. While appearing on Sirius XM's The Jess Cagle Interview in December 2016, Pratt revealed about the NBC show, "I love everyone I worked with on that show. We still talk, like, almost every day." This level of love and friendship is almost too much to handle.
It's so good to see Leslie Knope, April Ludgate, Donna Meagle, and Andy Dwyer together again and how tight they've all remained since the show ended. When one of their own finds new success, of course they're going to show up, because that's what you learn from being a Pawnee local and starring alongside one another for seven years.
With that, go ahead and process all of those emotions you are totally feeling.