You Can Give Your BFF An Advent Calendar Filled With Pics Of Your Face
by Callie Tansill-Suddath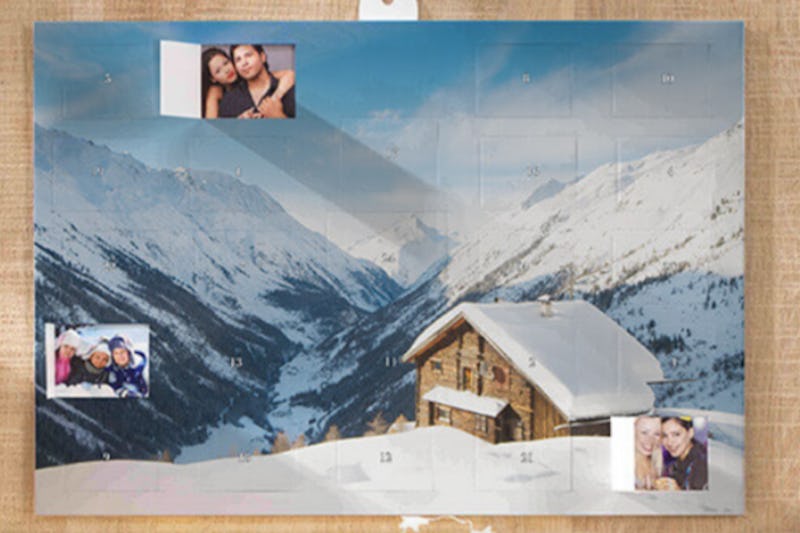 Cewe Photoworld
We've still got a little bit of time before Christmas kicks off, but for many, the celebrations will start a little bit early, as the season of advent begins on the first of the month. In the past, you might have counted down to Christmas with a mass-produced advent calendar containing cheap candy or illustrations. But, why not opt for something a little more ~personal~ this Christmas? With the Cewe Photoworld Personalized Photo Advent Calendar, you can celebrate the Christmas season by reminiscing about all the good times you had during the year — or, more specifically, make your best friend an advent calendar filled with pictures of your face.
Using a software provided on the website, you can upload any photo (portrait or landscape!) of your choosing to appear behind the 24 doors on this advent calendar. The calendar's description on the website puts it best: "When opened, each window will unveil one of your photos. From your summer holiday to a special birthday, these advent calendars are ideal if you want to look back over your best moments as the year comes to an end. The perfect way to countdown to Christmas whilst remembering some of your [favorite] occasions from the past year, and an ideal gift for someone special."
There is ample opportunity for eating sweets during the holiday season, so why do you need to make that a part of advent? Nothing is sweeter than cherished memories.
But, what if you could have both? Actually, you can! The Photo Advent Calendar is only one personalized option available through Cewe Photoworld. An alternate style puts the photo of your choice on the front of an advent calendar, but holds 24 pieces of chocolate behind its 24 compartments. It is the perfect compromise for when you want to treat yourself to both happy memories and sugar.
Other versions of the chocolate photo advent calendars are also available; one holds Ferrero Chocolate, and one holds Kinder chocolate. There is also an advent calendar that comes with 24 empty compartments, giving you the freedom to fill it with whatever treats you want.
The Advent Calendar market has definitely changed since your parents were kids. Now that more people (and companies) are aware of the celebrations that lead up to Santa's visit, more ways to build anticipation are being introduced.
Another new version of the beloved Advent Calendar is made by a boutique candy shop known for its cocktail-inspired confections. Sugarfina's 24 Tastes of Christmas, the company's first-ever Advent Calendar, includes 24 days of the company's most popular treats. Behind an array of small doors, you can find four pieces of candy or other sweet; everything from festive holiday gummies, to chocolate treats, to miniature cookies. Sugarfina assures, "Whether you use it as a traditional Advent calendar with loved ones or break it out at a holiday party for a fun activity, there's a sprinkling of sugar for everyone inside." Though, seeing as you can find out on Sugarfina's website which treats are included in the calendar, it might be hard to exercise self-restraint for 24 straight days.
You have until November 22 to design and order the Photo Advent Calendar. But, if you're not in the UK, you may just have to stick with candy this year, as Cewe Photoword does not yet ship internationally.