There's A New Petition For An All-Female Marvel Movie That One Star Is Already Onboard For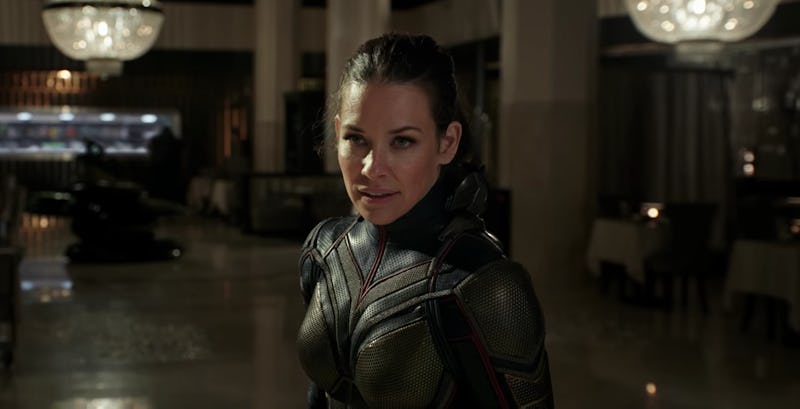 Walt Disney Studios Motion Pictures
Stars of the Marvel Cinematic Universe like Evangeline Lilly and Tessa Thompson have already hinted at the possibility of an all-female Marvel film, but now fans are voicing their support for the project. On Tuesday, a petition for an all-female Marvel movie began circling, and by Friday, the petition had already garnered more than 2,400 signees towards a 10,000-signature goal.
Created by Alison Perris, the senior director of brand marketing & PR at Care2 Petitions, the petition targets Marvel Studios President Kevin Feige, and makes an appeal on behalf of fans who'd love to see heroes like Scarlett Johansson's Black Widow and Zoe Saldana's Gamora fighting side by side away from all the male heroes in the franchise. "What if Black Widow, Colleen Wing, Gamora, Peggy Carter and the Wasp teamed up for an all female super force Marvel Comic Universe film? Well, that would be pretty awesome!" the petition reads, mentioning not only characters from Marvel films but also a few from Marvel television. Later, it states, "Let's bring a whole new definition to the term 'girl fight'. Just think how empowering an all female superhero film would be for girls and women alike!" (Bustle reached out to the women of the MCU, including Letitia Wright, Lupita Nyong'o, Cobie Smulders, Jaimie Alexander, Zendaya, Emily VanCamp, Evangeline Lilly, Scarlett Johansson, Zoe Saldana, Tessa Thompson, Brie Larson, Pom Klementieff, Karen Gillan, Hayley Atwell, Jessica Henwick, Elizabeth Olsen, Danai Gurira, and Gwyneth Paltrow, but had not received responses at time of publication.)
As the petition's mission statement points out, Ant-Man and the Wasp star Evageline Lilly recently expressed her desire to bring an all-female MCU film to fruition on Monday, telling ComicBook.com, "There's talk of an all-ladies MCU movie amongst the MCU ladies. We would love to do that, and I think we should all put as much pressure as possible on Kevin [Feige] to make that happen." Bustle reached out to Lilly's representative for comment but did not receive an immediate response.
Lilly, who plays Hope Van Dyne in Ant-Man and the Wasp, is the first woman to headline an MCU film, with her character receiving equal billing in the title. She is not, however, the first woman in the MCU to advocate for an entirely female-fronted Marvel movie. Black Panther actor Danai Gurira said she'd be all for the film during an appearance on The Ellen DeGeneres Show in April.
"I think it is a rumor, but the cool thing is that it's showing there's this hunger for that type of thing," Gurira, who played Okoye in the film, told DeGeneres. "I know that the awesome Brie Larson is filming Captain Marvel as we speak, so these things are starting to happen, and I think it's really exciting because it shows that yeah, of course, it's time we start seeing the perspective of the story come exclusively from women." Black Panther director Ryan Coogler also teased a possible spin-off centered on the film's female characters in May.
Tessa Thompson, who played Valkyrie in 2017's Thor: Ragnarok, said in an interview with Comic Book Resources that she and some of the other female actors in the MCU pitched the idea to Feige in 2017.
In February, she told IGN that the Feige liked the idea, and said she was optimistic about the prospect of Marvel making the project a reality. "I'm not Marvel so I can't make it happen, but I can tell you that Marvel is hugely collaborative," she said. "I think Kevin Feige is really excited by the idea." Though Thompson was clear that there were no official plans for an all-female Marvel movie, she did note that women certainly were coming to the forefront of the MCU, adding:
There's an interest — they're doing Captain Marvel, they're doing a Black Widow — there's an interest in having women at the forefront of this phase. I feel like it's hopeful, who knows.
While DC became the first major studio to release a female-led superhero film with Wonder Woman in 2017 — a title Feige told Vanity Fair he regretted Marvel could not claim in November 2017 — with Captain Marvel officially on the way and a potential Black Widow movie in the works, Feige has expressed interest in telling other female MCU characters' stories. And now that fans are showing their support, it's possible the Marvel Studios mastermind could be swayed into making an epic all-female Marvel movie. It's what the people want.