Show Your Support For Serena Williams Following The U.S. Open By Signing This Petition
by Women's Black Leadership Action Coalition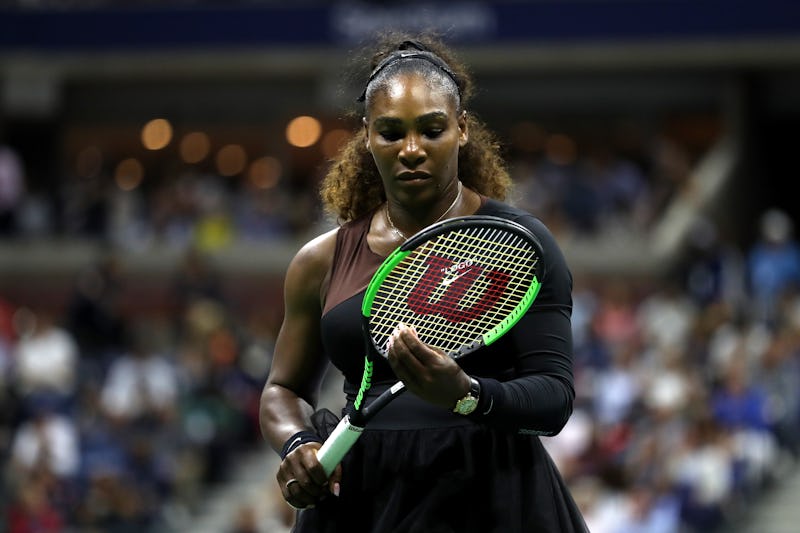 Matthew Stockman/Getty Images Sport/Getty Images
The U.S. Open final on September 8 between players Serena Williams and Naomi Ōsaka was an opportunity to celebrate two black women at the top of professional tennis. Instead, the electric, consequential, and career-defining game (for both athletes) was wrested by a man on the sidelines. Umpire Carlos Ramos, widely known as a "stickler for the rules," exposed the looming issues of sexism and racism in professional tennis.
Along with a slew of tone-deaf articles and the recent news of a potential umpire boycott of Williams' matches by the International Tennis Federation (ITF), we are reminded that, no matter how much success a black woman achieves, she will always be made to feel unwelcome or subject to excessive criticism. This is why the Women's March Black Leadership Action Coalition (WM-BLAC) is speaking out in support of Serena Williams.
WM-BLAC strongly denounces the actions of umpire Ramos at the U.S. Open match between Williams and Ōsaka as sexist and racist. We recognize that black women are too often prejudiced against by the twin biases of race and gender, with little to no advocacy in seeking justice after a traumatizing incident. We also believe that when rules are applied with implicit bias, they serve not to uphold a sport, but to impose limits that perpetuate inequality.
We demand that the $17,000 penalty charges be expunged of the $10,000 charge for verbal abuse and the $4,000 charge for coaching. We also call for U.S. Open final umpire Ramos to be investigated for gender and racial bias. Finally we demand for an independent commission to investigate gender and racial bias in the International Tennis Federation (ITF) and for resolute anti-bias regulations and training to be passed at the Annual General Meeting (AGM) in 2019.
Williams has tirelessly stood for black women everywhere, and now it's our chance to return the favor. We trust Williams when she says she was mistreated and we insist that systemic change along gender and racial lines in tennis is the answer. WM-BLAC demands justice for our sister Serena and the blatant double standard that she is facing. If you agree, we ask that you stand with Williams and stand with WM-BLAC by going to www.istandwithserena.com to sign your name to our statement of solidarity.
Like many women, we watched the avalanche of biased treatment unfold before our eyes with complete disbelief at what was happening to arguably the greatest tennis player in history. The chair umpire, Ramos of Portugal, a white-presenting man, sitting high above the tennis court, much like a king looking down on his subjects, exhibited an "abuse of power," to quote Billie Jean King, in his choices to admonish Williams. His ego was at stake, so much so that as Williams rightly contested his judgments — as numerous male athletes have done — and Ramos doled out a sentence that effectively killed a final match, the umpire imposed a series of warnings and penalties on Williams that disrupted the atmosphere of an exciting and fiercely competitive game between two powerful athletes. It also eclipsed a masterful victory from ultimate champion Ōsaka, who attained her first Open championship. Ōsaka, in fact, made history as the first Haitian and Japanese player to win the renowned competition.
This was about a black woman who has given her life to a sport that has never wanted her there in the first place.
Throughout the decades, Serena Williams has dominated the sport of tennis with a voracious sense of integrity and grace. For many women, especially women of color, it was clear that Williams' protestation was not some hysterical, testosterone-filled verbal tirade typical of her male counterparts. No, this was different. This was about a black woman who has given her life to a sport that has never wanted her there in the first place. In the era of Time's Up and #MeToo, women are addressing ways to correct systemic inequities by banding together and no longer waiting to be heard or believed, but demanding to be recognized within a community of their peers.
Black women across the globe recognize that Williams was standing for a reputation that she has spent her entire lifetime building. Lest we forget, Williams was vying to tie Margaret McCourt's 24 Grand Slam record that night, one year after a near death experience postpartum, so the stakes were very high. Following a few months of maternity leave, Williams, who left with #1 ranking, returned at #453 earlier this year, earning her way back up to a #16 ranking according to the Women's Tennis Association (WTA).
We also recognize the high level of disrespect that has been heaped on Serena Williams. She's endured toxic ridicule and perpetual body policing since the start of her multi-decade career. It's also been revealed that Williams has been the most drug-tested athlete in professional tennis. And to add insult to injury, following the controversial match, an Australian outlet published a racist and sexist cartoon depicting Williams as an ape-like child, stomping up and down with pacifier in tow. Conversely, Ōsaka was effectively whitewashed in the illustration, appearing passive, pale and blonde. This sadly, is an unjust disservice to both incredible women.
Women's March Black Leadership Action Coalition (WM-BLAC) compels consistent and strategic action on behalf of black women's dignity throughout the calendar year, while offering leadership, empowerment and support for important issues that directly affect black women.
This op-ed solely reflects the views of the author, and is part of a larger, feminist discourse.