Why Riz Ahmed's Backstage Emmys Photo Is Going To Go Down A Huge Moment In History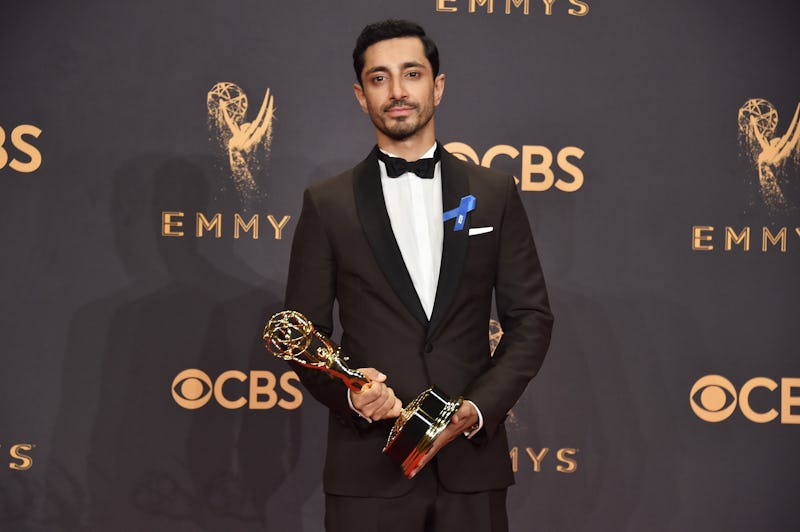 Alberto E. Rodriguez/Getty Images Entertainment/Getty Images
If you skipped TV's biggest award ceremony on Sunday, then you probably missed history being made at the Emmys in terms of diversity. Still, there's a silver lining available to those late to this party: an Instagram photo of Riz Ahmed, Donald Glover, and Lena Waithe that might cure that tickle in your throat just by looking at it.
It's no wonder Lena Waithe is beaming in the picture. She became the first Black woman to win an Emmy for comedy writing for co-writing the Master Of None episode "Thanksgiving" with Aziz Ansari (both of whom also starred in the episode). If you've never watched the episode, know this: according to Vanity Fair, who interviewed her, it's "based largely on Waithe's own experiences" — even to the point of incorporating tiny real details, like the poster of Jennifer Aniston on the wall, one of the actor's actual crushes. The reviews for the episode were glowing, with BuzzFeed calling it "the most emotional episode of 'Master Of None' yet" and The A.V. Club describing it as "one of the best coming out stories on television."
Also having a great night, though looking more quietly satisfied about it, was Riz Ahmed, who won the Outstanding Lead Actor prize for playing Nasir "Naz" Khan in The Night Of.
It was the first time a Muslim and South-Asian actor has scored an acting award at the Emmys, which led to questions being put to the star about whether this suggested progress in terms of diversity in the entertainment industry at a press conference following the Emmys. Ahmed seemed critical of the idea that an individual winning an Emmy could signify a healthier attitude towards diversity, though, saying, "I don't know if any one person's win of an award or one person snagging one role or one person doing very well changes something that's a systemic issue of inclusion." Still, he was cautiously hopeful, describing diversity as "something that happens slowly over time. If there are enough isolated examples of success over time then the dots start joining up."
And despite stating how proud he is being from London, he conceded that, in his personal experience, it felt like there were more opportunities for actors of color in the United States. He also praised actor Ed Skrein for dropping out of the Hellboy reboot after an outcry over his casting arose following the revelation that he would be playing Major Ben Daimio, who is Japanese-American in the comics. Ahmed said, "He felt he wanted to represent cultural authenticity in Hellboy, and I think we'll see more examples of that as there is more awareness around the conversation."
But what about Donald Glover? What's that grin about? About making history, too, obviously. He became the first Black director to win an Emmy for the Outstanding Directing for a Comedy Series category for the trippy, experimental show-within-a-show episode of Atlanta, "B.A.N.," in which Paper Boi appears on current affairs talk show Montague.
He then went on to win a second Emmy, this time for Outstanding Lead Actor in a Comedy for playing manager Earn in Atlanta. This was a big deal, since, as Buzzfeed has observed, this made him the first actor of color to win this award in 32 years, following on from Robert Guillaume who won an Emmy in 1985 for playing the titular role in Benson.
In his Outstanding Lead Actor speech, after giving shoutouts to his partner, child, and the staff at FX, the star thanked an unexpected recipient: Donald Trump. He stated, "I want to thank Trump for making Black people number one on the most oppressed list. He's the reason I'm probably up here." It's a totally alien feeling, experiencing a twinge of something close to gratitude for the President Elect... but if you're going to feel it any time, it might as well be for the genius of Donald Glover and Atlanta.
But the one thing we can all agree on is that this Instagram photo, showing all three of these history-making winners in one photograph, is the perfect way to start off any day.