Why Riz Ahmed's Emmy Win Is Extra Exciting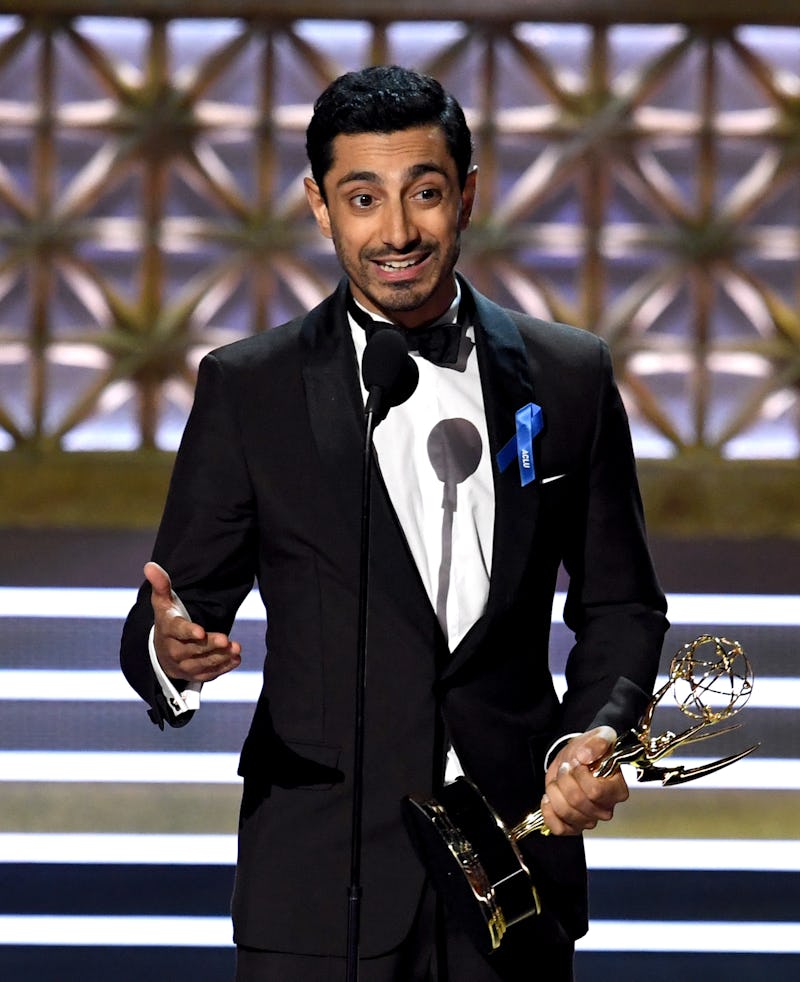 Kevin Winter/Getty Images Entertainment/Getty Images
As proven by the nominees in the Limited Series or Movie category at this year's Emmys, a TV show doesn't have to be extensive to be impactful. And this was further proven when Riz Ahmed won Outstanding Lead Actor in a Limited Series. Anyone who's watched even 15 minutes of The Night Of knows that the HBO series wouldn't have been the same without him. And that's not even the part worth celebrating: Ahmed made history at the Emmys, in more ways than one.
Ahmed is the first Muslim actor to win a Lead Actor Emmy, as well as the first South-Asian man to win an Emmy in an acting category in general. Last year, Aziz Ansari made history as the first South-Asian actor nominated for an acting Emmy. Though Ansari didn't snag the trophy, Ahmed's acting win means he is officially the first Asian male to do so. Meanwhile, Dave Chappelle, who converted to Islam in the '90s, won Outstanding Guest Actor in a Comedy Series last weekend for hosting SNL, making 2017 a historic year for the award show on multiple levels.
And Ahmed made the most of his moment on stage by spotlighting social justice causes he cares about. The British-Pakistani actor said,
"Before I go, I want to say it's always strange reaping the rewards of a story that's based on real world suffering. But if this show has shone a light on some of the prejudices in our society, Islamophobia, some of the injustice in our justice system, then maybe that's something. And I would shoutout South Asian Youth Action for helping me prepare for this and the Innocence Project. Thank you very much."
As fans may know, The Night Of follows Ahmed's character, Nasir Khan, who winds up arrested on murder charges and experiences what the criminal justice and prison system are really like. For him to take a moment to talk about the Innocent Project, which works to end wrongful convictions, is a fitting way to use his platform. He also acknowledged the South Asian Youth Action, which works with youth in NYC to "foster a strong sense of belonging in youth and provide them with tools to thrive academically, professionally and personally," according to their website.
Not only that, but Ahmed mentioned Islamophobia at a time where the U.S. president Donald Trump has previously tried (and failed) to implement a travel ban on individuals from Muslim-majority countries. And this isn't the first time he's spoken out. Ahmed doubles as a rapper and his group, Swet Shop Boys, frequently speaks out via their lyrics. Just listen to "Sour Times," which he performed on Jimmy Fallon's show just last month.
Adding to his powerful political statements, Ahmed wore an ACLU ribbon on his Emmys tux, a nod to the organization that fights for civil liberties. Overall, fans were cheering right along with the actor on Twitter.
Some Quoted His Speech
A valuable quote, at that.
Others Pointed Out Political Implications
As in, he's shattering stereotypes and proving people wrong.
Meanwhile, A Few Celebrated The Moment
It really has been an incredible year of acting roles for Ahmed.
And This Person Emphasized History Being Made
That makes it even more of a win.
Why Not Repeat Those Valuable Shoutouts?
They can't be repeated enough.
His Own Words Speak For Themselves
That GIF quote says it all.
Some Straight-Up Celebrated
The caps lock here speaks for itself.
Others Couldn't Help But Cheer
This is the Twitter equivalent of chanting his name over and over.
Even Other Celebs Couldn't Help It
Kumail Nanjiani is clearly just as big of a Riz Ahmed fan as you are.
All in all, Ahmed's win is historic and he couldn't be more deserving of the accolades. Just watch an episode of The Night Of, and you'll know it's true.