This Photo From NeNe's New Store Opening Hints At What's Ahead For The 'RHOA' Cast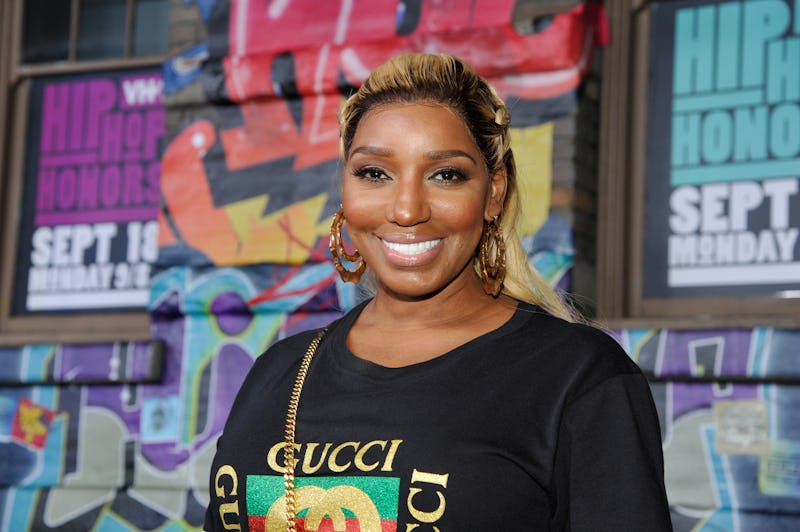 John Sciulli/Getty Images Entertainment/Getty Images
Even though NeNe Leakes is a Real Housewife of Atlanta, she isn't limiting her business ventures to Georgia. The Real Housewives of Atlanta OG already has Swagg Boutique in Georgia. Now, NeNe has a clothing store in Miami and the Atlanta Housewives have been there to support her. NeNe's newest clothing store has the perfect name to go along with her Atlanta shop — the boutique is called Swaggalicious.
NeNe expanding her business empire is nothing new at this point, but there the fact that (most of) the Real Housewives of Atlanta cast members showed up to support her is certainly newsworthy. Yes, it's impossible to get 100 percent attendance at every event, but could this RHOA trip to Miami be an indication of the Real Housewives of Atlanta Season 11 cast? It just might be. Last season's full-time cast members Porsha Williams, Kandi Burruss, and Cynthia Bailey were on hand to celebrate the Swaggalicious opening. "Friends of the Housewives" Eva Marcille and Marlo Hampton were also there, but what about the other cast members?
NeNe shared a photo with the ATL ladies at Swaggalicious with the caption:
"Thank you to my girls for coming down to Miami and supporting my comedy show, the opening of Swaggalicious and checking on Gregg! Love y'all @cynthiabailey10 @porsha4real @marlohampton @evamarcille @kandi #RHOA11 @novikovmiami PS: Kandi had to bounce out to the airport right before we took this pic."
Of course, this is a cute photo. They all look great and that's nothing new, but the real story here is in the caption. NeNe gave Kandi a shoutout for supporting her since she didn't make it into the photo. She even hashtagged #RHOA11, which is clearly about Real Housewives of Atlanta Season 11. There are just so many unanswered questions. This photo says a whole lot, but what's not in the photo is really saying a lot more — especially in regard to the Season 11 cast.
Following several explosive arguments and a Season 10 reunion meltdown, Kim Zolciak Biermann confirmed that she will not be back on the show. On April 14, the original cast member, and "Friend of the Housewives" on last season, spoke to TMZ cameras to announce her departure from the show that made her famous.
A cameraman asked KZB, "Are you going to return to the show? People are saying you might not come back." Kim immediately replied with a very clear response: "No. Never. Never. Never. Never." The OG cast member also said the show is "too much stress. I don't need the stress."
Another OG, Shereé Whitfield, was a full-time cast member on Season 10. By the end of it, she really didn't get along with anyone in the cast except for Kim, who wasn't even a full-time cast member. So now that Kim is out of the picture, it would make sense for Shereé not to come back.
Rumors that Shereé got fired from the show have been circulating since April, but she hasn't acknowledged them at all. On April 14, Us Weekly reported that Shereé was not asked back because of her relationship with Tyrone Williams, her boyfriend who is currently in jail for alleged wire fraud. An inside source told Us Weekly, "Bravo can't film inside or even outside the jail. This is causing a problem with her storyline."
At this point, it is not surprising that Shereé and Kim were not in Miami for NeNe's boutique opening, but what about Kenya Moore? Does this mean that Kenya Moore is not a part of the cast? Is Kenya a part of the cast, but she just couldn't make it to the store opening? Maybe she's just trying to avoid travel during her pregnancy.
There have been rumors that Kenya was fired after she kept her surprise marriage so private and away from the cameras. There are also rumors that Kenya got demoted to "Friend of the Housewives" status. As of this moment, Kenya has not addressed the rumored firing, but she did shoot down the "Friend of the Housewives" chatter.
She shared a video on Instagram of her holding a peach like she has for many seasons on this show. She declared,
"#FAKERHOANEWS .No one has EVER asked me to be a friend to show... .fact: I am THE housewife that has had THE highest rated episodes the past 3 seasons... even last year having missed 3 episodes."
In that same caption, Kenya reassured her followers: "Don't worry #teamtwirl you will get to see #babytwirl and all that I'm experiencing as a new wife and mother-to-be one way or another." That doesn't sound very promising to the RHOA viewers that want to see a pregnant Kenya next season.
The old saying is that a "picture is worth a thousand words," but the photo from NeNe's Miami store opening (and its caption and hashtags) say so much more than that. There are so many questions, and unfortunately, there are no solid answers at this point.