Superman & Lois Lane's First Arrowverse "Elseworlds" Crossover Photo Is So Swoon-Worthy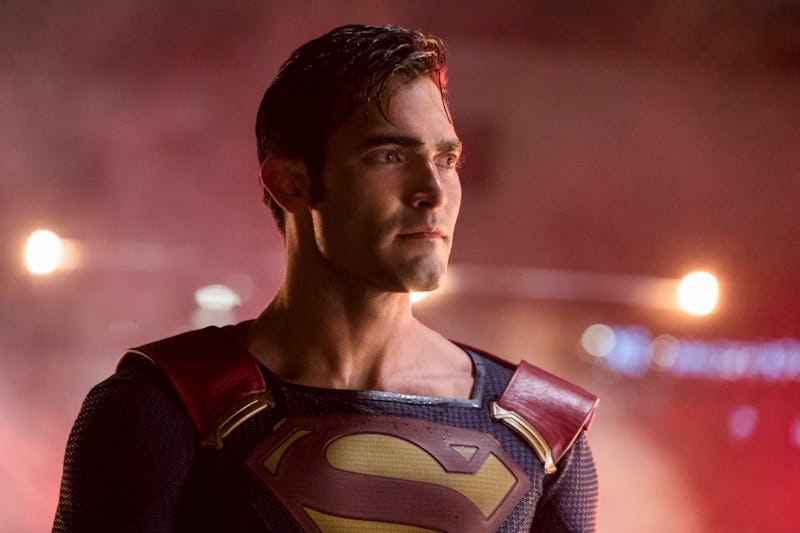 Katie Yu/The CW
It's a bird... It's a plane... Nope, even better: It's the first photo of Lois and Clark in the Arrowverse "Elseworlds" crossover. On Friday, Nov. 9, The CW gave fans their first glimpse of Grimm's Elizabeth "Bitsie" Tulloch as Daily Planet's ace reporter Lois Lane from the three-night DC superhero event, which the network will begin airing on Sunday, Dec. 9, and incorporates Supergirl, Arrow and The Flash.
In the picture, the actor, clad in a flowing, white dress, has her hand lovingly placed on the chest of Tyler Hoechlin's Superman (otherwise known as bespectacled fellow journalist Clark Kent), while standing in the Fortress of Solitude. Hoechlin also teased the "first look" of "Superman and his better half, Miss Lois Lane" on his official Instagram page the same day, urging fans to "catch them on the crossover" when it airs in December.
"We couldn't be more excited to introduce Lois Lane to the Arrowverse," Supergirl executive producers Jessica Queller and Robert Rovner said in a statement, per TVLine. "This dogged, determined and brave reporter will make for a strong partner to Superman and amazing addition to our universe of DC characters."
Supergirl's titular star Melissa Benoist first teased Lois Lane's arrival to National City in an Oct. 17 Instagram post — though she was dressed as a civilian at the time. "Two kryptonians and a journalist walk into a crossover," she captioned the photo of herself with both Hoechlin and Tulloch.
As for what fans can expect from their storyline, Hoechlin, who's already appeared as the "Man of Steel" four times on Supergirl (most recently in the series' Season 2 finale) signals to the point they're at in their romance. "[Lois and Clark] obviously have a very strong relationship that's been going like that for a while," he said, per TV Insider. "It's deeper into the relationship, so there's that comfortability factor and they know each other so well. They really kind of have a life together."
Fans had previously gotten a quite the head-scratching shock when Stephen Amell (who plays Oliver Queen/Arrow) shared a photo of the official "Elseworlds" poster, showing that he and Grant Gustin's Barry Allen/The Flash had switched identities. Responding to skepticism that the poster was fake, Amell tweeted: "This is real, btw. I'm in the Flash suit while I type this."
In addition to Hoechlin and Tulloch, other crossover guest stars will include: Ruby Rose (as Batwoman/Kate Kane), Jeremy Davies (as Arkham Asylum doc John Deegan), LaMonica Garrett (as Mar Novu AKA The Monitor), and Cassandra Jean Amell (as Mr. Freeze's wife, Nora).
While not necessarily part of the crossover event, notorious supervillain Lex Luthor will also be in Season 4 of Supergirl, for the first time, as The CW announced in October. He will also join another new character: "anti-alien hate group founder" Agent Liberty (Sam Witwer), already set to wreak havoc on the city this season. Supergirl also already made history this year with the introduction of TV's first transgender superhero, Nia Nal AKA Dreamer (played by Nicole Maines) on the series.
With the Arrowverse "Elseworlds" crossover coming faster than a speeding bullet, there's now even more material to stoke fans excitement.