The Best Actress Nominees Group Hugged At The Oscars & You Have To See The Adorable Photo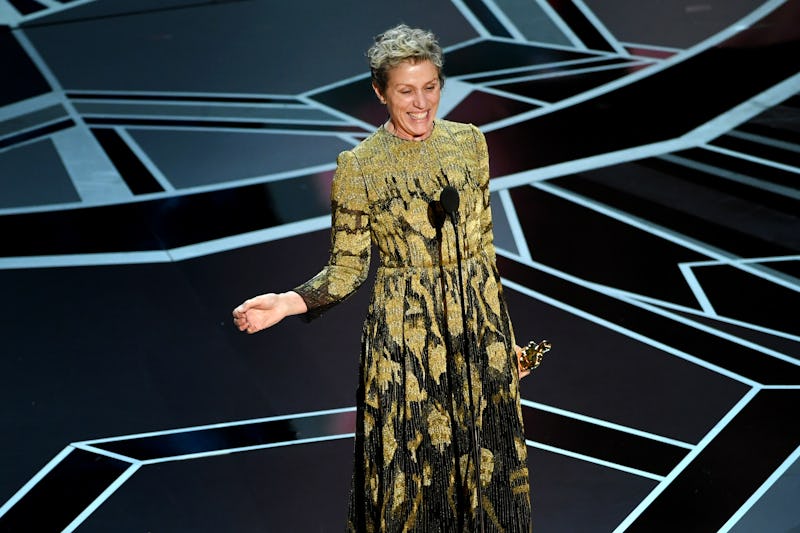 Kevin Winter/Getty Images Entertainment/Getty Images
Awards season might foster a sense of competition and betting among friends and coworkers, but that doesn't mean there's any love lost between the nominees. When Frances McDormand won the Academy Award for Best Actress for her performance in Three Billboards Outside Ebbing, Missouri, she turned her acceptance speech into a moving, inclusive moment. It looks like her speech really kicked off a sense of camaraderie between the nominees, too — a group hug photo of the Best Actress nominees went viral following the Oscars on Sunday.
The photo is a sweet reminder that no matter who wins and loses the awards, Hollywood stars do look out for each other — and not everything is a cutthroat competition. The group hug, which was captured by a photographer in the theater, quickly made its way to the internet. And fans are loving the solidarity between the four women who didn't win the Best Actress award: that's Saoirse Ronan, Sally Hawkins, Margot Robbie, and Meryl Streep, all smiling and hugging each other. There's no bitterness or jealousy here — the women are just happy to be in each other's company. (Although, really, who wouldn't be smiling while involved in a group hug with Streep?)
Fans were quick to praise the moment on Twitter, with one person noting that The Shape of Water star Hawkins looked particularly excited to be hugging Meryl Streep. Others praised the actors' support for one another, which was really just too pure. Check out The Hollywood Reporter for the full image.
During her Best Actress acceptance speech, McDormand chose to recognize the evening's other nominees, and not just in her category. She invited all women who were nominated for an Oscar — whether for acting or for work behind the scenes — to stand up and be recognized. After thanking her family and Three Billboards director and writer Martin McDonagh, McDormand gave a surprising directive:
"And now I want to get some perspective. If I may be so honored as to have all the female nominees in every category stand with me in this room tonight, the actors — Meryl, if you do it everybody else will, come on — the filmmakers, the producers, the directors, the writers, the cinematographer, the composers, the songwriters, the designers, come on! OK, look around everybody, look around ladies and gentlemen. Because we all have stories to tell and projects that need financed. Don't talk to us about it at the parties tonight. Invite us into your office in a couple days or you can come to ours, whichever suits you best. And we'll tell you all about them. I have two words to leave with you tonight. Ladies and gentlemen: inclusion rider."
The "inclusion rider" McDormand proposed would ensure diversity on movie sets, which is always a good thing. McDormand recognized that Hollywood still has a long way to go in terms of equal representation, and asking actors to add the rider to their contracts could be a great step forward. Gender and racial diversity is essential both in front of the camera and behind it, and it's great that McDormand drew attention to the issue with an action for actors to do.
McDormand's speech (and the group hug) came at a pivotal moment for Hollywood, too. The #MeToo movement and the Time's Up campaign seem to have brought women in Hollywood even closer, despite being under unfortunate circumstances. And now more than ever, the industry's leading ladies are using their voices to effect real change, both in Hollywood and beyond. Speeches like McDormand's, and sweet scenes like the Best Actress nominees' group hug, are powerful reminders of the good that can come from women supporting one another.